CAPaBLE is a core programme of APN established in 2003 as an Initiative under the World Summit on Sustainable Development (WSSD) Type II Partnership. The aim of the CAPaBLE programme is to enhance the capacities of scientists, policy-makers and other relevant stakeholders in the Asia and Pacific region to identify and assess global change issues at local, national and regional levels and further identify appropriate solutions to resolve the issues and achieve sustainability. APN supports capacity development activities that enhance existing capacities of developing countries at three levels:
Individual-based capacity development
Group, organization, network-based capacity development
Societies, governance, system level capacity development
The objectives of APN-funded capacity development activities can be to perform functions, solve problems, adapt and maintain the capacity to address global environmental change and sustainability. APN encourages collaboration with developed countries to enhance the capacities of developing countries. However, APN values the ownership of developing countries in such initiatives. Further, the overall outcome of APN funded activities under the CAPaBLE programme should benefit developing countries in the Asia-Pacific region to achieve sustainability.
APN's Definition of Capacity Development:
APN defines capacity development as a process whereby individuals, groups, communities, organizations, governing bodies and society in general, collectively enhance their awareness and abilities – including knowledge, skills, attitudes and behaviour – in order to respond effectively to the challenges of global change and sustainability by mobilizing and using resources, and empowering existing capacity to effectively perform new/existing functions and solve problems.
The following figure further explains APN's Conceptual Framework for Effective Capacity Development in Asia-Pacific: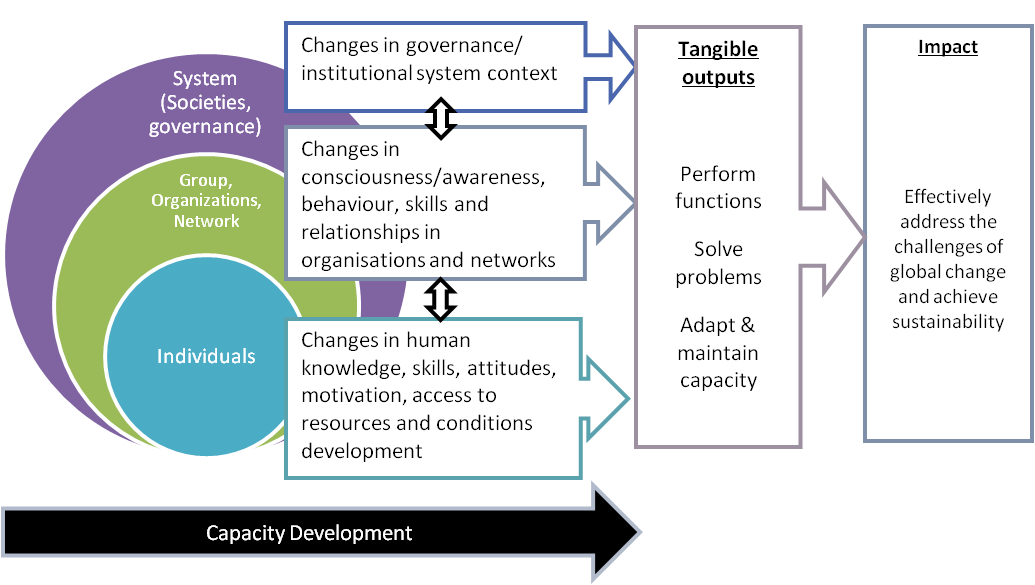 Under the fourth strategic plan APN focuses on following capacity development activities:
Capacity development in the context of the five thematic areas under Research Agenda;
Establishing criteria and metrics for evaluating successful capacity development;
Contributing to capacity development components of the evolving global change arena, including the IPCC and IPBES, the post-2015 Sustainable Development Goals, and Future Earth;
Continue its capacity development efforts at levels from local to national, regional and global, particularly in developing countries; and
Continue to emphasise the successful "partnership" approach of CAPaBLE as the key for securing investment from stakeholders.