6 November 2021—APN Secretariat and project leaders shared the Network's latest knowledge syntheses and tools at an international webinar organized by the Universiti Teknologi PETRONAS Go Green Movement (UTPGGM) Malaysia with the theme of "Climate change: An inevitable disaster or a challenge that can be overcome?".
The webinar, attended by more than 100 participants, was to increase public awareness of the concept of sustainability, particularly on ecological solutions, promoting conservation and environmental protection through balanced engineering principles and environmental considerations.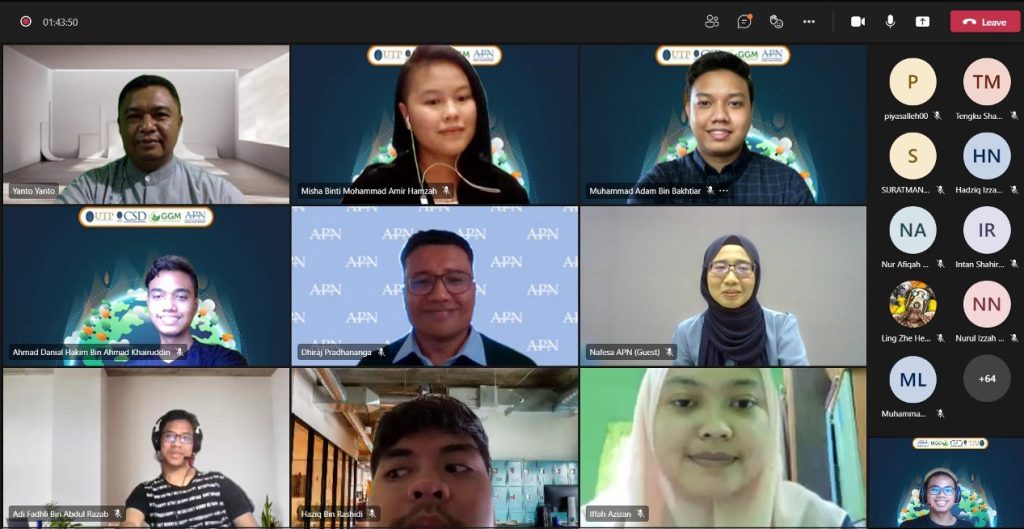 Dr Nafesa Ismail, programme officer at the APN Secretariat, introduced the work of APN and its recent publications, such as the APN Knowledge Synthesis on knowledge gaps filled by APN's activities against the key themes of the IPCC 6th assessment report (AR6), Sustainable Development Goals (SDGs) and the Paris Agreement. She also talked about the climate adaptation and disaster risk reduction case study, which identified potential contribution of APN project outcomes to the Sendai Framework on Disaster Risk Reduction (SFDRR) and its linkage to SDGs.
Dr Yanto, Assistant Professor, Department of Civil Engineering, Universitas Jenderal Soedirman, Purwokerto, Indonesia, spoke on his team's effort an online visualization tool for extreme climate analysis in river basins located in Indonesia and India. The tool produces information on the variability of hydroclimate extremes in space and time, which is useful to policymakers and can enhance the community's resilience to floods and droughts in both countries. Dr Yanto leads an APN-funded project titled "Understanding space-time variability of climate extremes for societal resiliency in Indonesia and India" (CRRP2018-06MY-Yanto).
Representing the project "Rainwater harvesting for mitigating drought in western Nepal" (CRYS2017-01MY-Panthi), Dr Dhiraj Pradhananga, Associate Professor of Hydrometeorology at Tribhuvan University, Nepal, introduced a mobile application that provides information to households to aid in the installation of the rooftop rainwater harvesting systems. One of the goals of the mobile application is to reduce the impacts of climate change and provide a suitable environment for end-users and policymakers to cope with the water scarcity situation in Nepal.
A 20-minute Q&A session took place after the presentations where young participants and speakers discussed the technicality of the virtual applications and their usability in the Malaysian context, among others.