26 October 2012, Siem Reap, Cambodia — APN Members from Cambodia, Indonesia, Lao PDR, Malaysia, Thailand and Viet Nam met for the fifth Southeast Asian Subregional Cooperation (SEA-SRC) Meeting to review the progress of subregional activities and discuss future actions to strengthen collaborations on research and capacity development in global change-related issues of common concern among Southeast Asian countries.
Hosted by the Ministry of Environment, Kingdom of Cambodia with support from the APN, the fifth SEA-SRC Meeting and back-to-back activities concluded successfully on 26 October 2012, bringing the Southeast Asia Member Countries one step closer in their joint effort to address global change challenges in the subregion.
Fifth Southeast Asia Subregional Cooperation Meeting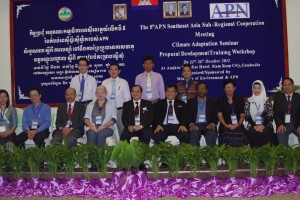 Before the official opening, all participants joined the organizer in observing a moment of silence for the very recent demise of King Norodom Sihanouk.
H.E. Dr. Vann Monyneath, Deputy Secretary General of National Committee of Coastal Management and Development, Deputy Director General cum Cambodia-ASOEN Chairman, General Department of Technical Affairs, Ministry of Environment, Kingdom of Cambodia provided opening remarks, noting the increasing need for scientific capability in Cambodia and the subregion to address climate change adaptation at all levels.
Mr. Sundara Sem, Head of Department of International Cooperation, Ministry of Environment, Cambodia, APN national Focal Point (nFP) for Cambodia and Chair of the APN Steering Committee, welcomed all participants to Cambodia. He provided a brief review of past SEA-SRC Meetings and main objectives of the present one, noting that regular subregional meetings over the years had enhanced the contact among Member Countries and led to a number of fruitful outcomes that benefited the science and policy communities within the subregion.
The meeting was jointly chaired by Mr. Sem and Dr. Subramaniam Moten, SPG Member for Malaysia. Dr. Linda Anne Stevenson, Executive Science Officer of APN Secretariat, provided a brief background of APN subregional cooperation and introduced the objectives of the meeting.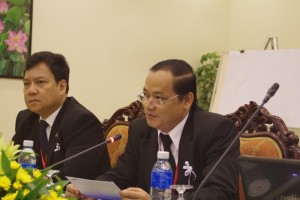 This was followed by a comprehensive review of the fourth SEA-SRC Meeting and back-to-back events held in Hanoi, Viet Nam in 2011, by Dr. Kim Chi Ngo, SPG Member for Viet Nam. She noted with appreciation that discussions at the meeting has led to a successful Science-Policy Dialogue for Southeast Asia, and steady progress had been made towards designing and developing a summer school programme on urban adaptation to climate change.
Dr. Erna Sri Adiningsih, SPG Member for Indonesia reported on the status of the proposed summer school project. She started with how the idea was formulated and later developed with the support from SEA members. Then she highlighted the proposed objectives, curriculum and topics of the summer school programme, and informed that a scoping workshop will be held to identify the real problems and gaps, in order to develop a solid proposal for IGM consideration.
Dr. Jariya Boonjawat, SPG Member for Thailand provided a full review of the Southeast Asia Science-Policy Dialogue. She presented a summary report and a number of other important outputs. Discussions focused on how to develop information products that would meet the needs of the science and policy communities, lessons learned that could shed light on improving future dialogues, and the possible way forward to enhance interaction between scientists and policymakers in the region.
Mr. Xiaojun Deng, Programme Officer, APN Secretariat, provided updates on communications and institutional matters, especially regarding the progress in engaging Myanmar as an official member of the APN. The SEA-SRCom members acknowledged the strategic importance and opportune timing to involve Myanmar as an official APN Member Country, as it will chair ASEAN in 2014 and is also a very active member in the Mekong subcommittee. It was recommended that before it officially becomes a member of APN, Myanmar be granted "Approved Country" status so that organizations and individuals from Myanmar are legible to receive funds from APN.
A brainstorming session focused on ways to enhance the flow of information and mechanisms for enhanced communication channels that will lead to better interaction between scientists and policymakers in Southeast Asia, as well as future plans for the SEA-SRCom. Dr. Ngo introduced a proposed activity on urban solid waste management with links to climate change mitigation. Members expressed interest in this activity and agreed to facilitate its further design and development to ensure it provides tangible benefits to Southeast Asian nations.
Climate Adaptation Seminar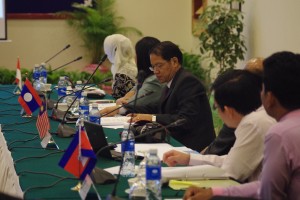 The SRC Meeting was followed by a half-day Climate Adaptation Seminar, where country representatives and experts from the subregion shared knowledge and experience related to climate adaptation in their countries.
Dr. Stevenson made a keynote presentation on APN and its recent work in the area of climate adaptation. She introduced APN research and capacity development activities concerning climate vulnerability, impacts and adaptation. She highlighted recent publications, including Climate in Asia and the Pacific, which synthesizes APN climate-related research and capacity development over ten years and provides recommendations for decision makers, and a policy brief on partnerships to address climate adaptation challenges. She also introduced APN's new multi-year focused activity on climate adaptation, which will cover regional-scale research, downscaled modelling, information and knowledge sharing, disaster risk management, systematic training and capacity building for scientists and practitioners, science-policy dialogues, among other topics.
Dr Preap Visarto, General Directorate of Agriculture, Ministry of Agriculture Forestry and Fisheries (MAFF), Cambodia, and former APN project leader, presented on climate adaptation efforts in Southeast Asia through a general overview of the natural and socioeconomic environment of the subregion, natural and anthropogenic climate stressors, as well as best practice examples of climate adaptation activities in Cambodia and across the subregion.
This was followed by country specific presentations with focus on major adaptation concerns; current institutional arrangements; policies, strategies and actions to address climate adaptation, as well as the general landscape of climate adaptation research and the gaps and needs therein.
Proposal Development Training Workshop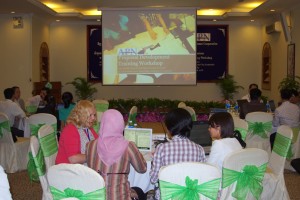 Back-to-back with the seminar was a Proposal Development Training Workshop (PDTW) organized by the APN. APN members and project leaders shared experience and provided hands-on training to some 15 young scientists from Southeast Asian Member Countries.
The PDTW aims to raise awareness among young and early career scientists about APN and its activities and to increase their capacity in developing competitive proposals for the APN. In addition, the PDTW also aims to provide a platform for trainees to establish and maintain effective professional relationships with mentors and peers, and for new nFPs and SPG members to better understand the APN proposal process.
The workshop started with an oral presentation session that addresses the basic information about APN; background and objectives of the PDTW; the APN proposal process; and guidelines and advice on writing a competitive proposals for APN.
Trainees then gathered in their pre-assigned groups to review and revise the summary proposal they had been working on prior to the workshop, based on advice from mentors and the criteria provided by the APN. Each group designated one member to deliver an oral presentation based on their proposed activity, and in the ensuing discussion session, they exchange views regarding how to improve each individual proposal.
Each group was allowed some time to revise their summary proposal before being reviewed by other peer groups employing the APN review criteria. All groups then provided a summary of their reviews and selected the best proposal indicating its strengths and weaknesses.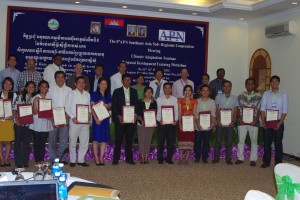 "The guidance provided to us by our mentors was really helping us to develop a competitive proposal," said Mariche Basañez Bandibas, workshop trainee and a Science Research Assistant at the Ecosystems Research and Development Bureau (ERDB), the Philippines, "There are biases as to whether we are too young in our research fields; the networking opportunity here helps to build strong partnerships, friendships, and many others."
All presentations from the Climate Adaptation Seminar and the PDTW are available for download on this page.
For details about APN subregional cooperation and Proposal Development Training Workshops, please contact Dr. Linda Anne Stevenson, Executive Science Officer, APN Secretariat at lastevenson@apn-gcr.org.
Presentations
Photos
Links to APN Facebook Page:
Proposal Development Training Workshop