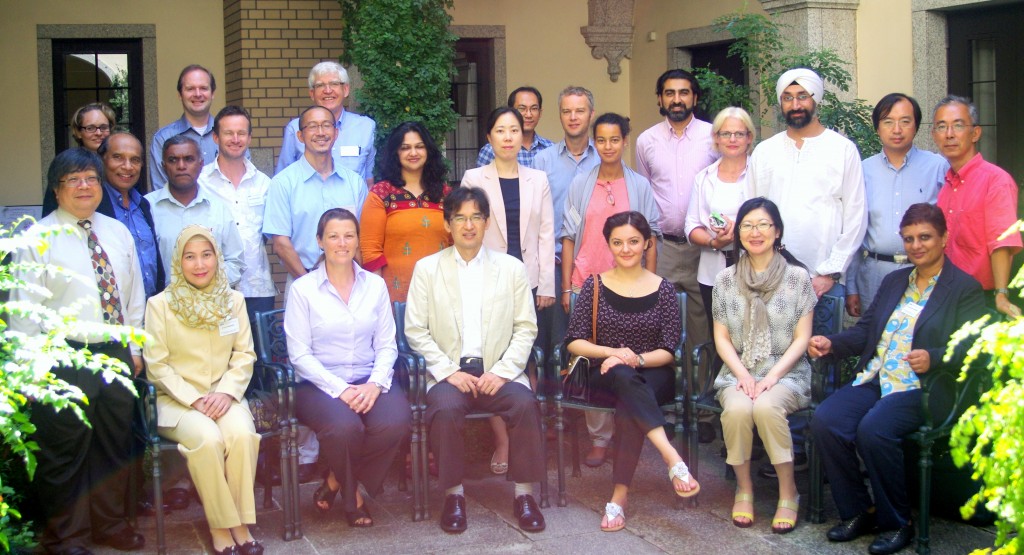 23 August 2013, Kobe, Japan — The APN organised a three-day workshop "Climate Adaptation, Disaster Risk Reduction and Loss + Damage — Linkages, Priorities, Limitations" on 21-23 August 2013 in Kobe, Japan. Various experts from the Asia-Pacific region attended the workshop and shared their knowledge and expertise on climate change and variability, climate change impacts and assessment, climate change adaptation, disaster risk reduction and loss and damage.
On the first day, Dr. Akio Takemoto, APN Secretariat Director, provided an overview of the APN as well as the agenda, main objectives and expected outputs of the workshop. Dr. Linda Anne Stevenson, Division Head for Communication and Scientific Affairs, provided background on APN's activities on climate adaptation and discussed the CCA-DRR-L+D special call for proposals. She explained some of the adaptation activities that APN has been implementing and the more recent activities under APN's Climate Adaptation Framework. She also introduced the special call for proposals, launched 30 August with submissions open until 22 September.
The workshop highlighted presentations from selected participants, the majority of which emphasised climate change concepts such as extreme weather events and slow onset events, and their associated economic and non-economic loss and damage, existing approaches and methodologies in assessing loss and damage, local and regional perspectives on disaster risk and reduction, adaptation policies and governance, and lessons learned from current practices in addressing loss and damage.
The third day of the workshop mainly focused on the common and unique challenges that need to be addressed in terms of climate change adaptation, disaster risk management and loss and damage strategies in South Asia, Southeast Asia, Temperate East Asia and the Pacific. These outputs helped APN in identifying priority areas of research and capacity development for the upcoming focused activities.
The workshop successfully gathered a pool of experts who helped identify priority areas of research on loss and damage adaptation due to climate change.
The workshop proceedings is being compiled and will be published in due course.
By: Christmas de Guzman
21 August 2013
08:30-09:30
REGISTRATION, OPENING SESSION AND INTRODUCTION
08:30-09:00
Participants registration
09:00-09:15
1.1 Welcome remarks and introduction to the three day workshop PDF

09:15-09:30
1.2 APN activities on climate adaptation and overview of CA-DRR-L+D special call for proposals PDF

09:30-12:30
AN INTRODUCTION TO LOSS AND DAMAGE
09:30-10:00
Chairs: Dr. Akio Takemoto and Ms. Anna Hasemann
2.1 Introduction presentation on Climate Adaptation, Disaster Risk Reduction and Loss + Damage PDF
Ms. Erin Roberts, Coordinator, Loss and Damage Project, International Centre for Climate Change and Development (ICCCAD)
10:00-10:30
2.2 Extreme weather events and slow onset events and their associated economic and non-economic loss and damage PDF
Dr. Archana Patankar, Assistant Professor, K J Somaiya Institute of Management Studies and Research
10:30-10:45
Coffee/Tea Break
10:45-11:15
2.3 Existing approaches and methodologies to assess loss and damage PDF 
Dr. Kees van der Geest, Science Coordinator: Loss and Damage Case Studies, Environmental Migration, Social Resilience, and Adaptation, United Nations University Institute for Environment and Human Security (UNU-EHS)
11:15-11:45
2.4 Lessons learned from current practices in addressing loss and damage PDF
Ms. Kashmala Kakkhel, Project Manager (Asia), Climate Development Knowledge Network (CDKN)
11:45-12:30
Panel Discussion (Moderated by the Chairs)
Panelists: Ms. Erin Roberts, Dr. Archana Patankar, Ms. Kashmala Kakkhel, Dr. Kees van der Geest and Ms. Diane McFadzien (via Skype)
12:30-13:30
Lunch Break
13:30-15:15
3. DISASTER RISK REDUCTION
13:30-14:15
Chairs: Dr. Andrew Matthews and Mr. Rahman Hamid 3-1 Disaster Risk Reduction: Regional and Local perspectives
Overview of DRR, research being implemented and main issues and challenges in the region

DRR Perspectives from Asia PDF
Dr. Jane E. Rovins, Executive Director, Integrated Research on Disaster Risk
DRR Perspectives from the Pacific PDF
Mr. Timothy Wilcox, Sub-Regional Coordinator (Pacific), United Nations Office for Disaster Risk Reduction (UNISDR)
DRR and Local Perspectives PDF
Mr. Harjeet Singh, International Coordinator, Disaster Risk Reduction and Climate Adaptation, ActionAid International

14:15-14:45
3-2 Disaster Risk Management for Sustainable Development (DRM-SD)
Sharing experiences and knowledge gained from SEA and the Pacific community-based adaptation case studies
14:45-15:15
Panel Discussion (Moderated by the Chairs)
Panelists: Dr. Jane E. Rovins, Mr. Timothy Wilcox, Prof. Kanayathu Chacko Koshy; Mr. Harjeet Singh and Mr. David Hebblethwaite
15:15-15:30
Coffee/Tea Break
15:30-18:00
Field visit to Disaster Reduction Museum in Kobe
22 August 2013
09:00-10:30
4 – CLIMATE ADAPTATION POLICIES & GOVERNANCE: PRIORITES & LIMITATIONS
09:00-09:30
Session Chairs: Dr. Louie Tupas and Dr. Erna Sri Adiningsih4.1 Adaptation Governance – Priorities and Limitations

Dr. Soojeong Myeong, Research Fellow, Korea Environment Institute/Korea Adaptation Center for Climate Change PDF
Ms. Yuko Hoshino, Senior Assistant Director, Research and Information Office, Global Environment Bureau, Ministry of the Environment, Japan PDF
Dr. Akio Takemoto, APN Secretariat Director (on behalf of Prof. Mimura, Director, Institute for Global Change Adaptation Science, Ibaraki University) PDF

09:30-10:30
4.2 Climate Adaptation Policies – Strategies & Limitations using APAN experiences PDF
Dr. Daisuke Sano, Director, IGES Regional Centre, Asia-Pacific Adaptation Network4.3 Examples of Effective Community-Based Adaptation Strategies in Governance PDF
Prof. Juan Pulhin, Professor and Dean, College of Forestry and Natural Resources, University of the Philippines Los Baños

4.4 Effective Networking Strategies for Adaptation Governance PDF
Prof. Joy Jacqueline Pereira, Coordinator, Climatic Hazards Programme, Southeast Asia Disaster Prevention Research Institute (SEADPRI), Universiti Kebangsaan Malaysia (UKM)

Panel Discussion (Moderated by Chairs)
Panelists: Dr. Daisuke Sano, Prof. Joy Jacqueline Pereira, Dr. Soojeong Myeong, Ms. Yuko Hoshino, Dr. Akio Takemoto.

10:30-11:00
Coffee/Tea Break
11:00-17:00
5 – BREAK OUT SESSIONS
11:00-11:15
Task One: WorkingGroup Placements and Self-Introduction Participants form four sub-regional groups:

South Asia
Southeast Asia
Temperate East Asia
Pacific

Each group will have an expert in loss & damage, climate change adaptation and disaster risk reduction. Facilitators will lead the discussions, provide a written summary and prepare a presentation (Task Two; 15:30).

11:15-12:30
Task One: Continued
Groups discuss and identify the main issues for the sub-regions that are linked with the objectives of the meeting.
12:30-13:30
Lunch Break
13:30-15:00
Group Task One: Continued
Groups discuss and identify the main issues for the sub-regions that are linked with the objectives of the meeting.
15:00-15:30
Coffee/Tea Break
15:30-17:00
Group Task Two: Presentations
Groups will prepare written reports and PPT presentation for the morning plenary from 09:00 on 23 August 2013.
18:00-20:00
Dinner Hosted by APN
23 August 2013
09:00-12:30
6 – RESULTS & DISCUSSION OF BREAK-OUT SESSIONS
09:00-09:30
Session Chairs: Dr. Akio Takemoto and Dr. Linda StevensonSouth Asia Sub-Region Presentation
15 minute presentation and 15 minutes follow up discussion
09:30-10:00
Southeast Asia Sub-Region Presentation
15 minute presentation and 15 minute follow up discussion
10:00-10:30
Temperate East Asia Presentation
15 minute presentation and 15 minute follow up discussion Pacific
10:30-11:00
Pacific Presentation
15 minute presentation and 15 minute follow up discussion Pacific
11:00-11:30
Coffee/Tea Break
11:30-12:30
Comments and Discussion on Sub-Regional Issues
Active discussion on common sub regional issues

How can collective efforts be undertaken in the broader geographical contexts (regional-based)?
Are there advantages and limitations of considering the broader region (for example Asia-based approaches; Pacific-based approaches. How could stakeholders effectively interact?)
Can we scale-up up local/community-based approaches into national/sub-regional approaches?
Can we identify any gaps?

12:30-13:30
Lunch Break
13:00-15:00
7 – APN'S FOCUSSED CALLS FOR PROPOSALS
13:30-15:00
Session Chairs: Dr. Louie Tupas and Dr. Wenjie DongIdentify and select high-priority themes for APN Focused Call for proposals

Identify high-priority research themes
What are the gaps that could be addressed?
Identify main capacity development needed for young researchers and policy makers
Who can be targeted for the call?

15:00-15:30
Coffee/Tea Break
15:30-17:00
8 – WORKSHOP OUTPUTS AND CLOSING
15:30-16:15
Discussion on Workshop Outputs
Session Chairs: Dr. Akio Takemoto and Ms. Erin RobertsReaddressing the objectives, agreeing on outputs and how the APN can disseminate its findings to its members and the broader research community.
16:15-16:45
Suggestions and comments for APN Climate Adaptation Framework
16:45-17:00
Final Comments and Closing