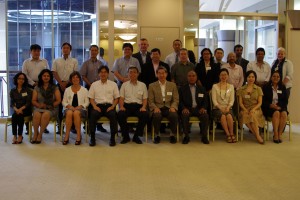 22 Aug, 2012, Kobe, Japan — The APN, in collaboration with the Institute for Global Change Adaptation Science (ICAS), Ibaraki University and with sponsorship from Hyogo Prefectural Government, held a workshop entitled "Scoping Workshop to Enhance the Climate Adaptation Actions of APN Developing Countries" in Kobe, Japan, from 20 to 22, August 2012.
Background and Objectives
The adverse effects of climate change and natural variability pose a significant threat to humanity and ecosystems in the Asia-Pacific region. Parties to the United Nations Framework Convention on Climate Change (UNFCCC) at its sixteenth session of the Conference of the Parties (COP16) adopted the Cancun Adaptation Framework (CAF) to enhance action on adaptation with the same level of priority as mitigation, and at its seventeenth session in Durban, South Africa, reaffirmed the above decision and decided on modalities and procedures for the Adaptation Committee that will provide support to enhance action in this area including engagement with, and drawing on the expertise of, relevant networks and centres.
It is with this background that the APN recognizes its unique position and the increasing need to support adaptation actions in the region through regional collaborative research, scientific and technical capacity building as well as science-policy interaction, which has lead to a series of activities focused on adaptation, including a dedicated session on "Networking Beyond Rio+20: Climate Adaptation Partnerships for Sustainable Development" at the "Adaptation Futures" conference at Tucson, Arizona, USA, on 31 May 2012, where a set of key messages emerged and feeds into the discussion of the present workshop.
The objective of present workshop was to develop a strategy that can be incorporated into the APN strategic plan for enhancing climate adaptation in the Asia-Pacific region from the viewpoint of mainstreaming scientific knowledge into the formulation and implementation of climate adaptation plans. Based on the input from workshop participants, it aims to identify needs, gaps, and lessons on planning and implementation of adaptation, and to develop a strategy for APN to enhance adaptation activities in the region by collaborating with international and regional organizations and networks.
Discussions
Participants to the meeting include experts from United Nation University (UNU), Asian Development Bank (ADB), Japan International Cooperation Agency (JICA), Asia-Pacific Adaptation Network (APAN), World Climate Research Programme (WCRP), Tsukuba University, and decision makers, scientist and researchers from Cambodia, China, India, Japan, Nepal and the Philippines.
The first day of the workshop consisted presentations on of collaborating institutions' recent work on climate change adaptation, including training and capacity building, risk assessment, data collection, regional downscaling, data and knowledge management, networking, etc. Revolving around key objectives of the workshop, participants expressed their views on what role APN could play as a regional network to support adaptation actions, including focused areas, tools and approaches, modality and feasibility of new activities etc.
On the following day participants addressed potential strategies for mainstreaming climate risk assessments into adaptation planning, which could include to both top-down (science driven) and bottom-up (community needs-based) approaches. Regarding top-down approaches, participants stressed the need for more coordinated efforts on climate downscaling, data collection and maintenance, dissemination of best practices, development of common tools etc, while in terms of bottom-up approaches, it is of crucial importance to promote community-based and ecosystems-based adaptation as well as dialogue between different stakeholders at all levels of government.
Outcomes
As a result of the discussions at the workshop, it was suggested that the APN establish a multi-year strategic programme focusing on climate adaptation from April 2013 pending resource availability.
The new programme aims to enhance science-based adaptation activities of APN developing countries and comprises the following components: 1) regional research programme that has a capacity building element; 2) capacity building programme (including projects at national and sub-national scales) and 3) activities jointly conducted with other organizations and networks.  The workshop identified the needs, gaps and lessons learned in terms of climate adaptation in the Asia-Pacific region, and generated a set of thematic areas where APN could contribute to. Through the exchange of information at the workshop, APN also identify possible future partnerships at the regional and international level through existing and new platforms.
The major outcomes of the workshop will be presented to APN's next Inter-Governmental Meeting for consideration and adoption.
Presentations
Photo Gallery