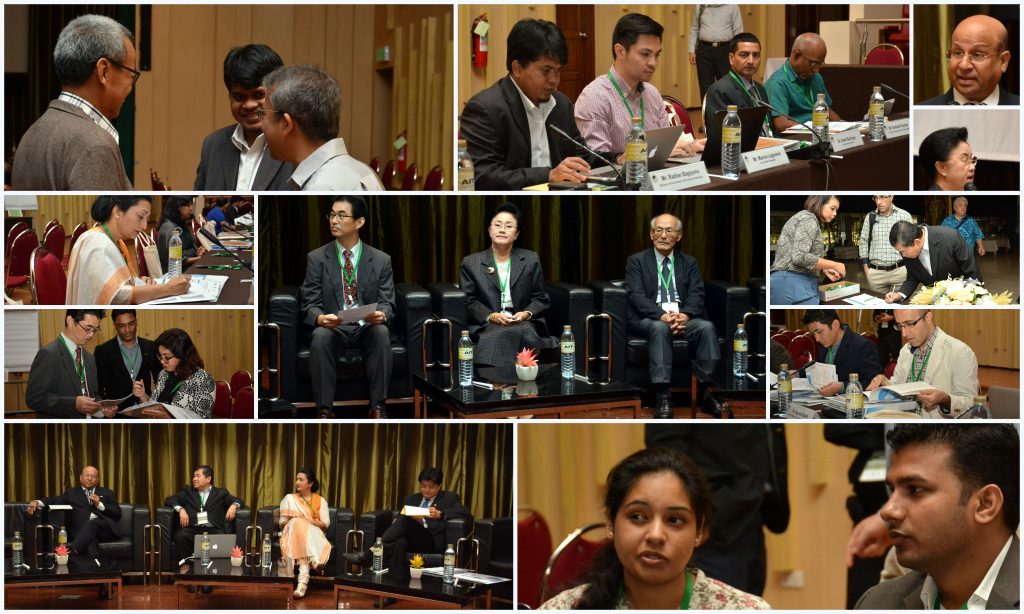 6-10 February 2017, Pathum Thani, Thailand — APN, LoCARNet and Regional Resource Centre for Asia and the Pacific, Asian Institute of Technology (AIT/RRC.AP) co-organise a Capacity Building Workshop and Science-Policy Dialogue at the AIT campus in Pathum Thani, Thailand from 6-8 February 2017. The activities were driven by the common aim to strengthen the global response to climate change set forth in Article 2 of the Paris Agreement and in line with celebrating four years of support for low-carbon development by both APN and LoCARNet.
The three-day activities look at results from APN's funded projects under its Low Carbon Initiatives (LCI) framework and Climate Adaptation framework, as well as the latest outcomes from partner organisations that support the implementation of the Paris Agreement with the aim of sustaining a planet under the 2oC scenario. The activities include a capacity building workshop (one day), and a science-policy dialogue for knowledge exchange (management, communication, etc., two days) that engages countries in Asia. The Science-Policy Dialogue includes talks on the role of green investment in cities, low carbon and energy-efficient technology, a better water-energy-carbon nexus, among others. In addition, participants join "café kiosks" and discuss issues of effective "science and policy interactions", "knowledge management" and "networking and capacity building" to realise a low-carbon and resilient Asia. Decision-making games also form part of the activities engaging participants in making decisions that are or may be, high-risk decisions.
For more information: Event Agenda / Photos / Proceedings and Policy Brief 
Session I: The Role of Asia in Mitigating Climate Change: The Paris Agreement and Beyond
Asia's Path to Low-Carbon Society
Dr. Bindu Lohani, Former Vice-President of the Asian Development Bank (ADB) for Knowledge Management and Sustainable Development, email: bnlohani@gmail.com
Building Synergies between Research, Policymaking and Implementation for Low Carbon Development in Asia: Identifying the Gaps
Ms. Ina F. Islam, Deputy Director, International Centre for Climate Change & Development (ICCCAD), Bangladesh, email: inaislam.icccad@iub.edu.bd
Growing Importance of Capacity Development in Asia
Prof. Juan Pulhin, Department of Social Forestry, College of Forestry and Natural Resources, University of the Philippines Los Baños, Philippines, email: jmpulhin@up.edu.ph
Session II: Science-based Research and Integrated Climate Policy
Achieving Thailand's Nationally Determined Contributions: National Perspective
Dr. Phirun Saiyasitpanich, Director of Climate Change Management Coordination Division Office of Natural Resources and Environmental Policy and Planning (ONEP) Thailand
Analytical Tools for Assessing Low Carbon Society Measures: Country-level Examples
Dr. Bundit Limmeechokchai, Sirindhorn International Institute of Technology, Thammasat University, Thailand, email: bundit.lim@gmail.com
Japan 2050 Low Carbon Navigator
Dr. Mustafa Moinuddin, Senior Policy Researcher and Task Manager, Green Economy Area, Institute for Global Environmental Strategies (IGES), Japan, email: moinuddin@iges.or.jp
Session III: Role of the Research Community in Supporting Capacity Building to Facilitate Country-Level Low Carbon Development
Carrying out the Paris Agreement: Role of research communities in supporting scientific climate policy
Ms. Tomoko Ishikawa, Senior Policy Researcher and Task Manager, Green Economy Area, Institute for Global Environmental Strategies (IGES), Japan, email: t-ishikawa@iges.or.jp
Capacity Building Needs for Low-carbon Development at SubNational Level: Experience from Iskandar city Project
Prof. Ho Chin Siong, Director, Low Carbon Asia Centre, University Technology Malaysia, email: csho59@yahoo.com
Capacity Building Needs for Low Carbon Development in Asia: The Thailand Experience
Dr. Chanyaphak Wathanachinda, Director, Thailand Greenhouse Gas Management Organization, Thailand, email: jakkanit@tgo.or.th
Session I: Case Studies from APN Low Carbon Initiatives Framework
Setting the Scene – Roles and Objectives
Dr. Linda Anne Stevenson, Head, Division of Communication and Scientific Affairs, APN Secretariat
Towards a better Water-Energy-Carbon nexus in Asian Cities
Dr. Shobhakar Dhakal, Head, Department of Energy, Environment & Climate Change, School of Environment, Resources and Development Asian Institute of Technology (AIT), Thailand, email: shobhakar@ait.asia
Scaling up low carbon technology in construction & infrastructure Sector
Ms. Pratibha Ruth Caleb, Development Alternatives, India, email: pcaleb@devalt.org
Low-Carbon Infrastructure Investment: Indonesian Case
Prof. Rizaldi Boer, Centre for Climate Risk and Opportunity Management in Southeast Asia and Pacific (CCROM-SEAP), Bogor Agricultural University, Indonesia, email: rizaldiboer@gmail.com
Integrating Scientific Knowledge into Policy in Asian Cities: A case of Bangkok, Thailand
Dr. Monthip Sriratana Tabucanon, National Research Council of Thailand, email: monthip2007@gmail.com
Low Carbon Development in Cities for a Sustainable and Resilient South Asia
Mr. Keshav Jha, ICLEI Local Governments for Sustainability, South Asia, email: Keshav.jha@iclei.org
Session II: Case Studies from APN related to Low-Carbon Development and Climate Change
Role of bioenergy in enhancing energy, food and ecosystem sustainability
Dr. Lilibeth Acosta-Michlik, University of the Philippines Los Baños, Philippines, email: lilibeth@pik-potsdam.de
Strengthening Community Voices to REDD+ Policy
Mr. Tai Keo, Country Coordinator, Non-timber Forest Product- Exchange Programme ( NTFP-EP), Cambodia, email: tai@ntfp.org
Identification of best agricultural practices with better GHG benefits in salinity-affected areas in South Asia
Dr. Erandathie Lokupitiya, University of Colombo, Sri Lanka, email: erandi@sci.cmb.ac.lk
Designing, developing and managing climate change information and knowledge management systems in Cambodia
Ms. Vichet Ratha Khlok, Deputy Director of Department of Climate Change, Government of Cambodia, email: vichetratha02@gmail.com
Policy Talk: Importance of Gender Equity in Low Carbon Development for a Sustainable Asia
Mr. Marvin Lagonera, Project Officer for Mitigation, ICLEI Southeast Asia, email: marvin.lagonera@iclei.org
Session III: Adaptation and Mitigation under the Paris Agreement
Integrated, resilience-based planning for mitigation and adaptation in Asia
Dr. Ayyoob Sharifi, Executive Director of Global Carbon Project, National Institute for Environmental Studies, Japan, email: Sharifi.ayyoob@nies.go.jp
Climate Smart Agriculture: Using Best Practices for adaptation and Mitigation in Asia
Ms. Nuzba Shaheen, Senior Scientific Officer, Global Change Impact Studies Centre,(GCISC), Pakistan, email: nuzba.gcisc@gmail.com
Adaptation After Paris: Capacity Gaps and Opportunities
Dr. Keith Bettinger, USAID Adapt Asia-Pacific, email: keithb@hawaii.edu
Climate Change Technology Transfer and Capacity Building for adaptation and mitigation under the Paris Agreement: Experience of India
Dr. Ajay Raghava, Ministry of Environment, Forest & Climate Change Government of India, email: Ajay.Raghava@nic.in
About the LCI framework and LoCARNet
In 2012, the APN launched its  Low Carbon Initiatives (LCI) Framework with a view to enhancing mitigation actions across countries in the region to help achieve the global vision for a low carbon, sustainable future. Since 2012, APN's LCI framework has been supporting regional research, capacity development and networking activities related to low carbon development.
At the same time, LoCARNet was launched by the  Institute for Global Environmental Strategies (IGES) in close cooperation with the  National Institute for Environmental Studies (NIES) to promote research to support the development of policies for low-carbon growth by enabling dialogue between scientists and policy makers.
The 9th Southeast Asia Sub-Regional Committee Meeting of APN
Back-to-back with the Science-Policy Dialogue, the 9th Southeast Asia Sub-Regional Committee Meeting of APN will be held from 9-10 February 2017 also at AIT, Thailand. National Focal Points and delegates from South-east Asian countries will gather to discuss several issues following action points raised at the APN's 21st IGM recently held in China.
Note to Editors
About APN
The Asia-Pacific Network for Global Change Research (APN) is a network of 22 Member Country governments that promotes global change research in the region, increases developing country involvement in that research, and strengthens interactions between the science community and policy makers.
APN was established in 1996 and its Secretariat is based in Kobe, Japan. APN supports its member countries via annual open calls for research and capacity development proposals under its core programmes and frameworks, and by organising events such as science-policy dialogues and proposal development training workshops to engage the participation of scientists and policy makers in achieving its science and policy agendas.
Additional resources
For more information, please contact:
Dr. Linda Anne Stevenson, Head, Division of Communication and Scientific Affairs, APN Secretariat, email:  lastevenson@apn-gcr.org
Ms. Dinh Huong Long, Programme Fellow, Division of Communication and Scientific Affairs, APN Secretariat, email: hdinh@apn-gcr.org