Low Carbon Initiatives Framework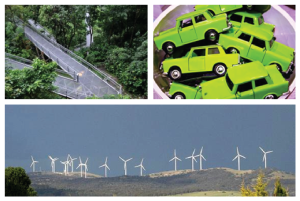 The APN launched the Low Carbon Initiatives (LCI) framework with a view to enhancing mitigation actions across countries in the region to help achieve the global vision for a low carbon, sustainable future. Since 2012, the LCI has been supporting regional research, capacity development and networking activities related to low carbon development. This framework is under APN's thrust on climate change mitigation and has the following three-pronged approach:
1. Regional-based research activities
Research to develop and enhance components of integrated assessment models.
Research on regional-based low carbon development pathways and scenarios.
Cross-cutting research on low carbon development including studies on traditional knowledge in the region.
2. Capacity building activities
Training workshops that develop scientific capacity to formulate low carbon scenarios and pathways.
Dialogue between researchers and national/local policy makers in developing member countries.
Development of educational toolkits on low carbon development.
3. Communication and networking activities 
Communication and networking activities organised with partners including the Low Carbon Asia Research Network (LoCARNet):
Institutional knowledge sharing.
Information and knowledge dissemination.
Regional collaborative research and networking in Asia.
Outputs: Policy Briefs
LCD-01: Towards a Better Water-Energy-Carbon Nexus in Cities
Shobhakar Dhakal, Sangam Shrestha, Ashish Shrestha, Arun Kansal and Shinji Kaneko
LCD-02: What Makes an Effective and Operable Benefit Distribution System for REDD+?
Kirtiman Sherchan, Maria Cristina Guerrero, Ma. Theresa Padilla-Matibag and Rob Harris
LCD-03: The Role of Bioenergy in Energy-Food-Ecosystem Nexus in Asia
Lilibeth A. Acosta, Damasa B. Magcale-Macandog, K. S. Kavi Kumar, Xuefeng Cui, Elena A. Eugenio, Paula Beatrice M. Macandog, Arnold R. Salvacion and Jemimah Mae A.Eugenio
LCD-04: Practical Approaches to Supporting City-level GHG Emissions Accounting by Local Governments
Shom W. C. Teoh and Toshizo Maeda
LCD-05: Green Investment in Asian Cities: Cases of Shanghai, Jakarta and Yokohama
Joni Jupesta, Ping Jiang and Takako Wakiyama
LCD-06: Towards Upscaling the Application of Low-carbon and Energy-efficient Technology in the Construction Sector — Cases of India, Nepal and Pakistan
Dandapani Varsha, Kriti Nagrath, Suman Udas, Sunil Acharya, Hina Lotia and Sundus Siddiqi
Low Carbon Development: Asia-Pacific Perspectives
As an integral part of countries' mitigation strategies, low carbon development requires action from different fields across all sectors. This is perfectly manifested by the expressions of interest (EOIs) received under the LCI framework.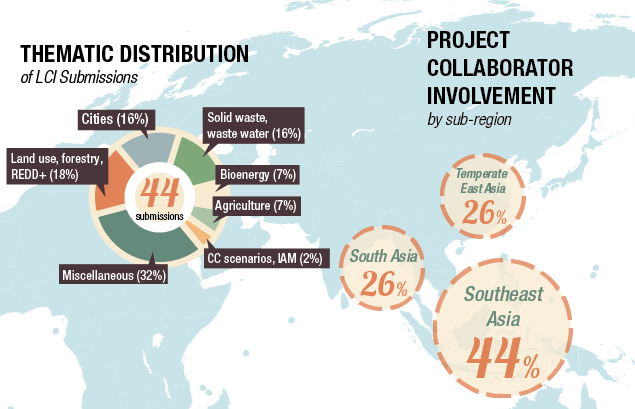 Related Links
The 44 EOIs received encompassed various disciplines, ranging from land use and forestry to waste management and integrated assessment modelling. The regional balance and thematic diversity shown by LCI projects validate that options for low carbon development in developing countries differ from one country to another and that from developed countries' viewpoint, LCI is a new development opportunity through mitigation.
Projects under the LCI Framework