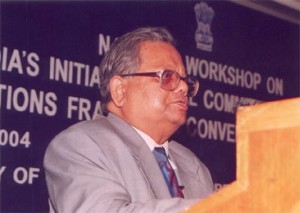 The Mitra Award for Global Change Research was established in 2010 in memory of Dr Ashesh Proshad Mitra, APN SPG Member for India from 1996 to 2007. Dr Mitra was a doyen in atmospheric research in India and was the recipient of the Padma Bhushan award by the Indian government in recognition of his distinguished service to the nation in the field of scientific research.
The award recognizes outstanding early-career professionals conducting global change research in the Asia-Pacific region. Early-career professionals from the host country of APN's Intergovernmental Meeting (IGM) are given the opportunity to present their research in a poster session to scientists, practitioners and policymakers attending the Meeting.
The posters are judged by APN's national Focal Points and Scientific Planning Group Members. Winners are presented the Mitra Award for Global Change Research in recognition of their outstanding work.
Past winners of the Mitra Award: