22 April 2022—The Institute of Forestry, Tribhuvan University (IoF, TU), Nepal; TERI School of Advanced Studies (TERI SAS), India; the Institute of Forestry and Environmental Sciences (IFES), University of Chittagong, Bangladesh and the Institute of Water and Flood Management (IWFM), Bangladesh University of Engineering and Technology, Bangladesh, organized an inception workshop on 22 April 2022 for the project "Towards sustainable urban water management in Hindu Kush Himalayan (HKH) Region: a participatory approach to improving water security in mountain cities" funded by Asia-Pacific Network for Global Change Research (APN).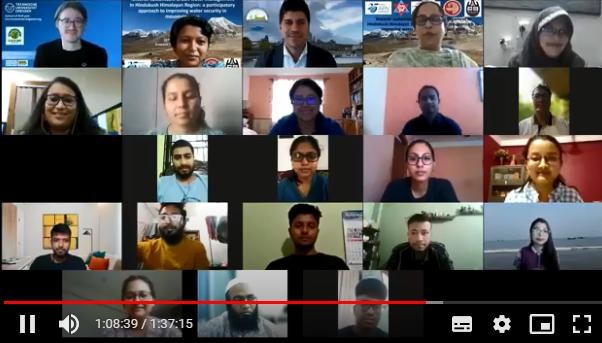 The workshop was attended by 43 participants representing students from different Universities in Nepal, India, and Bangladesh, including project team members (Dr. Menuka Maharjan, IoF, TU; Dr Sudeshna Maya Sen, Dr Reddy's Foundation; Dr Fawzia Tarannum, TERI SAS, Dr Sara Nowreen, IWFM; Prof. Dr Arun Kansal, TERI SAS; Prof. Dr Mohammad Mosharraf Hossain, IFES) and distinguished guests Dr Andre Lindner (Technische Universität Dresden, Germany), Dr Ing Firas Aljanabi (Global Water and Climate Adaptation Center, Germany) and Dr Madan Lal Shrestha (APN Scientific Planning Group Member for Nepal).
The project team briefly shared the project's objective, scope and timeline. Dr Shrestha delivered the keynote speech on behalf of APN, who also briefly introduced APN. While speaking to the workshop participants, the panellists highlighted the Himalayan water crisis and the challenges, prospects and opportunities for moving towards sustainable urban water management. Prof. Dr Mohammad Mosharaff Hossain presented the impacts of climate change on the forestry sector, which in turn impacts the water sources through a case study. Dr Menuka Maharjan stressed that there is a need for collaborative action by the HKH countries to work together on groundwater and aquifers. Dr Arun Kansal highlighted that in South Asian Himalayan countries, it is essential to establish a regional water authority in each country that will work together with its counterpart in other neighbouring countries and take a unified decision for shared resources. Dr Andre Lindner highlighted that to reduce the water stress caused by climate change in Asian countries, we better focus mitigation on gas and adaptation on water. Dr Ing Firas Aljanabi briefly introduced Global Water and Climate Adaptation Center (ABCD Center), established under the DAAD program "Global Climate and Environment Centers" in 2021, focusing on water security and climate adaptation. He also shared about different scholarships that ABCD offers and encouraged the students to apply for them.
The workshop was followed by the introduction of participants to the six-day virtual training on "Water security issues in the Himalayan region and assessment tools" conducted from 23 April to 7 May 2022. Twenty-six students from Bachelor attended the training to PhD levels from Nepal, India and Bangladesh. The participants gained immense theoretical and practical knowledge in the water sector, water security assessment tools and techniques such as PAST analysis, yED, Miro, remote sensing, GIS and Google Earth Engine, etc.