5 September 2012, Kobe, Japan — Dr. J. Scott Hauger of Asia Pacific Center for Security Studies (APCSS) headquartered in Honolulu, Hawaii, gave an informative and interesting talk on "Science, Climate Change and the Evolution of Security Policy" at a mini seminar during his first visit to the APN Secretariat.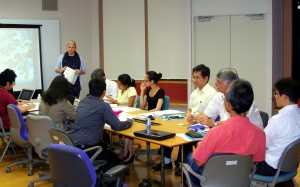 Dr. Hauger in his presentation discussed the evolving impacts of increasing scientific knowledge about climate change on regional security policy in the Asia-Pacific region.  He started with making the case for climate change as a security issue by elaborating the concept of comprehensive security, its links with climate change and the different types of conflicts as a result of climate effects.
Then he examined the current status of scientific knowledge in the security policy arena, and explored the knowledge needs by the security sector in order to cope with the changing environment. In particular, he noted the need for: 1) a better understanding of the complexity of environmental security; 2) more robust projections of impacts at the local scale; 3) better knowledge dissemination and framing; 4) better knowledge interchange with research communities; and 5) better social science knowledge on effective collaboration to address issues of the global commons.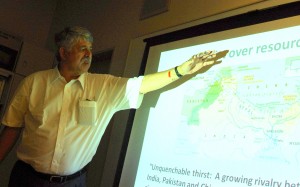 This was followed by an evaluation of the need and opportunity for multilateral and cross-sectoral collaboration to address security issues emergent with climate-related global change, where he stressed that strong scientific expertise, clear institutional mandates and robust governance structure are needed in order to reach a new level of global cooperation focusing on future needs. He noted that the draft Strategic Plan (2012-2021) of the United States Global Change Research Program (USGCRP) may provide a conceptual framework for regional and global collaborations. Finally he discussed some potential ways forward for the region, based on evolving perspectives of research and policy within the U.S. science and policy community.
Dr. Akio Takmoto, APN Secretariat Director, provided an overview of the APN, its core activities and recent efforts especially on supporting actions on climate adaptation and mitigation in the region in collaboration with key partners in the global change research community (presentation 1; presentation 2). He also shared his views on the links between security and climate-related global change.
It was pointed out in the seminar that APN will publish a book entitled Climate in Asia and the pacific: Society, Security and Sustainability in 2013, which will dedicate a chapter for climate variability and its links to food and water security, energy and disaster management; and this could be a starting point for APN's future engagement with APCSS on activities addressing the interlinkages between environment and security.
The seminar was attended by members of the APN Secretariat and guest experts from United Nations Office for the Coordination of Humanitarian Affairs (UNOCHA) Kobe Office and the International EMECS Center.
Dr. Hauger joined the Asia-Pacific Center for Security Studies in April 2010.  His area of expertise is that of science, technology and security.  He has special interests in issues of climate-related global change, environmental security, technological innovation, and security issues of space and the global commons.