22 October 2022, Kobe, Hyogo – APN held a session titled "Climate Change × Disaster Reduction: Thinking about sustainable city planning and communities" at the Bosai Kokutai 2022 in a hybrid style. The session was organised using the international network of APN, and was conducted with Japanese and English simultaneous interpretation from JICA Kansai. The session was attended by 95 participants (30 participants joined at JICA Kansai and 65 participants joined online).
In recent years, extreme weather disasters are increasing in frequency worldwide, and climate change is referred to as a "climate crisis".  This session was organised to effectively promote "climate change × disaster reduction" by providing visitors and participants with an opportunity to consider sustainable city planning and the need to prepare for future disasters from the viewpoint of communities.
Mr Ryuji Tomisaka, Director of the APN Secretariat, gave opening remarks. Mr Tomisaka explained the importance of promoting  "adaptive recovery" in the context of climate change adaptation when responding to disasters, which includes the promotion of decarbonisation as climate change countermeasures, adaptation measures aiming to minimise damage caused by disasters, and flexible responses such as controlling land use that is free from the conventional idea of restoring communities to the original form in post-disaster reconstruction.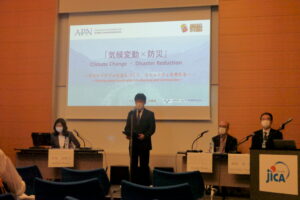 At the session, three presenters participated in a panel discussion and presented on the theme "Climate Change × Disaster Reduction: Thinking about sustainable city planning and communities". At the panel discussion, presenters discussed the necessity of pursuing wealth within planetary boundaries which humanity can continue to develop and thrive for generations to come, and the importance of incorporating green infrastructure and nature-based solutions into compact cities. Additionally, a question was raised on what citizens, NPOs and volunteers can do to connect disaster reduction and the prevention of global warming.
Facilitator
Prof. Michiko Bamba, Graduate School of Disaster Resilience and Governance, University of Hyogo
Panellists
Prof. Ayyoob Sharifi, Graduate School of Humanities and Social Sciences, Graduate School of Advanced Science and Engineering, Hiroshima University
Mr Gen'ichiro Tsukada, Director, Climate Change Adaptation Office, Policy Planning Division, Global Environment Bureau, Ministry of the Environment, Government of Japan
After the forum, a survey was conducted. Thirty-nine per cent of the participants responded excellent and 46 per cent good, indicating that in total, 80 per cent of the participants were satisfied with the session. Additionally, participants provided comments such as "the approach of disaster reduction x environment served as a useful reference" and "climate change and disaster risk reduction are closely related and need to be responded collectively ".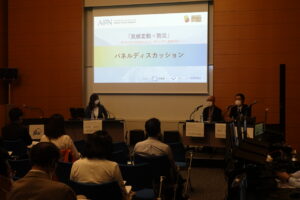 APN will continue to make efforts to deepen the understanding of environmental issues with the residents of Hyogo Prefecture by collaborating with the Hyogo Prefectural Government, research institutions and other institutions concerned.