15 October 2019, Beijing — The World Climate Research Programme (WCRP) International Conference on Regional Climate: Coordinated Regional Climate Downscaling Experiment 2019 (ICRC-CORDEX 2019) was held at the China National Convention Centre, Beijing, China.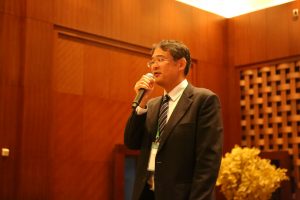 APN was represented by Mr Gen'ichiro Tsukada, Director of the Secretariat who made welcome remarks to all participants at the ice-breaker session on 15 October. Mr Tsukada recalled APN's long association with and contribution to the activities of CORDEX in Asia and expressed the hope for further exploring collaboration to advance the vision of APN and CORDEX in the region. Mr Tsukada also introduced APN's current ongoing open call for proposals, and an upcoming small grants opportunity for early-career scientists.
Through APN's CAPaBLE programme, early-career scientists were able to attend the event and APN was recognized as a Diamond sponsor of the event. The early-career scientist session was attended by Prof. Ailikun, member of APN's Scientific Planning Group. Prof. Fredolin Tangang, professor at the National University of Malaysia and APN-funded project leader, also took part in the panel session of the conference. The active engagement of APN through its members and project leaders illustrates APN's contribution to WCRP's mission of promoting analysis and prediction of Earth system variability and change, especially in Asia.
CORDEX is an international project that aims to provide a better understanding of regional climate phenomena through downscaling. The detailed climate information provided by CORDEX through its various global partnerships is necessary for vulnerability, impact and adaptation studies at local and regional levels, which fits well with the objectives of IPCC assessment reports.