Report by Dr. Linda Anne Stevenson
Executive Science Officer, APN Secretariat
Held at Zhangjiajie State Hotel in beautiful Zhangjiajie, Hunan, China, the 7th Scientific Steering Committee Meeting of Monsoon Asia Integrated Regional Study (MAIRS), a core project of the Earth System Science Partnership, successfully took place on 23 and 24 April 2012. The local host, Dr. Heqing Huang welcomed the participants and expressed his hope for fruitful outcomes.
The meeting was led by Dr. Ailikun, Director of MAIRS and Prof. Michael Manton, Chair of the MAIRS Scientific Steering Committee who addressed a number of important issues in the development of the MAIRS programme. In particular, Dr. Ailikun expressed three specific issues that would consume the two-day meeting: (1) Addressing strategic scenarios and options for Monsoon Asia: drivers, impacts and vulnerabilities and response strategies associated with environmental change; (2) Implementing MAIRS activities in line with changing scenarios; and (3) Establishing thematic nodes: drylands; mountain areas, etc.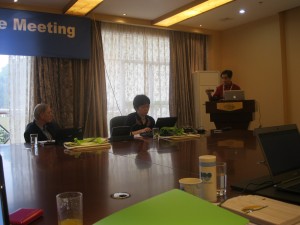 Professor Manton also shared the minutes of the previous meeting highlighting important points such as the new MAIRS draft Science Plan; integrating MAIRS more with the NASA-LUCC programme; other core networking activities, including closer networking with the APN; and funding mechanisms. In addition, MAIRS is considering convening its first Open Science Conference sometime in 2013/14 and request partnership with the APN, particularly for supporting younger generation of scientists from the Monsoon Asia Region to participate.
Some of the main highlights of the meeting are summarized as follows:
1. Urbanization
An important topic discussed was the new MAIRS urban study and the developing strategic plan. The study aims to look at the development of urban areas, well-being, supply, transportation, and energy, water and food usage, all of which are issues of governance and planning in particular. In addition, the study aims to address the issue of "green cities" for sustainable development.
The four main topics of the strategic plan are: (1) Development of Asian megacities; (2) Urbanization and climate; (3) Assessment of resilience and vulnerability of Asian megacities; and (4) Adaptive urban governance and urban sustainable planning.
2. Pastoral Systems
Dr. Dennis Ojima talked about an ongoing CDKN-MAIRS-related study that looks at the Drylands Pastoral Systems that takes a "coupled human-environment" (CHE) systems approach. Particularly encouraging in the realization of this project are the linkages between research and adaptation and the potential for deploying various sustainable adaptation strategies. The legacy of the project itself builds on past efforts led by Chuluun Togtohyn in Mongolia and supported by the APN and START.
Most recently, the Dryland Paradigm Study funded by the APN — which is featured in the APN 2012 Science Bulletin (pp 49–54) — has built on the back of team members at the local level and Dr. Togtohyn has been instrumental in developing the dialogue with local players. There is a trusted community in the Mongolian River Basin areas between local herders, country managers and potential leaders.
The main goals of the new project are to: engage a systems approach; develop adaptation options for pastoral systems; enhance stakeholder dialogue; and provide a platform where sustaining dialogues can take place at multiple scales.
3. Future Earth
Presented by Dr. Rik Leemans of the Earth System Science Partnership (ESSP), a dialogue ensued about the ongoing development of Future Earth. The importance of developing a strategy for MAIRS to integrate with the new 10-year programme was considered crucial, particularly in terms of how it can contribute to Future Earth. It was stressed that the strategy had to be realized soon so that MAIRS could be integrated effectively.
4. APN and MAIRS Partnership
Throughout the course of the meeting, it became clear that APN and MAIRS are connected through a number of APN-funded projects, including:
Dryland Development Paradigm (DDP) Application for the Most Vulnerable to Climate and Land Use Change of Pastoral Systems in the Southern Khangai Mountains of Mongolia (DDPPaS) [CBA2009-12NMY- Togtohyn]
Building Asian Climate Change Scenarios by Multi-Regional Climate Models Ensemble [ARCP2011-01CMY-Wang]
Intercomparison of Landsurface Process Modelling at Asian Drylands [ARCP2011-03CMY-Asanuma]
New three-year ARCP project led by Yinpeng Li: Development of an Integrated Climate Change Impact Assessment Tool for Urban Policy-Makers (UrbanCLIM) [ARCP2011-08FP-Li]
New CAPaBLE project led by Evgeny Gordov: Capacity Building to Study and Address Climate Change-Induced Extremes in Northern Asia. [CBA2011-02FP-Gordov]
APN found this very encouraging and suggested that the APN provide a dedicated web page to provide information to the APN community on the present APN-MAIRS partnership. This web page would also help raise the profile of MAIRS, but particularly focus on showcasing MAIRS achievements assisted by the APN. Furthermore, discussions took place on MAIRS embarking on its own "MAIRS series" of publications; discussions for which will ensue as the next year of MAIRS progresses.
Finally, with the number of exciting activities developing under the MAIRS programme, the APN looks forward to strengthening its partnership with the IPO and the entire MAIRS community.