Urban water bodies are in a dilemma whether to continue their deterioration or intervene to sustain their services to make cities livable in Asia. Beira lake in Colombo, Gregory Lake in Nuwara-Eliya, Kandy Lake in Kandy, Kurunegala lake in Kurunegala and Nuwara Wewa in Anuradhapura are few to mention that have been located at the heart of the cities and built centuries ago for multiple purposes such as drinking, irrigation, flood & drought mitigation, aesthetic appeal, relaxation, fishing, navigation, biodiversity, heritage etc., However, the expansion of cities, urban infrastructure development, growing industrialization and migration are drastically change the provision, regulatory, aesthetic and cultural services of the urban lakes in Sri Lanka as elsewhere in Asia. Several attempts have been made to restore the water quality in urban lakes. De-siltation, restoration of lake banks, aeration and catchment protection are some of the interventions.  Due to several reasons, those interventions could not cease the water quality deterioration and bring back normalcy to the lake.
Nature-based solutions (NBS) could play an important role in reducing urban water pollution, while generating multiple co-benefits that could make cities more livable and resilient. In this regard, Constructed Floating Wetlands (CFW) pilot and demonstration projects have been set up to explore their potential in Kandy and Kurunegala lakes in 2014 and 2020, respectively. Their effectiveness, however, has not been adequately documented and how they can be sustained, replicated and up-scaled remains poorly understood.
The Asia-Pacific Network for Global Change Research (APN) supported a project (Project Reference CRRP2021-06MY-Jegatheesan) on "Integrated assessment of existing practices and development of pathways for the effective integration of nature-based water treatment in urban areas in Sri Lanka, the Philippines and Vietnam" as align with its one of the themes on Global Change and Sustainability in the COVID-19 Era: Pursuit of transformation to more resilient societies. This project aims to contribute by compiling and analyzing the experiences of existing pilot and demonstration and developing and testing a nature-based water treatment pathways methodology and guide that can be used to support the establishment, maintenance and scaling of nature-based water treatment through collaborative action-research and multi- stakeholder consultations. The project being implemented in close collaboration with international experiences from Australia and Europe. The project envisages a transdisciplinary approach involving several key stakeholders and sustainable use of Constructed Floating Wetland. A series of Focus Group Discussions were held in Kandy and Kurunegala through a collaborative approach from researchers, national & local governmental bodies, local community-based organizations.
Kandy Lake is located at the heart of Kandy, which is a UNESCO world heritage city and the second largest city in Sri Lanka. It has a social, cultural, and religious significance due to its long-lasting history and its location next to the sacred Buddhist Temple of the tooth, "Sri Dalada Maligawa". It is most popular for local and foreign nationals for its annual festival called as "Essala perehara". Residents, floating population and the rapid urbanization cause water pollution in the lake. This is due to wastewater discharge from the residents, restaurants, tourist hotels and other establishments in the vicinity. Algal blooms, mortality of fish and loss of aesthetic conditions have been observed (Tomonori et al. 2011, Ng et al. 2018, Jinadasa et al. 2019).
Two Lakes in Sri Lanka applying floating wetlands to improve the water quality
Kurunegala city water supply is fulfilled from Deduru Oya, a river closer to the city. But the water level in Deduru Oya decreases significantly during drought seasons which leads to shortage in meeting the total water demand. When this occurs, water demand of the city is met by the Kurunegala Lake. Thus, Kurunegala Lake has become a critical water resource of the city for recreation and drinking. However, the quality of water suffers due to the urban runoff that enters the lake via Moda Ela and other culverts and has experienced occasional eutrophication in the recent past (in 2002, 2003 and 2009) and the lake was cleaned twice in 2003 and 2010. (https://urbanlakes.edu.lk/water-and-environment-system-analysis/)
The APN project has invited local authorities, government agencies and other interested parties for workshops in Kandy and Kurunegala as separate events on 9th December 2022 and 10th January 2023, respectively to discuss the current pollution levels in two Lakes and to take the necessary actions through community engagement framework to continue the actions to control the pollution. The participants can be categorized into their potential role on the lakes as shown in the pie chart.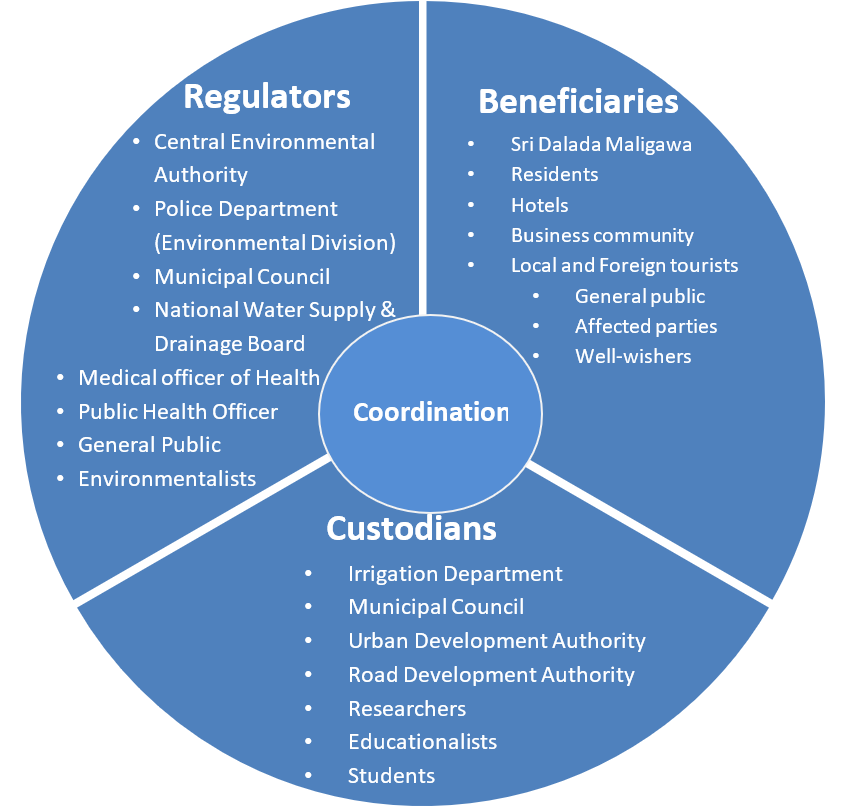 Participants engaged enthusiastically since there had been no common platform to discuss the issues related to both lakes. It has been identified that main causes of pollution for the lakes are soil erosion, domestic wastewater discharge and solid waste disposal, excessive feeding of fish and bird droppings.
Interestingly, people's perceptions on the actions to be taken on both lakes are more or less similar and can be categorized into four areas as the way forward: Water quality monitoring, engineering intervention (Constructed Floating Wetland), public awareness and community engagement. The following were identified under each area and several actions were proposed during those meetings.
Thus, the project has made a platform for the stakeholders to interact with each other to prevent lake pollution and ensure the sustainable use of lakes. Very positive responses with constructive discussion and willingness to engage collectively signal a better promise for the future of the lakes in Kandy and Kurunegala. Central Province Governor's Office located within the site of Kandy Lake agreed to coordinate the work as it did previously during the establishment of Floating Constructed wetland. However, in general, the vacuum for a central coordination is a handicap/challenge for a collaborative and coordinated work on public entity like urban lakes. Nevertheless, the dialogue must be iterated, and enthusiasm & momentum should be maintained for sustainability of the urban lakes with resilient societies.
Lake water quality monitoring
Regular water quality monitoring plan and implementation: By government institutions such as Department of Irrigation,Central Environmental Authority, University, Research institution
Update the stakeholders and public on water quality status through social media: WhatsApp and Facebook
Lake water quality protection/sustenance/Engineering intervention
General solutions

Wastewater treatment plant
Declaration of watershed as conservation zone through Gazette
Control of fish population
Introduction of solid waste bins
Considering lake water for drinking water purposes
Rating for environmental protection points for water bills
Strict environmental regulation for restaurants
Building approval to go through the Ministry of Health

Technical solutions

Sediment traps for major inflows
Floating wetland immediate downstream of major inflows
Public awareness / Education
Education for local tourists
Facebook for water quality updates
Awaress programs for hotel association
Junior invention program for schools
Coordination, collaboration, engagement and financing
Lake management committee
Village environmental commitee
Social media platforms (eg. facebook, webpages)
Connectivity and interaction between entities for problem awareness, solution findings and support
Progress meeting by department of irrigation
As a regular agenda in Distric Coordination Committee (DCC) meeting
Provincial Governer to take a coordination role
References
Tomonori, K., Weragoda, S. K., Attanayake, M. A. M. S. L., Masaki, S., Masamoto, T., Hideharu, H., & Yuka, S. (2011). Fish Die-off and Water Quality in Kandy Lake, a World Heritage Site in Sri Lanka. Journal of Ecotechnology Research, 16(2), 39–45. doi:10.11190/jer.16.39
Jinadasa, K. B. S. N., Weragoda, S. K., Valencia, E., Sim, S. T. V., & Ng, W. J. (2018). Community engagement and pollution mitigation at Kandy Lake, Sri Lanka. Water Practice and Technology, 14(1), 55–61. doi: 10.2166/wpt.2018.109
Ng, W. J., Nair, S., Jinadasa, K. B. S. N., & Valencia, E. (2018). Saving lakes: The urban socio-cultural and technological perspectives. doi: 10.1142/11014