23 July 2015 — APN is pleased to announce two winning photographs for the month of June in the ongoing annual L. B. Brown Memorial Photo Contest 2015.
The winners for "June: Promoting Sustainable Lifestyle" are Dilli Bhattarai (Nepal) and Satabdi Datta (India) who submitted photos of the traditional Soraai fishing taken at eastern Hilly region of Nepal and the ethnic art of pottery taken at Panchmura village, West Bengal, India, respectively. Both photos convey traditional way of living which is sustainable in its simplest form and reverberate the sub-theme "Harmonious Relationship Between the Human Society and Ecosystem" — implying a way of life with less human demand on Earth's ecosystems.
The two winning photos for June, along with other monthly winners, will be exhibited at APN's 21st IGM/SPG Meeting to be held in March 2016, where the grand winner of the annual L. B. Brown Memorial Award will be selected. For the current month of July, APN welcomes entries under the theme "Empowering the Youth" in recognition of the World Population Day, observed annually on 11 July. For details to submit your entry: https://www.apn-gcr.org/2015/07/02/call-for-entries-l-b-brown-memorial-photo-contest-july-empowering-the-youth
Winning Photographs: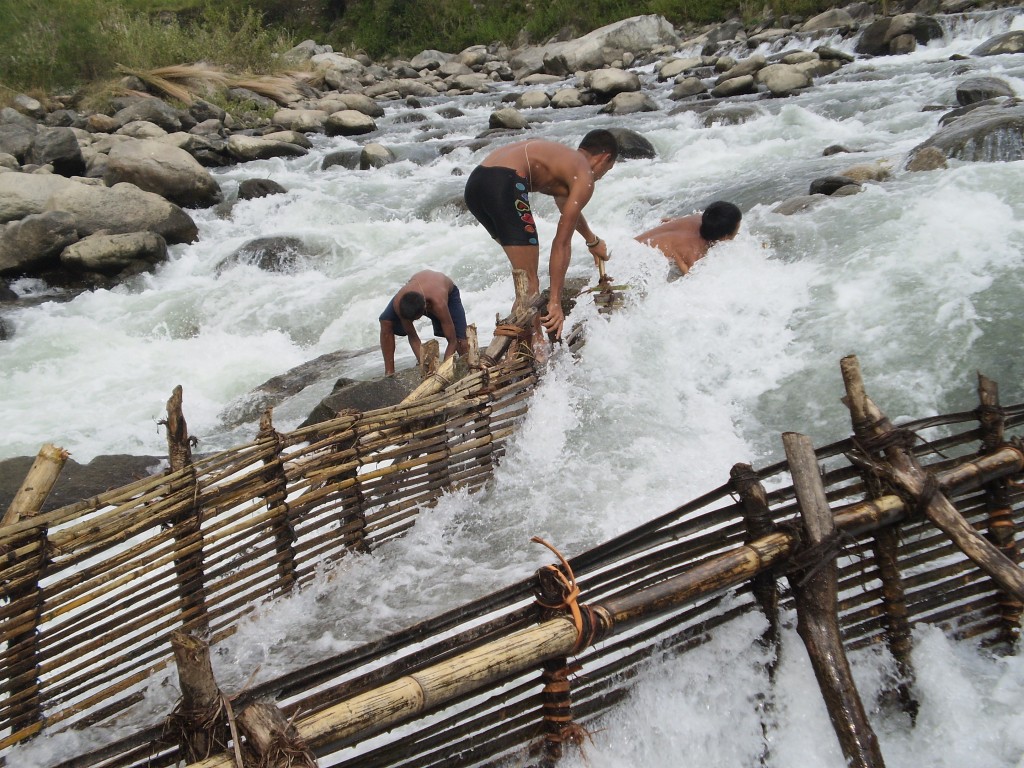 Soraai. It is a seasonal job of some of the lower income people living in the area. This technology works for about two and half months during September–November. During this season, by the time chilling winter starts in upstream from November, most of the fishes migrate towards downstream. Local people have well understood this migratory behaviour of fishes. They set up such type of bamboo-made basket like structure in the river to trap the migrating fishes towards downstream. This technology is ecologically appropriate as no chemicals or any explosive materials are used in fishing. Only bigger fishes are trapped in the basket. Therefore, there are enough opportunities for the smaller fishes to escape out of the basket and continue breeding — making this technology naturally sustainable (D. Bhattarai).
"… it connects sustainable lifestyles with food, which is the very basic need!"
— Stefanos Fotiou, Head of Unit, Cities and Lifestyles, UNEP
"Hard work for availability of sustainable food."
— Sabar Ginting, nFP for Indonesia
"This picture shows how to use natural resources sustainably. This also tells us that indigenous and traditional knowledge can instruct us in living a sustainable life."
— Hiroshi Tsujihara, Director, APN Secretariat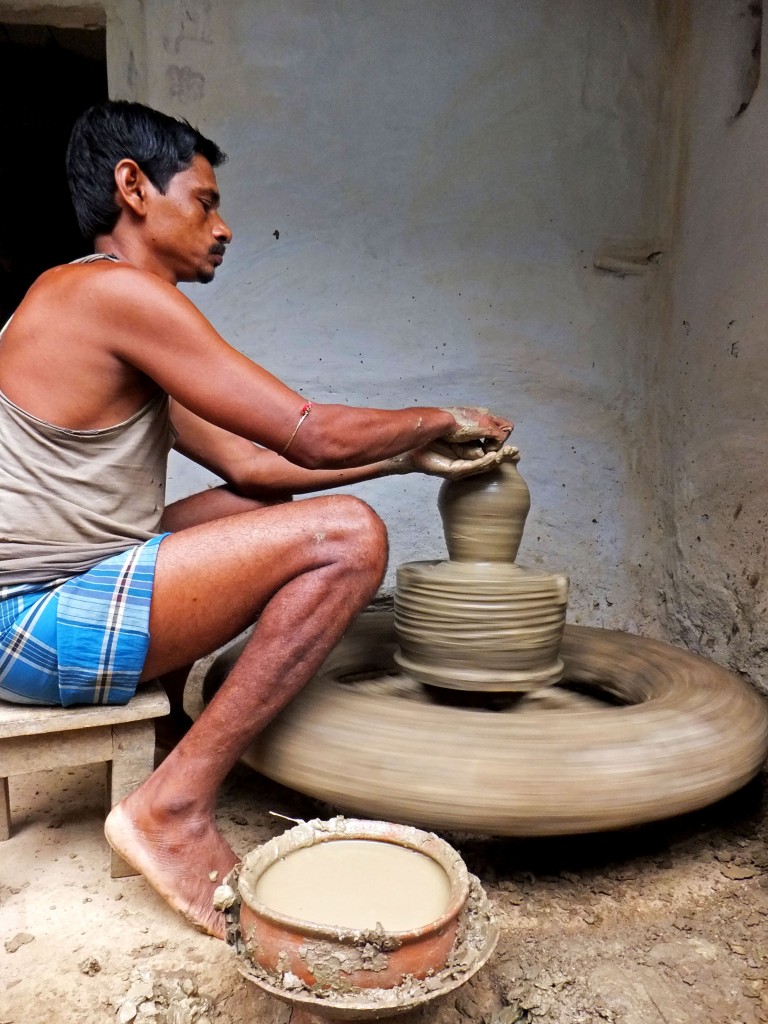 The potter. The photograph was taken in Panchmura village of West Bengal, India. Panchmura is a traditional potter's village. People earn their living through pottery and the ethnic art of pottery is still alive in this community. This particular art of pottery is famous by the name of 'Terracotta'. It symbolises sustainable livelihood and tells about the interconnection between man and nature (S. Datta).
"The framing, focus and theme are very nice. It takes me directly to the place and I feel part of the scene."
— Stefanos Fotiou, Head of Unit, Cities and Lifestyles, UNEP
"Good practice of making pottery that can be used for a longer period of time."
— Sabar Ginting, nFP for Indonesia
Runners-Up (June):
APN would also like to thank all participants of the June contest for their amazing captures, especially the three photos below depicting the sub-theme "Low Carbon Lifestyles," which were shortlisted as runners-up for the month.
| | |
| --- | --- |
| | Jeepney. Using public transport such as the jeepney/jitney promotes low carbon lifestyle. |
| | Bottles and a Jar Recycled. Turn wine bottles to water (or juice) bottles. Turn sandwich spread jars to drinking glasses. |
| | Recyclable Collector. In the image is a man engaged in buying recyclable materials. He is one of the recognised recyclable collectors of the town of Los Banos, in the province of Laguna, Philippines. By collecting and buying recyclables from the household, he could earn about PhP 150-500 a day for his family's daily existence. More than that, he is a great help in achieving a healthy and sustainable environment. |