29 September 2015 —APN is pleased to announce one winning photograph for the month of August in the ongoing annual L. B. Brown Memorial Photo Contest 2015.
The winner for August "Water for Sustainability" is Mohammad Rakibul Hasan (Bangladesh) who submitted a photo of an old man taking a bath in the lake inside Soharwardi Park, Dhaka, Bangladesh. The photo conveys the vital role of water to the life of local residents.
The winning photo for August, along with other monthly winners, will be exhibited at APN's 21st IGM/SPG Meeting to be held in March 2016, where the grand winner of the annual L. B. Brown Memorial Award will be selected. For the current month of September, APN welcomes entries under the theme "Cutting Our Carbon Footprint" in recognition of the global celebration of the Zero Emission Day on 21 September 2015. For details to submit your entry: please click this link.
Winning Photographs: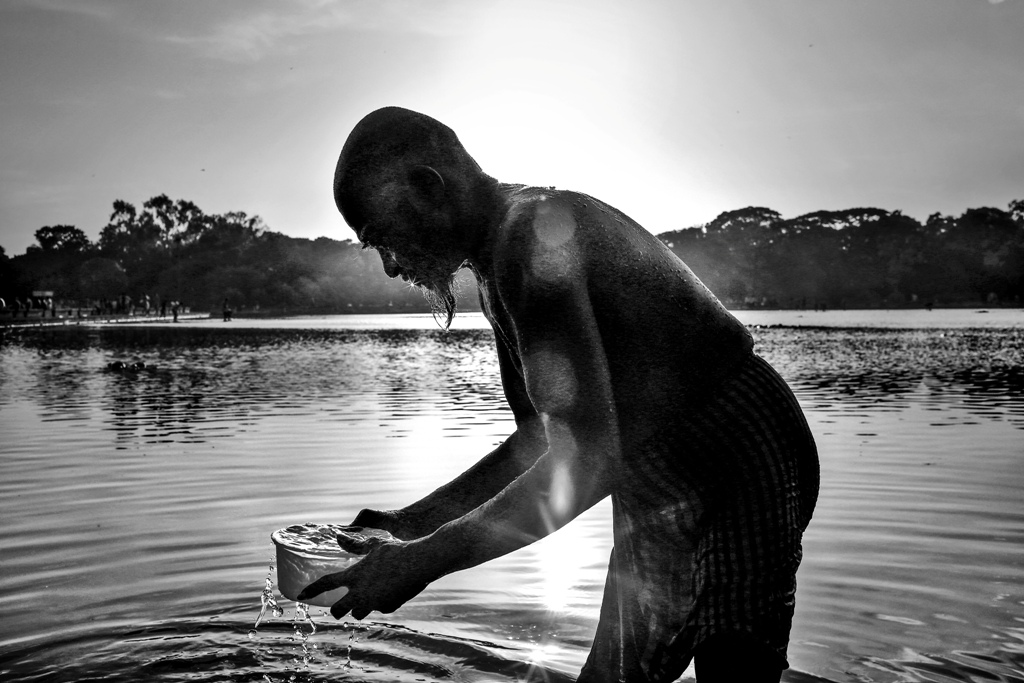 Photo: Mohammad Rakibul Hasan (CC BY-NC 4.0)
With the rapid urbanization of Dhaka city, greenery and natural water reservoirs are being diminished day by day. The city has a burden of more than twenty million people with most of them migrated here searching for opportunities. A lot of street people take their bath in a lake inside the park. (M. R. Hasan).
" Water is one of basic needs for Human life.  Sustainable development of human society depends on keeping sustainable use of it."
— Hiroshi Tsujihara, Director, APN Secretariat
"Wooer of predominately urban world."
— Muhammad Irfan Tariq, national Focal Point for Pakistan
"Very impressive!"
— Prof. Toshio Koike, The University of Tokyo
Runners-Up (August):
APN would also like to thank all participants of the August contest for their amazing captures, especially the three photos below which were shortlisted as runners-up for the month.
Life on the River

To the people of Hue, the Perfume River is not only where they make a living but also their home. Most of the family activities from cooking, bathing, washing clothes happen right on this river. Therefore, the river is increasingly polluted day by day. Life is difficult, associated with low literacy, so people often get sick, most of them are illiterate and have a lot of children.

The photo was taken in the early morning when people were doing laundry and far away the fishermen were fishing.

Water is life.

The picture depicts children bathing getting ready for school.

Water for the Land

If land is important, so does the water. Water plays an important role on plantation and irrigation. Enough water means enough harvest and enough food for the entire humanity. When drought strikes; water is the main answer. Humanity depends on water; therefore water must be conserved.