5 November 2018, Pattaya, Thailand—At the EMECS12 conference, APN project leader Prof. R.W. (Bill) Carter and research team member Dr Suchai Worachananant presented evidence of wastewater degrading coral reefs at multiple levels of ecological organization in the eastern Andaman Sea. The team recommended sediment control measures, deep-water marine outfalls, as well as secondary and tertiary water treatment to conserve marine biodiversity which is essential to coastal livelihoods and tourism. They urged national and local governments, the tourism industry, tour operators and tourists to step up their intervention for the future of coral reefs.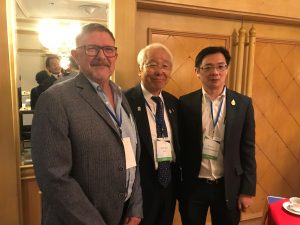 EMECS (Environmental Management of Enclosed Coastal Seas) is an international network promoting exchanges on research, policy, civic action, education and industrial activities related to enclosed coastal seas, with the aim of addressing the issue of environmental conservation of enclosed coastal seas in the world. This year, the EMECS12 conference took the theme of "Cooperative stewardship for integrated management toward resilient coastal seas" and was held on 4-8 November 2018 in Pattaya, Thailand.
The EMECS conferences are organized by The International EMECS Centre based in Kobe, Hyogo Prefecture, Japan. Since 2002, APN has been working with the Centre by sharing relevant research and policy-oriented outputs through the EMECS platform.
Prof. R.W. (Bill) Carter is Director of the Sustainability Research Centre at the University of the Sunshine Coast, Australia. Dr Suchai Worachananant is Assistant Professor at the Department of Marine Science, Kasetsart University. They are recipients of APN funding under the project titled "Coral Reef and Water Quality Status and Community Understanding of Threats in the Eastern Gulf of Thailand" (https://www.apn-gcr.org/resources/items/show/1753).