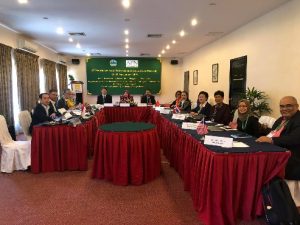 21-22 November 2019, Phnom Penh—The 12th Southeast Asia Subregional Committee Meeting was held on 21-22 November 2019 in Phnom Penh, Kingdom of Cambodia. It was hosted by the General Directorate of Environmental Knowledge and Information, Ministry of Environment, Government of Kingdom of Cambodia.
The national Focal Points and Members of the Scientific Planning Group of Kingdom of Cambodia, Indonesia, Lao PDR, Malaysia, Thailand and Viet Nam received an update on the progress to date on the work of reviewing the Fourth Strategic Phase and drafting Fifth Strategic Plan.
After having listened to presentations on discussions, related to global change research and sustainability, within their countries and the Southeast Asia subregion, the delegates discussed possible ways of how SEA SRC could contribute to the formulation of the Fifth Strategic Plan (2020-2024) and, vice versa, APN could support the SEA SRC member countries in implementing their strategic decisions.
Also, the Committee developed further its plan to make a courtesy call with ASEAN Secretariat. A detailed concept note with possible topics for discussions will be confirmed with all SEA SRC members by the end of December 2019.