18 January 2013, Kathmandu, Nepal — The 4th APN South Asia Sub-Regional Cooperation (SA-SRC) Meeting and associated activities came to a successful conclusion as Hon. Secretary Mr. Keshav Bhattarai, Ministry of Science, Technology and Environment (MoSTE), Government of Nepal formally concluded a series of lively sub-regional events at the closing ceremony.
The SA-SRC Meeting, followed by a seminar focusing on Climate Adaptation and Agriculture in South Asia and a Proposal Development Training Workshop, were hosted by MoSTE Nepal with support from the Small Earth Nepal (SEN), a non-governmental organization based in Kathmandu that promotes sustainable lifestyles through motivating youth and students.
Sub-Regional Cooperation Meeting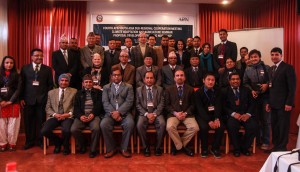 Hon. Minister Dr. Keshab Man Shakya, Ministry of Science, Technology and Environment (MoSTE), Government of Nepal in his opening remarks highlighted the importance of information exchange at the sub-regional level, which is crucial for establishing strong links between nations in South Asia, who share common economic, social and environmental bases. He stressed that the focused topics to be addressed in the SA-SRC meeting are very timely and important to the South Asian Region, which is particularly vulnerable to global environmental change.
The 4th South Asia Cooperation Meeting discussed many issues that are relevant in the region and the most important action points from this meeting are to:
Contribute to the APN Biodiversity and Ecosystems Framework that will be presented to the 18th Inter-Governmental Meeting to be held 8-12 April in Kobe, Japan;
Develop, in collaboration with START and other partners, a concept paper to hold a South Asia Science-Policy Dialogue, tentatively in 2014;
Develop a proposal for submission to the APN that focuses on a common issue of all South Asia Member Countries on climate adaptation;
Continue to hold these important sub-regional cooperation meetings, the next (5th) South Asia meeting being in Pakistan, Bangladesh or Sri Lanka.
Climate Adaptation Seminar
A Climate Adaptation Seminar was organized back-to-back with the South Asia Sub-Regional Cooperation Meeting. It focused on keynote presentations from Dr. Krishna Prasad Pant, Joint-Secretary and Chief of the Market Research and Statistics Management Programme from Department of Agriculture, Nepal who shared knowledge and experiences on Climate Change and Adaptation in South Asia; and Dr. Dhiraj Pradhananga, President, Small Earth Nepal shared many of its activities, not least of which is the H2O initiative that will focus on water issues from the Himalayas to the Oceans. During this keynote session, Dr. Linda Anne Stevenson highlighted the APN's Climate Adaptation Framework and key aspects of the framework.
APN Member Country scientists and national Focal Points also shared information and best practices in their respective countries on climate adaptation issues related to agriculture.
The seminar was attended by APN members and young scientists from South Asia, as well as scientists and policy makers from Nepal whose work is related to climate adaptation. It provided a platform for sharing information, knowledge and best practices among South Asian countries on issues related to climate change adaptation with links to agriculture.
Proposal Development Training Workshop
A very interactive and productive proposal development training workshop (PDTW) was held on the last two days of the week, during which young scientists worked hard in groups to develop and review proposals with the guidance of their mentors.
Since 2008, the APN has been conducting PDTWs in different parts of the world, aiming to raise awareness of the APN among young/early career scientists while increasing their capacity to submit competitive proposals to the APN for funding.
"I learned good information and received valuable inputs from this workshop, and I am planning to submit a proposal to APN in the future with other collaborators from South Asia," said Dr. Erandathie Lokupitiya, Senior Lecturer, University of Colombo, a trainee at the workshop who specializes in global environmental change, greenhouse gas inventorying, and land-atmosphere exchanges.
PDTWs are also designed to allow APN members to provide their knowledge on the APN proposal submission process; and for new members to learn about the APN annual Proposals Process so that they might go back to their respective countries and impart their knowledge.
On the 3rd day, participants visited and met with the Kusadevi Village Development Committee (VDC) in a field visit guided by Mr. Madhu Sudan Paudyal, Senior Plant Protection Officer at District Agriculture Development Office at Kavre. Villagers showed their best practices and novel technology of Integrated Pest Management (IPM) used by local farmers in response to the need for sustainable agriculture under a changing climate. Impressively, the villagers imparted their climate-smart technology through traditional music, song and dance.