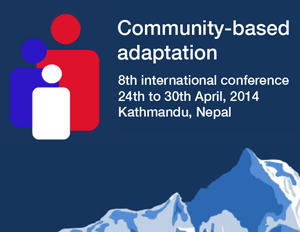 Registration is now open for IIED's 8th annual International Conference on Community-Based Adaptation (CBA8), which will take place in Kathmandu, Nepal on 24-30 April 2014.
For those interested in co-sponsorship please get in touch with Dr Hannah Reid, email: Hannah.reid@iied.org
To register to attend in person, or as an online participant please visit the event website – www.cba8.org
8th community-based adaptation to climate change conference (CBA8)This year's conference theme is 'Financing Local Adaptation' and will explore the latest developments in community-based adaptation financing, planning and best practices. CBA8 aims to provide the latest thinking from climate scientists, policy makers and practitioners and to share best practice and lessons learned from different sectors and countries globally.
The conference includes:
· three days of field visits to projects in Nepal (24-26 April) to examine how communities in different ecosystems are dealing with financing local adaptation, plus
· three-and-a-half days of plenary and interactive sessions (27-30 April) at the conference in Kathmandu, Nepal's capital city
You can also view the draft programme and download the event flyer for more for information about the programme, field visits and how to take part.