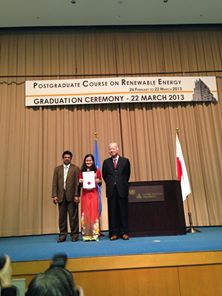 Attended by Dr. Linda Anne Stevenson in the capacity of invited panelist, the Postgraduate Symposium and Graduation Ceremony marked the successful end of a four-week long intensive training programme on renewable energy that attracted students from the international community.
Conducted by the United Nations University Institute for Sustainability and Peace (UNU-ISP) and led by Dr. Srikantha Herath, the intensive four-week course on renewable energy was developed under the framework of the University Network for Climate and Ecosystems Change Adaptation Research (UN-CECAR), a collaborative initiative of more than 20 leading universities across Asia.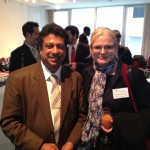 The renewable energy course was organised with the support of the Graduate Program in Sustainability Science-Global Leadership Initiative (GPSS-GLI) of the University of Tokyo and covered a range of issues on the science, technology, economics and policies of renewable energy. It included hard topics such as small hydropower, solar, geothermal, bio-, wind, marine, fuel cell and hydrogen energy, and soft topics including energy demand and supply, economics, security, and policy. Students received practical training with clean-energy software (RETScreen and HOMER).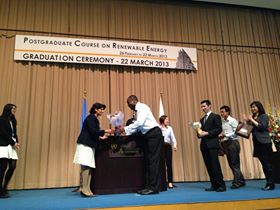 Also a partnering organisation with APN under its Climate Adaptation Framework, UN-CECAR is committed to developing postgraduate educational and research programmes on climate and ecosystems change, and sustainability science. Dr. Herath is also a member of the APN's Capacity Development Committee.