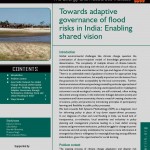 The Energy and Resources Institute (TERI) has released a new policy brief titled "Towards adaptive governance of flood risks in India: Enabling shared vision." The brief gives an overview on the gaps and presents recommendations in addressing problems related to rural and urban flooding in India. It also introduces the use of Soft Systems Methology (SSM) as an effective diagnostic tool for informing policy in place of top down expert-driven processes.
The policy brief was based on the discussions made during the two national workshops on systems thinking and adaptive governance on flood risks in Guwahati, Assam and Bangalore, Karnataka, held on 28-31 January 2014 and 24-25 April 2014 respectively. Organised through CBA2013-13NSY-Varma — an APN-funded project under the CAPaBLE Programme, which was implemented by TERI — the workshops opened diverse perspectives and provided a common platform in understanding key challenges and opportunities for developing shared vision and common goals.
The brief also discusses the lack of transparency, coordination, local sensitivity and inclusivity in policy planning and management practices, and civil society mobilisation for access to more information. It also illustrates the important outputs of CBA2013-13NSY-Varma which include maps showing temporal land cover changes in both rural and urban case study sites.
For a copy of the policy brief, please click on the following link: Towards Adaptive Governance of Flood Risks in India: Enabling Shared Vision