The Institute for Global Environmental Strategies (IGES) has announced that a draft of "One Hundred Questions and Answers about MRV in Developing Countries" is released.
New release: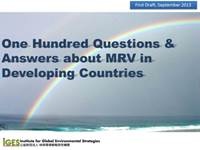 One Hundred Questions & Answers about MRV in Developing Countries
http://www.iges.or.jp/en/climate-energy/mm/201309mrv.html
This book gives you an easy-to-understand guide to understanding existing MRV schemes, like national GHG inventories and the Clean Development Mechanism. The book also presents lessons and good practices for developing countries.
IGES will continue to improve the book and welcomes comments and feedback. Following this first review, IGES will develop and make available on-line the COP19 version, to be released at COP19 in November.
For comments and feedback, please contact:
IGES Climate and Energy Area
MRV Guidebook Team
[email protected]