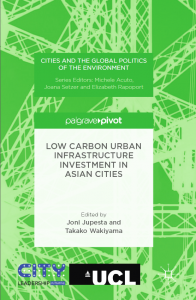 July 2016 — A book on "Low Carbon Urban Infrastructure Investment in Asian Cities" by Dr. Joni Jupesta, Head of Policy Research and Analytics Programme (PRAP) of ASEAN Center for Energy (ACE) and Ms Takako Wakiyama of the Climate and Energy Area and Green Economy Area, Institute for Global Environmental Strategies (IGES) has been released by Springer. The book is the product of APN's two-year project, Low-Carbon Urban Infrastructure Investment in Asian Cities: Shanghai, Jakarta and Yokohama (Reference no. LCI2012-05NMY(R)-Jupesta/LCI2013-05CMY(R)-Jupesta), which explored a new funding mechanism for urban infrastructure investment that engages multiple stakeholders in public-private partnerships. The project involved several researchers from UNU-IAS, IGES, Fudan University (China) and Bogor Agriculture University (Indonesia).
The 7-chapter book covers a wide range of approaches to green investment that have been utilized in three cities, including risk analysis, cost-benefit analysis, integrated assessment modelling analysis and input-output analysis. An additional chapter describes the smart city initiative in Yokohama and explores the possibilities for technology transfer to slums in India.
According to the authors, "This book will serve as an overview of green investment activities prior to 2015 and will support opportunities for developing further sustainable development goals and low-carbon technology partnerships".
Release Date: July 2016
Imprint: Springer Nature
Print Book ISBN :978-1-137-59676-5
The policy brief of the related project can be found here.