Kuala Lumpur, Malaysia, 30 November 2013 – Members and delegates of Southeast Asian Countries gathered to attend the 6th Southeast Asia Sub-Regional Committee Meeting in Kuala Lumpur, Malaysia. The two-day meeting was chaired by Dr. Wan Azli Wan Hassan of the Malaysian Meteorological Department, Ministry of Science, Technology and Innovation of Malaysia.
The meeting discussed several issues, including:
Sub-regional cooperation and efforts towards institutionalisation of sub-regional committees
Proposed activities on a summer school on climate change adaptation in urban planning
Improving communication between member countries
Engagement of Myanmar in sub-regional cooperation
APN Frameworks
Future Events and Activities
Members discussed the importance of effective communication in improving Southeast Asian sub-regional activities and decided to explore various means of communication, such as mailing groups, telecommunication tools, regular Skype conferences, etc.
Regarding the sub-regional proposal on a summer school on climate change adaptation in urban planning, members decided to focus on practical activities in climate change adaptation as an important component of the curricula. They further decided to involve the private sector and NGOs. The meeting agreed to appoint a coordinator and co-coordinators to refine and finalise the proposal for submission to APN in 2014.
The meeting had an intense discussion on engaging Myanmar and institutionalising sub-regional committees. On the matter of Myanmar engagement, it was agreed that a Myanmar representative will be invited to the next meeting. On institutionalisation, members stressed the importance of acknowledging sub-regional committees in the APN Framework Document. The SRC is supposed to be the bridge between the science community and policy makers; hence a good mechanism needs to be in place to sustain it. Another agreement made is on the self-evaluation of sub-regional committees.
Economics of Climate Change Seminar
A seminar on the Economics of Climate Change was part of the serial meetings and workshop held during the 6th SEA SRC Meetings. Two keynote speakers, Mr. Chang Yii Tan and Dr. Jamal Othman, presented two topics on the Economics of Climate Change in Malaysia (ECCM). Mr Chang Yii Tan put an emphasis on adaptation in the water sector as the point of view of his work, while Dr. Jamal Othman focused on the issue in energy sector.
APN member country delegates also shared their lessons on economic issues of climate change in their countries and the sub-region as a whole. During her presentation, Dr. Jariya Boonjawat, Scientific Planning Group member for Thailand, promoted the recently published APN book "Climate in Asia and the Pacific: Security, Society and Sustainability" and the 2011 APN Climate Synthesis report.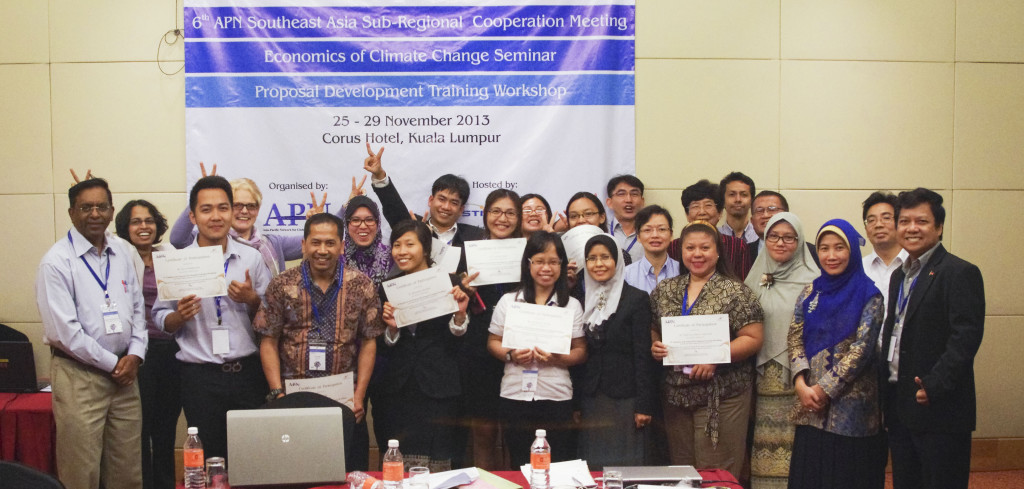 Proposal Development Training Workshop
Sixteen young scientists from Southeast Asia were invited to the Proposal Development Training Workshop, a two-day training to introduce APN's calls for proposal process and proposal review process for increased involvement of young scientists. Prior to the training, there was a field trip to the SMART office. SMART stands for Stormwater Management and Road Tunnel. It is a tunnel constructed as part of the Flood Management System in Kuala Lumpur, Malaysia. SMART has been officially in operation since 2007 and proved to have effectively minimised the flood occurrence in the city. Participants also visited the Kualalumpur Tower, the highest viewpoint of Kuala Lumpur, for weather familiarisation.
Participants were enthusiastic about the training. They were divided into four groups, each working on one proposal. They were also familiarised with the proposal review process by doing exercise on peer-reviewing the proposals
During the training, two APN project leaders were invited to share their experience and views about the proposal development and project implementation. Prof. Joy Jacqueline Pereira presented her APN-funded project "Strengthening Capacity for Policy Research on Mainstreaming Adaptation to Climate Change in Agriculture and Water Sectors (CRP2011-01CMY-Pereira)." In addition, she shared her experience in having 19 failed proposals before finally having one proposal accepted. The moral of the story is to be perseverant and keep on trying to submit proposals. She also encouraged the young scientists to submit proposals to APN, saying "there are a lot for us in Asia to learn from each other and even though it is very competitive, it is well-worth investing your time, not only because it can enhance the science community in general, but also bringing us closer as a scientific community especially in Southeast Asia."
Another project leader, Prof. Fredolin Tangang, presented his APN-funded project "Southeast Asia Regional Climate Downscaling (ARCP2013-17NMY-Tangang)". On being asked about the opinion on the training, Prof. Tangang mentioned that this training is a good opportunity to explore the potentials of the young scientists. He also pointed out the diverse participation as one of the strength of the training. "This is a really good platform for networking. It provides the opportunity for communication among young scientists from different countries as well as resource persons from various countries."
For further inquiry, please contact: Dr Linda Anne Stevenson (lastevenson@apn-gcr.org), Head of Communication and Scientific Affairs Division
By: Dyota Condrorini, Programme Officer for Scientific and Institutional Affairs