Guangzhou, 9-12 December 2017 — International experts from Bangladesh, Japan, Republic of Korea, Nepal, Philippines, USA and Viet Nam join more than 200 attendees from China in a symposium on climate change and health to promote information exchange and networking among government officers and researchers working on the intersection between climate science and public health research.
The symposium is organized by the Department of Health Policy & Management, School of Public Health, Sun Yat-sen University, and jointly supported by the Guangdong Provincial Association for Science and Technology and APN (CRRP2016-10MY-Huang).
The four-day symposium is organized into three main sessions: climate change, heat stress, health and productivity; climate change, air pollution, and vulnerable groups; and promoting awareness and strengthening health resilience to climate change.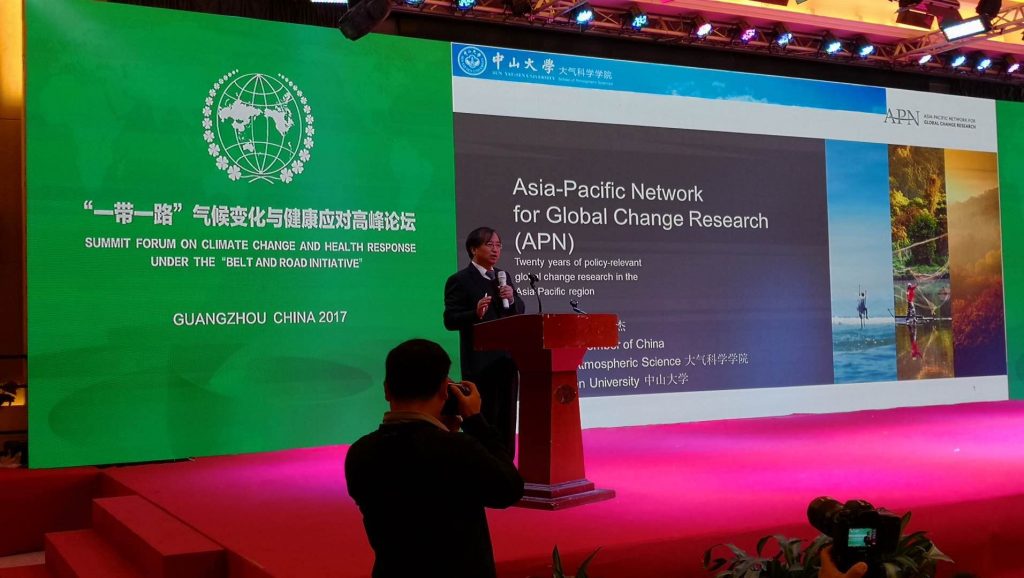 Professor Wenjie Dong, Dean of School of Atmospheric Sciences, Sun Yat-sen University and APN Scientific Planning Group member for China delivered an opening address entitled "Yesterday once more? What does the Earth System Model tell us about climate change?" Speaking on behalf of APN, Professor Dong also briefly introduced the recent activities undertaken by the Network to strengthen cooperation in regional scientific activities, capacity development, and interaction between the scientific and policymaking communities.