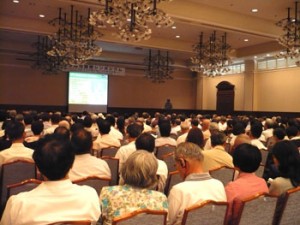 In light of United Nation (UN)'s declaration of 2010 as the "International Year of Biodiversity" and as a pre-event for the upcoming UN Convention on Biological Diversity 10 th Meeting of the Conference of the Parties (CBD COP10), the Asia-Pacific Network for Global Change Research (APN), together with Hyogo Prefectural Government, Museum of Nature and Human Activities, Hyogo Environmental Advancement Association and Environmental Management of Enclosed Coastal Seas (EMECS), jointly organised an International Symposium on "Coexistence with Nature: Biodiversity and People – Hyogo Dialogue for the Future" held on 9 September 2010, in Kobe, Japan.
The symposium, which attracted 350 participants, provided a platform for understanding and discussing the importance of biodiversity and a venue to share knowledge derived from various activities in the region. The event consisted of four parts: Keynote Speech; Session 1 – "Importance of Ecosystem Conservation and Services"; Session 2 – "Involvement of Citizens and Non-Governmental Organisations/Non-Profit Organisations (NGOs/NPOs) for Biodiversity Conservation"; and Panel Discussion.
Mr. Kazuo Kanazawa, Vice-Governor of Hyogo Prefecture, welcomed the participants and introduced the biodiversity conservation activities and achievements by the prefectural government including the White Stork Conservation Programme, which raised the population of endangered white storks up to 46 to date. He then explained the importance of the Annual Green Tax System in running these biodiversity conservation programmes.
Keynote Speech: "Our Future and Biodiversity"
At her keynote speech, Dr. Izumi Washitani from University of Tokyo noted that the current state of biodiversity and its conservation are crucial for the future of humanity. She described and summarised the results of the Japan Biodiversity Outlook (JBO), which is a comprehensive assessment conducted by the JBO Science Committee to identify Japan's current state of biodiversity. She also emphasised the importance of involving citizens in monitoring biodiversity in a way that they would enjoy closer interaction with living organisms. This is one of the most effective approaches to stop or minimise biodiversity loss and forge the way to a better future.
Session 1: Importance of Ecosystem Conservation and Services
 Prof. Yoshitaka Tsubaki, Director, Center for Ecological Research, Kyoto University introduced the participants to the concepts of biodiversity and ecosystem services. Ecosystem services are the condition and processes through which natural ecosystems, and the species that make them up, sustain and fulfil human life. From an ecological viewpoint, he challenged the participants to list, evaluate and prioritise ecosystem services, which raised the relevance of appreciating the nature and value of ecosystem services. He then presented some examples to stress the importance of inter-specific interactions in biodiversity concept.
Assistant Prof. Shigeo Yachi, Secretary of International Programme of Biodiversity Science (DIVERSITAS) in the Western Pacific and Asia (DIWPA) described the results of the studies they conducted in analysing and monitoring biodiversity in Lake Biwa, Shiga. His team used both geographical datasets (historical geographical image comparison between 1947 and 2001) and sociological surveys of local community. Their studies showed that emotional persuasion rather than rational persuasion are more effective in communicating the urgent issues to the farmers and to the community.
Dr. James Peters, Chief Advisor, Asian Development Bank (ADB)-Supported Greater Mekong Sub-Region (GMS) Core Environment Programme, GMS Environmental Operations Centre, presented successful initiatives on mobilising ecosystem services markets in support of biodiversity conservation and climate change adaptation strategies in the GMS. His presentation illustrated that tackling biodiversity issues cuts across national borders and is closely related to economic development. Hence, biodiversity conservation requires a comprehensive approach and needs to be incorporated into all types of planning (economic, urban, strategic, etc.).
Ms. Fumiko Nakao, Fellow, United Nations University (UNU) thoroughly explained the concept of "Satoyama," internationally known as Socio-ecological Production Landscapes. The Satoyama Initiative envisions to realise societies in harmony with nature and to promote a sustainable balance of socio-economic activities (such as agriculture and forestry) and conservation of natural landscapes. Although such lifestyle was a common traditional practice in many countries, those landscapes today face the pressure of rapid urbanisation and destruction. The Government of Japan and the UNU initiated the concept and is further promoting it at the global scale.
Session 2: Involvement of Citizens and NGOs/NPOs for Biodiversity Conservation
In this session, Mr. Teppei Douke, Member, Nature Conservation Society of Japan, introduced the activities and roles of citizens toward CBD COP10. He mentioned that civic groups are allowed to speak at COP, which makes the CBD more participatory for citizens than any other international convention. Thinking globally, he spoke on how the local citizens could contribute to the goals of the CBD through activities of Japan Civil Network for Convention on Biological Diversity (JCN-CBD).
"Real work takes time and effort," said Mr Shigeru Ogura, Representative and Facilitator, Miki Circle of the Friends of Nature, who worked for many years to bring back once extinct species into his community yard. For instance, it took five years of intense work and careful nurturing to re-plant Japanese Lily back in the community garden, so did the Spring Goddesses, which took 10 years of work to re-introduce back to its original community. His group is now working hard to conserve biodiversity in the Miki area. With support of local government, this group reach out their activities to the public and school children.
Talking about local initiatives, Mr. Yukio Yasui, Representative, Hyogo Waterfront Network shared how they work toward biodiversity conservation as part of region-wide environmental preservation activities carried out in cooperation with local residents. He stressed the need to establish partnerships among landowners, water right holders, resident associations, local schools, governmental agencies, experts, NPOs, and children as well who all play crucial roles in saving the future through biodiversity conservation.
The symposium also featured a successful biodiversity conservation activity from overseas. Dr. Anak Pattanavibool, Thailand Country Programme Director, Wildlife Conservation Society (WCS), Thailand Programme, was invited to share his work on saving hornbill birds (Bucerotidae) in Budo Mountain in Thailand. Having a very high market value, hornbills were extensively threatened by local villagers due to poaching and destruction of nests. The conservation team effectively approached the once hunter communities of indigenous people and trained the hunters to become guards of the hornbills instead. Dr. Pattanavibool delightfully mentioned the support they are receiving from Japan and other international organisations.
Highlights of the Panel Discussion
At the panel discussion, Dr. Washitani asked the panellists to provide feedback on the Hyogo Declaration, written on behalf of the citizens of Hyogo. She then encouraged everyone to think how they can conserve biodiversity in their daily lives and act accordingly. The speakers and the public expressed their huge support for the declaration.
The participants had the opportunity to ask questions and provide comments on the topics that were discussed. The participants showed great interest in the Satoyama Initiative and were pleased to learn about the activities performed by the Hyogo Government and other local conservation groups. They were happy to hear other interesting international initiatives and requested to involve more global examples in the future.
Noteworthy is a lady who urged the Government and the rest of the community to also start looking at the mountain back yard that is still left unattended and so animals like wild boars go down into towns and residential areas in search of food.
Dr. Washitani thanked everyone for participating and closed the discussion by encouraging everyone to think and act towards conserving biodiversity.
End Note
The APN would like to express its gratitude to the Hyogo Prefectural Government and all partners for their support in the successful Symposium.