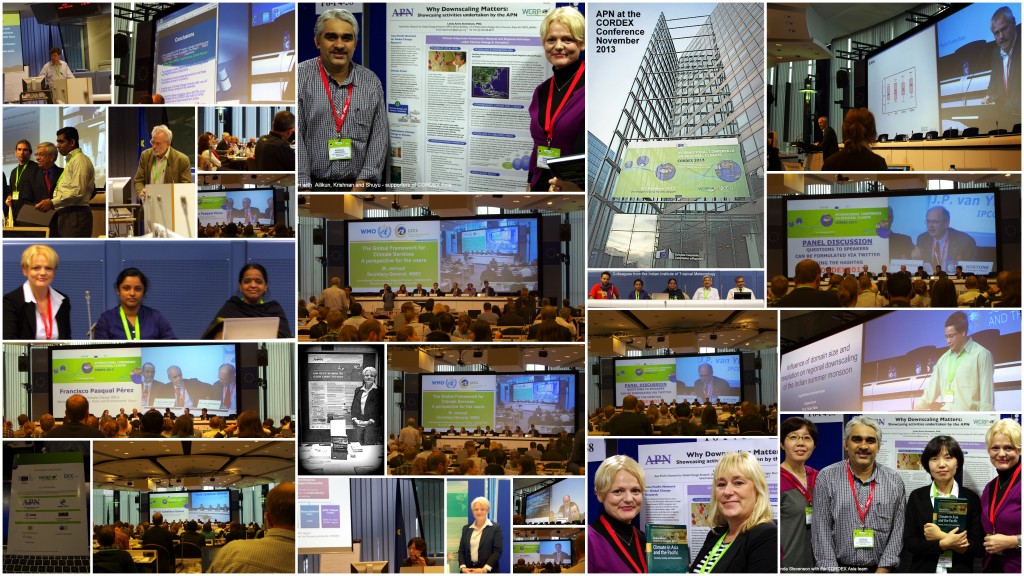 4–7 November 2013, European Commission, Brussels, Belgium — APN is sponsoring and actively engaging in the International Conference on Regional Climate: CORDEX 2013 by presenting and showcasing its recent work, chairing sessions and judging young scientists' posters.
APN also unveiled its recent book, Climate in Asia and the Pacific: Security, Society and Sustainability, which offers a broad perspective on the impacts of climate change on society in Asia and the Pacific; explores a many-layered mix of science, economics, politics and sociological concerns; and provides a useful resource for scientists, policy makers and practitioners.
More information about the book, including a free preview, is available on Springer's website at http://www.springer.com/environment/global+change+-+climate+change/book/978-94-007-7337-0.
APN's poster is available on the conference website at: http://cordex2013.wcrp-climate.org/posters/P4_57_Stevenson.pdf
All posters are available at http://cordex2013.wcrp-climate.org/posters/poster_presentations_all.pdf
Day 1
Day one encompassed three high-level panels that were interactive in nature and focused on science, policy and end-user communities. A number of thought-provoking questions and comments were shared, some of which are emphasised:
"How can the new UNFCCC legally-binding agreement address assessing, planning and monitoring adaptation actions," asked Paula Cabarello Gomez, Ministry of Foreign Affairs of Colombia. We need options for long- and short-tem adaptation options. The poor understanding of hard and soft options for adaptation requires action to happen now. There are needs for statistical modeling for quality check and assessment of climate finance.
Jo Leinen of the Member of European Parliament asked "Will climate protection be an issue at the parliamentary elections of the European Commission next May (2014)?"  He stressed that policy is shortsighted and this is where scientists have an advantage. He emphasised that not only the poor, but the rich will suffer as well if we continue to do business as usual.
Jean Pascal van Ypersele of the IPCC shared that risk is embedded in a matrix shaped within climate and society. We need localised knowledge and develop climate models that are reliable at the local scale.
Key highlights following an interactive audience-panel session included the following issues:
Science cannot provide direct answers, particularly on what is happening on one's back yard
Giorgio has been less skeptical about providing regional-based information from several general models. We are seeing some patterns that are consistent, and intensity of extremes will increase—for example, the length of dry periods will become longer.
We need to do more work on quantifying uncertainty
We need to learn how to communicate more
It is not the science questions that needs to be rephrased but understanding the limitations across various scales
Words to laymen need to be simplified to help understand the climate problem
Difficulties to do downscaling work that can inform decision-making. We ask local policy-makers to act.
"Climate literacy" needs to be instilled at an earlier level of public education, at the elementary school level for example.
Knowledge gaps in the issue can free up funding for climate research
Day 2
CORDEX Parallel Session B3 focuses on CORDEX domains in Central, South and East Asia; Australasia; Middle East – CORDEX International Conference, 6 November 2013
 Chaired by Dr. Linda Stevenson, the parallel session discussed regional downscaling issues, drawing on CORDEX work in and around Asia, i.e. including Australasia and the Middle East. The first speaker, well known to the APN through a number of APN activities, including APN's contributions to CORDEX on South, Southeast and Temperate East Asia, Dr. Krishnan Raghaven (IITM[1], India) discussed the potential for using CORDEX simulations to understand patterns of rainfall and circulation variability associated with 'breaks' in the South Asian summer monsoon rainfall. Noting the importance of the topic because drought over the Asia subcontinent essentially arises from prolonged 'breaks' in the monsoon rainy season. Key points illustrated were:
 This study focused on understanding the fidelity of CORDEX South Asia simulations in capturing the pattern of rainfall and circulation variability associated with monsoon-breaks over India
Here, we examined high-resolution (grid size < 50 km) regional simulations for the period (1950 – 2005)  using 3  models – LMDZ,  COSMO-CLIM and ROSSBY
The mean summer monsoon rainfall over South Asia simulated by the CORDEX models shows better correlation with the observed rainfall, as compared to the CMIP5 models.  The CORDEX models overestimate the spatial variability of monsoon rainfall.
The out-of-phase pattern of rainfall and circulation variability over central-north India and the Himalayan foothills during monsoon-breaks are reasonably captured in the CORDEX South Asia models.
Interestingly, the frequency of heavy rainfall events over the central-eastern Himalayan foothills is linked to patterns of regional monsoon circulation anomalies. This feature is seen in observations and to some extent in the CORDEX South Asia simulations.
Dr. Young-Hwa Byun from the Climate Research Lab., National Institute of Meteorological Research, and her research focuses on Climate Prediction System and her presentation focused on Recent Progress of CORDEX East Asia. She highlighted the work being done emphasizing the following key points: There are increased requests from stakeholders, including climate impact and adaptation groups for the provision of high-resolution data (smaller EA domain and Korean peninsula); the group is producing "km scale" high resolution data based on statistical approaches (PRIDE). On Model evaluation and reliability, she stressed that there is a multi-model approach for the smaller domain and four more model runs are being undertaken with 12.5 km resolution in the smaller EA area, noting too that there are various approaches to quantify and reduce model systematic bias as well as in-depth analysis on climate extremes using RCM outputs. Further considerations for CORDEX Asia include domain and resolution issues in regional downscaling (presently CORDEX-EA is too large to handle with high-resolution).
Associate Professor Jason Evans of the Climate Change Research Centre, University of New South Wales, Sydney, looks at general issues of water cycle processes over land, and how we can change them, largely through changes in land use and in climate. He focuses on regional (or watershed) scale and study processes including river flow, evaporation/transpiration, water vapour transport and precipitation. His presentation focused on the model NARCliM, which is a regional climate projection ensemble designed for use in impacts research and policy. He highlighted that the ensemble has been designed to capture uncertainty and potential future climates with a limited number of members. Preliminary results show that the chosen RCMs act independently but do have a tendency towards overestimation of precipitation and underestimation of maximum temperature.
Professor Liwei Zou is Assistant Professor at the Institute of Atmospheric Physics, Chinese Academy of Sciences. Much of her recent work has focused on the development of a regional ocean-atmosphere coupled model. Prof.  Zou presented on the development of a regional ocean-atmosphere coupled model and the dynamically downscaled climate changes over the CORDEX East Asia domain. The main points of her presentation included:
A regional ocean-atmosphere coupled model has been developed through OASIS3
The cold biases of simulated SST are significantly reduced by including a convection suppression criterion
The interannual variability of WNPSM is better simulated in the regional ocean-atmosphere coupled model due to the reduction of the forcing from the underlying sea surface
Preliminary results indicate that the RCM downscaling and GCM projection share the same signs in terms of precipitation changes, while the amplitudes are larger in RCM
Professor Sushil Kumar Dash:  Head of Centre for Atmospheric Sciences until August 2013 of the Indian Institute of Technology Delhi, India. Working on regional climate changes in India based on archived data and modelling Indian Monsoons, he also uses regional climate change information at the city level in collaboration with NGOs. Prof. Dash's presentation focused on Changes in the Indian summer monsoon mean flow and extreme weather events and their future projections. He focused on some results obtained from the RegCM4.3 CORDEX simulations.
Dr. Jayashree Revadekar of IITM is presently working on regional climate analysis and CORDEX simulations for South Asia. Her presentation looked at the evaluation of elevation-dependency of temperature trends over South Asia from CORDEX multi-model simulations. She showcased that the overall pattern of observed warming trend over the Western Ghats, the foothill of Himalaya and the Tibetan Plateau are captured in the CORDEX simulations. The models used are also able to capture trends similar to trends found in in situ observations from a wide-spread network of 121 stations over India. Using the CORDEX multi-model simulations her research estimated the range of variations among the models in capturing the observed elevation dependency of the climate-change signal over South Asia.
IITM-based Dr. Milind Mujumdar's research work is also focused on CORDEX-South Asia and his works is concentrated around data analysis and dissemination (through the CCCR-web portal (www.cccr.tropmet.res.in) and training (through CORDEX Workshops). His presentation talked about the simulation of the summer monsoon rainfall over the Western Ghats in CORDEX models. His conclusions outlined that:
The Western Ghats is one of the wettest regions in the world was used for regional scale downscaling experiments
CORDEX South Asia historical simulations (1950-2005) reasonably captured the observed mean monsoon rainfall distribution over Western Ghats compared to CMIP5 historical simulations
Historical simulations of COSMOS, LMDZ and Regcm4-LMDZ models depict decreasing trends of JJAS (June, July, August September) mean rainfall over the Western Ghats.
Quantification of uncertainties requires more CORDEX model inputs.
---
[1] APN's SPG Member for India, Prof. Goswami, heads the Indian Institute for Tropical Meteorology
Days 3 and 4
Global versus Regional Models:
There is clearly a direct link from human activity (emissions, etc) to climate impacts being faced today.
We have to bring together biodiversity and climate.
Bridging the different disciplines coming from the climate modellers through to the climate services and adaptation policy
•    We now have a demand-driven research agenda as opposed to a curiosity-driven one.
Have we had enough time, resources and manpower to analyse our models at all scales? No.
•    Why are we not seeing an improvement?
•    Are the parameterisations scale-dependent?
•    Are they adjusted to fit for the scales?
•    Is there room for improvement, yes; research/progress is needed.
Was going from GCM to RCM the right thing to do? Yes.
•    We must focus on models that are fit for purpose.
•    We need closer collaboration with different scientific communities and users in different sectors (health, spatial…).
•    We need more young scientists, we have to get active and find a strategy that will allow us to take the steps for regional modelling of the Earth System.
Seasonal to Decadal Regional Forecasts
Not quite weather, not quite climate.
Like numerical weather prediction, evolution of the system depends or is assumed to depend on the initial state.
Unlike numerical weather prediction, the time scale of interest is beyond the range of deterministic predictability.
Like climate projections, we are mainly interested in changes of statistical properties of a period of interest: means, extremes, etc.
Unlike climate projection, the period of interest is less than the annual cycles
In terms of the evolution of seasonal to decadal prediction there has long been a demand for useful seasonal to inter-annual forecasts
•    Forecasts of the Indian monsoon began the later 1800s
•    Early efforts were statistically-based to determine the effect of Himalayan snow cover on the Indian Monsoon
Global seasonal prediction projects
•    Organised modelling projects began by the late 1990s
•    Results from these have been used to study requirements for skilful seasonal forecasts
•    Global multi-model ensembles are more skilful than single model ensembles of the same size.
•    We have a 70-set ensemble of models today
Regional model (RCM) skill ultimately depends on the skill of the driving global model (GCM).
Challenges and Opportunities
 Availability of global model output for initial and boundary conditions remains a constraint for regional seasons to decadal prediction
•    Some decadal predictions are available through the CMIP5 archive
Ensemble approach is essential due to the internal variability of the global forecasts
•    Minimum  5-10 realisations form a given GCM
•    Probably better to have 10 realisations form each of multiple GCMS
•    Hypothesis: Downscaling from multiple GCMs is more useful compare with the same size RCM ensemble from a single GCM.
Visions and Future Directions for CORDEX – long term predictions
Emerging issues concerning regional climate projections
Improve dialogue and co-exploration with end-users by looking at the "What is this for?" and "Who cares?" questions.
What is the issue of added value?
•    Generation of small scales by a high resolution RCM
•    Added value is an important issue:  It has been suggested to have a specific task group to investigate it.
•    Added value is not necessarily found at the regionally average scale.
Uncertainty: High uncertainty does not necessarily mean that the projections are bad, but there are more projections to consider.
There are competing demands to improve regional climate projections.
Change in perspective in the analysis of climate model output; could lead to interesting unconventional analysis procedures.
Effective two-way communication and more training and capacity building is needed: MORE FUNDING.
There is a need for consistent high-resolution  observation datasets
Uncertainty: use of multiple RCMs appears to increase uncertainty, especially at small scales
Development of methods to characterise uncertainty based on information from limited multi-model, multi-method  ensembles
Better coordination of RCM and SD activities are needed
Development of methods to distil robust (and relevant) information
Carefully assess post processing techniques
Multi-model ensembles as large as possible are necessary
Both increased resolution and model comprehensiveness provide added value
Next target resolutions 25 Km to 12 Km? This will require substantial model assessment and possibly development
Possible need of high resolution (12 Km or higher) CORDEX pilot sub-domains…needs to be discussed from a scientific perspective first.
By: Dr. Linda Anne Stevenson, Head, Communication & Scientific Affairs Division