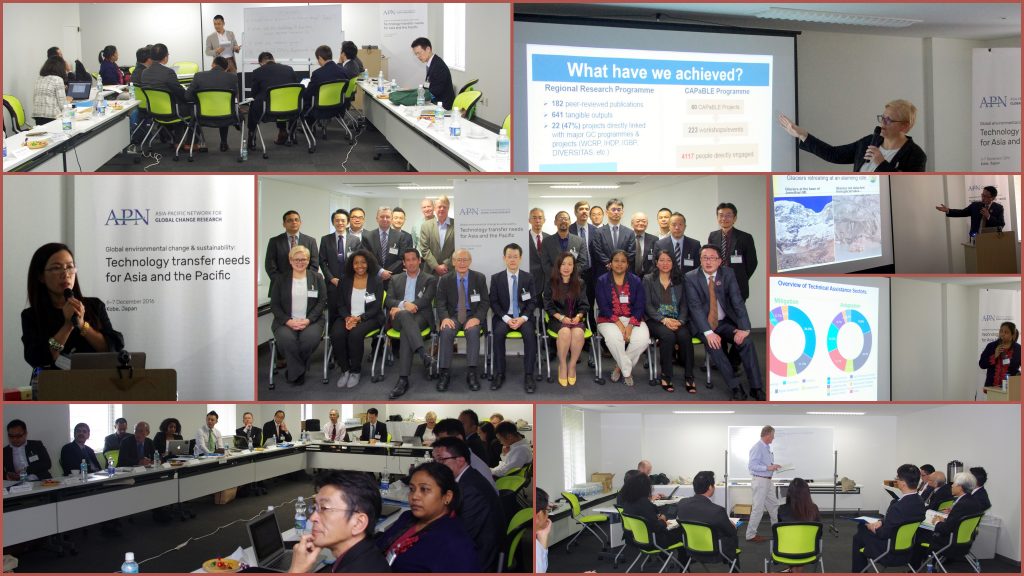 6 December 2016, Kobe, Japan – For the next 2 days, APN is convening a scoping workshop on technology transfer needs for developing countries in Asia and the Pacific. The main objective of the workshop is to develop a robust collaborative regional research and capacity development frameworks under the APN. These frameworks are expected to support technology transfer research, synthesis, assessment and capacity development activities, which will produce information for decision makers that could lead to stronger solutions for an adaptable, sustainable, and low-carbon Asia-Pacific under a warming climate.
Download final report of the workshop:
IGM-22-02.1-App.2 (TT Scoping Workshop)
With speakers and participants from Asian Development Bank (ADB), Global Environment Facility (GEF), Institute for Global Environmental Strategies (IGES), The Energy and Resources Institute (TERI), UNEP-ROAP, UNEP-IETC, and Climate Technology Centre and Network (CTCN) as well as several APN members and experts in technology transfer, the scoping workshop has kicked off with seven presentations to set the scene for discussing the barriers, gaps, needs, barriers (Day 1), and stakeholder mapping, and gap analysis on research and capacity building (Day 2) in the context of technology transfer.
For more information
Final report of the scoping workshop
Concept Paper for Technology Transfer
Technology Transfer Scoping Workshop – Agenda
Presentations