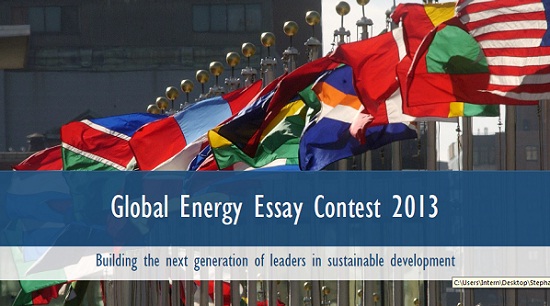 The Global Energy Initiative has initiated an essay contest for college students from all disciplines interested in energy and sustainability issues. The Global Energy Essay Contest provides an exciting opportunity for college and university students around the world to engage in critical thinking and present their ideas and solutions to tackle the key energy issues that humanity faces today.
As energy resources become scarce and climate change becomes an increasingly pressing reality, it is imperative to involve and engage students—the decision-makers of tomorrow—to discuss real and practical solutions on how energy can be used and provided in a sustainable and accessible way.
The Global Energy Essay Contest provides a platform for students from all backgrounds with an opportunity to share and expand their unique understanding of the worldwide urgency surrounding these issues, and the opportunity to be recognized for important contributions to shaping a sustainable future for all.
Essay Topic
The United Nations General Assembly unanimously declared 2014‑2024 as the Decade of Sustainable Energy for All, underscoring the importance of energy issues for sustainable development and for the elaboration of the post-2015 development agenda.
Taking inspiration from this, students are required to write an essay addressed to UN Secretary General Ban Ki-moon on the following topic:
A Vision for The Decade (2014-2024) of Sustainable Energy for All
Prizes
The First and Second place winners will receive US$1000 and $500 respectively, as well as an invitation to the Global Energy Conference at the United Nations from December 11-12, 2013. The First place winner will also have a speaking opportunity during the award presentation ceremony. Airfare, accommodation and travel visa to New York will be covered. The top ten finalists will receive certificates from Global Energy Initiative.
For the Global Energy Essay Contest: http://www.globalenergyinitiative.org/our-work/global-sustainable-energy-essay-contest.html
Globa Energy Essay Contest Flyer
For the Global Energy Initiative: http://www.globalenergyinitiative.org/