The Gwangju Institute of Science and Technology (GIST), together with the United Nations University (UNU) and the University of the Philippines (UP) College of Engineering gathered water professionals across the South-East Asia Region for the "3 rd GIST and APN Joint Meeting on Sustainable Urban Water Quality Management in Southeast Asian Countries" which took place at the National Engineering Center AVR-A, University of the Philippines, Diliman, Quezon City, Philippines, on 15-16 November 2010.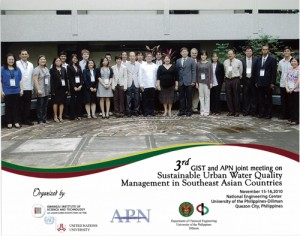 This joint meeting brought together leaders in research, practice, academe and policy-making from across the region with a theme Sustainable Urban Water Quality Management in South East Asian Countries. The participants and speakers are renowned experts in their fields and represent some of the leading institutions and political units in the region.
The joint meeting was third of a series. The first meeting which was held in Bangkok Thailand where the participants discussed plans on how to strategically conduct activities on Collaborative Research on Sustainable Urban Water Quality Management in Southeast Asian Countries: Analysis of Current Status (Comparative Study) and Strategic Plan Development ; the second one was a workshop meeting held in Ho Chi Minh, Viet Nam and focussed on Strategic Policies for Sustainable Urban Water Quality Management in Southeast Asia. The next meeting is planned to be held in Bali, Indonesia. All four meetings are project activities of an APN-supported project ARCP2010-01CMY-Sthiannopkao led by Dr. Suthipong Sthiannopkao of GIST who expressed sincere gratitude and acknowledged APN for its support.
Dean Aurea Matias of the College of Engineering commenced the meeting by providing welcoming remarks wherein she highlighted the significance of sustainable urban water quality management to address not only water quality issues but other cross-cutting issues as well like waste management and climate change. Ms. Kristine Garcia, Coordinator of the APN Secretariat reinforced the message of Dean Matias by informing the participants that the issue is highly important in the Southeast Asia sub-region in particular as this was identified by the APN members as a priority issue under the broader framework of low carbon society aiming at green growth through sustainable development focusing on integrated waste management in urban communities in the APN 3 rd Southeast Asia Sub-regional Cooperation Meeting that was held also in the Philippines previous to the joint meeting. The joint meeting was officially opened by Dr. Sergio Cao, UP Chancellor.
Scientists, policy-makers, and national organisations from six countries (Cambodia, Indonesia, Philippines, Republic of Korea, Thailand and Viet Nam) presented on recent developments in researches and policy-making processes on urban water quality management and other cross-cutting issues in selected rivers and watershed areas in their respective countries.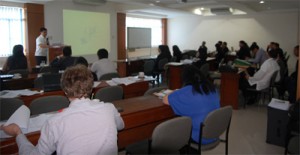 A special session for Philippines participants was allotted to share the successful stories of initiatives and policy implementation related to water quality issues across some areas in the country. One of session highlights was the notable improvement in some tributaries of previously proclaimed biologically dead river, the Pasig River. Ms. Gerald Samson, Deputy Director of the ABS-CBN Foundation in the Philippines, noted that the project would not be successful without close collaboration among the stakeholders, policy-makers, institutions and local communities who reside within the river boundaries. The commitment of local government units as well as institution leaders is also one of the key factors why the project is being effectively implemented, she further emphasised.
Professors from School of Environmental Science and Engineering (SESE) of GIST shared opportunities and cutting-edge researches of their institutions on water quality management in Korea in a special session provided for them. They encouraged the participants to have stronger collaboration with them and APN to continually enhance researches and effectively address the governing issues.
Prof. Hor-Gil Hur, Coordinator of UNU-GIST Programme officially closed Day 1 of the meeting by thanking everyone for sharing recent research developments, new ideas and for their dynamic participation in the joint meeting. The following day was allotted for a closed meeting among the APN project members to effectively and efficiently plan the next steps in implementing the succeeding project activities and recruit new members to Asia-Pacific Network Southeast Asian Water Environmental Database (APN-SEAWED).
APN –SEAWED ( http://www.apn-seawed.com/) is a collaborative research project between scientists and policy makers in the Southeast Asia region. Focussing on sustainable urban water quality management, the main objectives are to: 1) build a database, as well as project participants' capacity; and 2) provide data analytical tools to both scientists and policy-makers in Southeast Asia. This project is supported by the APN and International Environmental Research Center (IERC) and endorsed by Urbanisation and Global Environmental Change Project (UGEC) of International Human Dimensions Programme on Global Environmental Change (IHDP).