17 June 2015 — APN is pleased to announce the first monthly winning photograph in the ongoing annual L. B. Brown Memorial Photo Contest 2015.
The winner for "May: Celebrating Biodiversity" is Don Geoff Tabaranza with his photo of an endemic bird in the Philippines commonly known as Guaiabero (Bolbopsittacus lunulatus). The photo, taken at La Mesa Ecopark in Quezon City on 28 February 2015, depicts the sub-theme "biodiversity and ecosystem functioning" and emphasises seed dispersal as an important role that the species plays in the ecosystem.
The winning photo for May, along with other monthly winners to be selected from June 2015 to February 2016, will be exhibited at APN's 21st IGM/SPG Meeting to be held in March 2016, where participants will vote for the grand winner of the annual L. B. Brown Memorial Award.
Winning Photograph: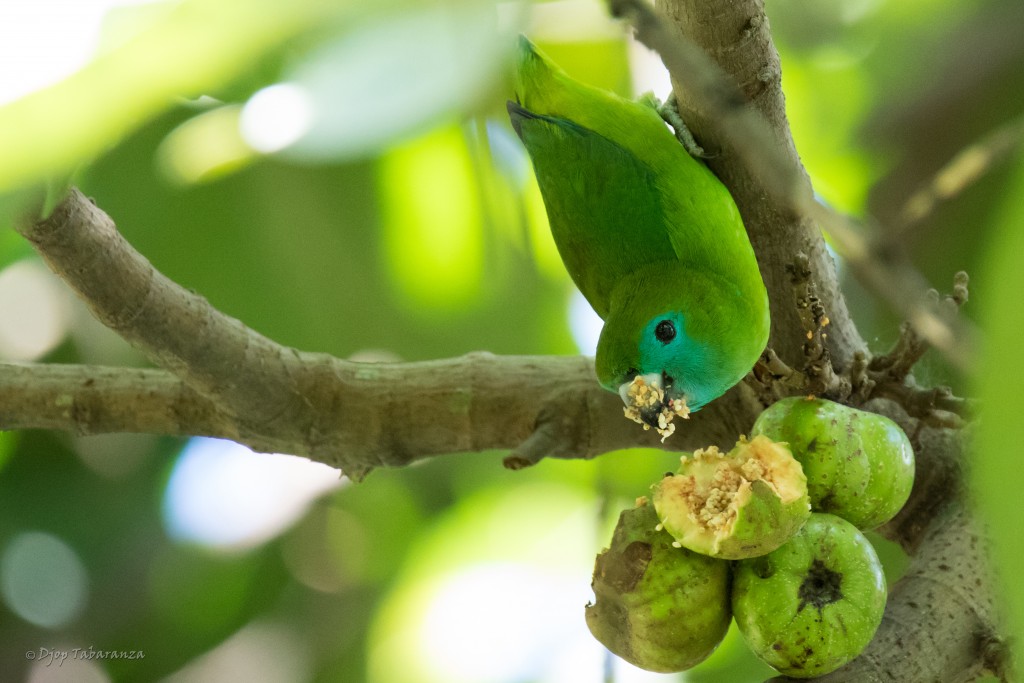 "Farmer of the forest". In an ecosystem the components function to achieve a harmonious balance. Here we see a beautiful relationship between a fig tree and a frugivorous parrot. The parrot is nourished as it feeds on the figs provided by the tree whose seeds are in turn dispersed by the bird as it flies off. The bird propagates its forest habitat not only for itself but for the other wildlife species as well (D. G. Tabaranza).
"The nuances of green makes it look very delicate and it illustrates a very interesting biological interaction."
— Anne Larigauderie
Executive Secretary,
Intergovernmental Platform on Biodiversity and Ecosystem Services (IPBES)
"The shades of green depicted is very prominent and the theme of propagating biodiversity is very appropriate and well put. " 
— Peldon Tshering
Chief, Policy & Planning Services,
National Environment Commission (NEC), Kingdom of Bhutan;
APN national Focal Point for Bhutan
"It is a very beautiful picture, revealing the mutual help between animals and plants in nature. "
— Hiroshi Tsujihara
Director, APN Secretariat
About the Contest:
The L. B. Brown Memorial Photo Contest is an ongoing, year-round photo competition being organised by APN to celebrate its 20th anniversary and raise awareness about global change challenges and solutions towards sustainability. We are currently accepting entries for the month of June under the theme "Promoting Sustainable Lifestyles" — to mark the World Environment Day, observed annually on 5 June. For details and to submit your entry: http://friends.apn-gcr.org/forums/topic/call-for-entries-june-promoting-sustainable-lifestyles/
Runners-Up (May):
Aside from the winner, APN would also like to thank all entrants that took part in the May contest for their amazing captures, especially the five photos below, which were shortlisted as runners-up for the month.
| | |
| --- | --- |
| | A gem in an urban green space. Wildlife is not restricted to far flung wildernesses. We can still find wildlife such as this endemic beauty in urban parks like the La Mesa Ecopark. It is important to conserve these small green spaces in a bustling metropolis since they not only serve as habitats for biodiversity but also a reprieve for humans from the hustle and bustle of city life. Here humans get a chance to reconnect with nature and biodiversity and have a deeper sense of well being. |
| | Penelopides manillae or the Tarictic Hornbill is one of the Philippine endemic hornbills . Although populations seem to be stable in some or most of its localities, they are still subject to a number of threats such as habitat loss, deforestation, forest fragmentation and pet trade. For the past years of studying at the University of the Philippines Los Baños in Laguna, Philippines, I rarely encounter or hear this bird. Recently, a good number has been flying over the UPLB Museum of Natural History where I am affiliated. It is interesting to note that even students from UPLB do not realize that we have this species of hornbill in our backyard. This is where the importance of social media enters toward awareness and conservation of Philippine birds. For all species and habitats, conservation always requires a high level of awareness, participation and support of the communities– the general public and the scientific community. |
| | Large mammals like elephants need wide open grazing spaces such as grasslands in order to sustain their food habits. Climate Change and huge biotic pressure in densely populated countries like India are actively destroying elephant habitats. |
| | In the steaming heat of a hot summer day, a tiger cub drinks from a small forest pool while his mother relaxes in the background. Global warming is directly affecting the water sources that are critical for the survival of Bengal Tiger. |
| | Sustainably managing our biodiversity is parallel to food security and human well-being. |