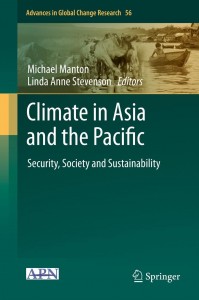 The APN is pleased to introduce its new publication Climate in Asia and the Pacific: Security, Society and Sustainability, which offers a detailed survey of the current status of climate change and climate variability in the Asia-Pacific region, a thorough and thoughtful assessment of climate and security and clear recommendations on the best paths of climate research in the future.
The new book, published under the Springer series Advances in Global Change Research, offers a broad perspective on the impacts of climate change on society in Asia and the Pacific; explores a many-layered mix of science, economics, politics and sociological concerns; and provides a useful resource for scientists, policy makers and practitioners.
The book is edited by Prof. Michael Manton, Monash University, Australia and Dr. Linda Anne Stevenson, Head, Division of Communication and Scientific Affairs, APN Secretariat.
The APN climate book is released on the eve of the publication of IPCC Working Group II (WGII) Report on Impacts, Adaptation and Vulnerability, a second component of the IPCC Fifth Assessment Report (AR5), which is scheduled to be released in spring 2014. The AR5 WGII Report will follow a Summary for Policymakers (SPM) to be approved, along with its underlying document, and published at a plenary session of WGII scheduled from 25–29 March 2014 in Yokohama, Japan.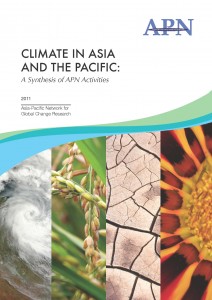 The APN book is published as a follow-up to APN's strategic review of its 50-plus climate-related projects since its establishment in 1998. Contributors to the review are leaders in their fields and many are authors of the IPCC AR5. The strategic review resulted in a 2011 synthesis report — Climate in Asia and the Pacific: A Synthesis of APN Activities, which identifies both research gaps and future research needs for the Asia-Pacific region in the context of natural climate variability and climate change, hence has become a useful tool not only for scientists, decision-makers and educators.
For more information about the APN book Climate in Asia and the Pacific: Security, Society and Sustainability: https://www.apn-gcr.org/climate-book
For more information about the Synthesis report: Climate in Asia and the Pacific: A Synthesis of APN Activities: www.apn-gcr.org/resources/items/show/1745