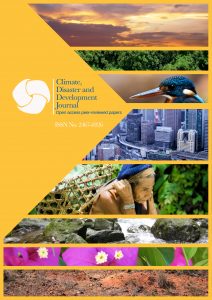 The Climate, Disaster and Development (CDD) Journal invites submissions focused on the areas of climate science, vulnerability and risks, climate change adaptation, disaster management, resilience, and climate policy and development.
The CDD Journal is also expanding its pool of reviewers. Register now and email us your interest to be one of the Journal's reviewers.
The CDD Journal is a peer-reviewed, open-access journal published bi-annually by the Oscar M. Lopez Center*. It presents original research on all aspects and intersections of climate, disasters, and development—providing a forum for the discussion of recent findings on these topics and their management implications for policy makers, development workers, and the general public.
For more information:
 *The Oscar M. Lopez Center for Climate Change Adaptation and Disaster Risk Management Foundation, Inc. (OML Center) is a non-stock, non-profit organisation that enhances the climate disaster resilience of communities through science, innovation and networks.