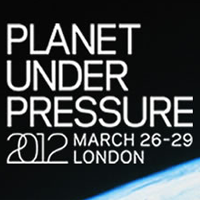 Deadline for submission of abstracts: 19 August 2011
Abstracts are invited for oral and poster presentations within the conference sessions. Please submit abstracts following the guidelines within the Online Submission Form.
You must submit your paper against the session it is most appropriate for, but all aspects of these topics are welcomed, from research, industry, policy or civil society points of view. All abstracts will be refereed, and either selected as a spoken paper, or as a poster, or rejected; there will be limited numbers of spoken papers, but the poster sessions will be an integral and dynamic part of the conference. A condition of submission is that, if accepted, the paper will be presented at Planet Under Pressure 2012 by one of the authors. The author registration deadline is 25 November 2011.
Successfully submitted abstracts will be acknowledged with an electronic receipt including an abstract reference number, which should be quoted in all correspondence. Allow at least 2 hours for your receipt to be returned to you.
For revisions or queries regarding abstracts already submitted
If you do not receive acknowledgement for your abstract submission or you wish to make any essential revisions to an abstract already submitted, please DO NOT RESUBMIT your abstract, as this may lead to duplication. Please email the Conference Secretariat with details of any revisions or queries. Please quote your reference number if you have one.
Links
Participation from Developing Countries: The conference aims to actively support participation from developing countries. Useful information on mentoring for new authors and how to apply for funding.