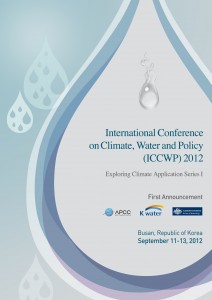 The APEC Climate Centre (APCC) is planning to hold the 'International Conference on Climate, Water and Policy (ICCWP) 2012' for three days in September 2012 in Busan, Republic of Korea. The main objective of ICCWP is to promote the use of climate information for decision making in water resource management. While the APEC Climate Symposium (APCS) 2011 explored the use of climate information in agriculture, water resources management and energy efficiency on a broad level, APCC identified high demand for in-depth studies on each sector from the participants' feedback. As a progression of the last APCS, ICCWP will work more deeply on climate applications in the water sector.
Please look at the first_announcement of the conference and our website (www.apcc21.org) for further information.
The conference will attract up to 60 international participants from both developing and developed countries.
Date and Venue
The three-day conference will take place at APEC Climate Center, Busan, Republic of Korea, from September 11 to 13, 2012
APEC Climate Center
1463 U-dong
Haeundae-gu, Busan, 612-020
Republic of Korea
Website: http://www.apcc21.org/
Call for Abstract
The conference will include keynote speeches, oral presentations and poster displays. We
welcome abstracts on the following topics for these sessions.
Why do water resource managers not use climate forecasts?
Application of seasonal climate forecasting to hydrologic forecasting and water resource management
Assessment of the accuracy and reliability of climate and seasonal streamflow forecasts at hydrologic scales
Long term climate variability and change and water resource management
Developing effective communication channels and toolkits among climate scientist, water resource managers and policy makers
International cooperation and policy
All abstracts must be submitted via email. Please submit abstracts to swchung@apcc21.net and copy climatewater2012@gmail.com to ensure that all abstracts are received. The deadline for abstract submission is 30 June 2012.