19 November 2021 — The Asia-Pacific Network for Global Change Research (APN) co-organized a session on the third day of INREM 2021 held 17-19 November under the theme Rural-Urban Linkages entitled "Engaging in global change research: Experiences and lessons of APN-funded capacity development projects." Featuring three APN-funded capacity development projects, the session highlighted best practices and experiences and lessons learned in the implementation of the capacity development initiatives revolving around topics of institutional resilience, rainwater harvesting as an adaptation measure for smallholder farmers, and climate change adaptation strategy demonstration through on-the-ground agroforestry learning laboratories.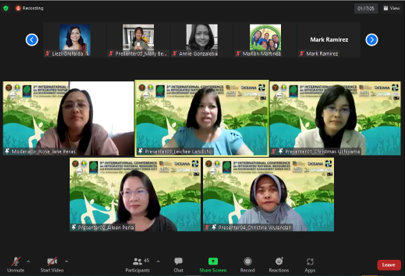 The session was opened by Mr Yoichi Toyama, Director of APN Secretariat, who gave an overview of the APN Capacity Development Programme (CAPaBLE) and emphasized that CAPaBLE continues to increase existing capacities of developing countries at individual, group/organization/network and societies/governance/system levels. Ms Christmas Uchiyama, programme officer, APN Secretariat, described the dominant clusters of themes covered by the APN Capacity Development Programme and showed the subregional trend through the years. She also introduced the ongoing collaborative APN-IGES Kansai Research Centre (KRC) Scoping Activity on Regional Circular and Ecological Sphere (R-CES) and described the target objectives of the scoping activity which include (a) promotion of better utilization and circulation of regional resources to form a self-reliant decentralized society, (b) contextualization of the R-CES framework in the countries of Philippines, Thailand and Viet Nam, and (c) identification of existing and complementary national and local programs that are supportive of R-CES.
At the open forum, the presenters discussed the need to sustain the interventions coming from the capacity development projects as well as showcasing its direct and indirect contribution to local development targets. The importance of assessing the extent of impact of capacity building were also raised through establishment of concrete metrics of success.
Presentations
Christmas Uchiyama: Strengthening policy relevance and impact: APN's capacity development programme in Southeast Asia and prospects towards popularizing Circular and Ecological Sphere (CES) in the region
Aileen S. Peria, College of Forestry and Natural Resources, UPLB, Philippines: Enhancing resilience through capacity building in LCCAP formulation in the Province of Aurora, Philippines
Leila D. Landicho, Institute of Agroforestry, College of Forestry and Natural Resources, UPLB, Philippines: Rainwater Harvesting for Climate Change Adaptation of Smallholder Farmers in Albay Province, Philippines: Experiences, Lessons and Prospects
Christine Wulandari, Graduate Program of Forestry, the University of Lampung, Indonesia: Promoting Climate Change Adaptation Strategies Via Agroforestry Learning Laboratories (ALLs) in Selected Upland Farming Communities in Southeast Asia