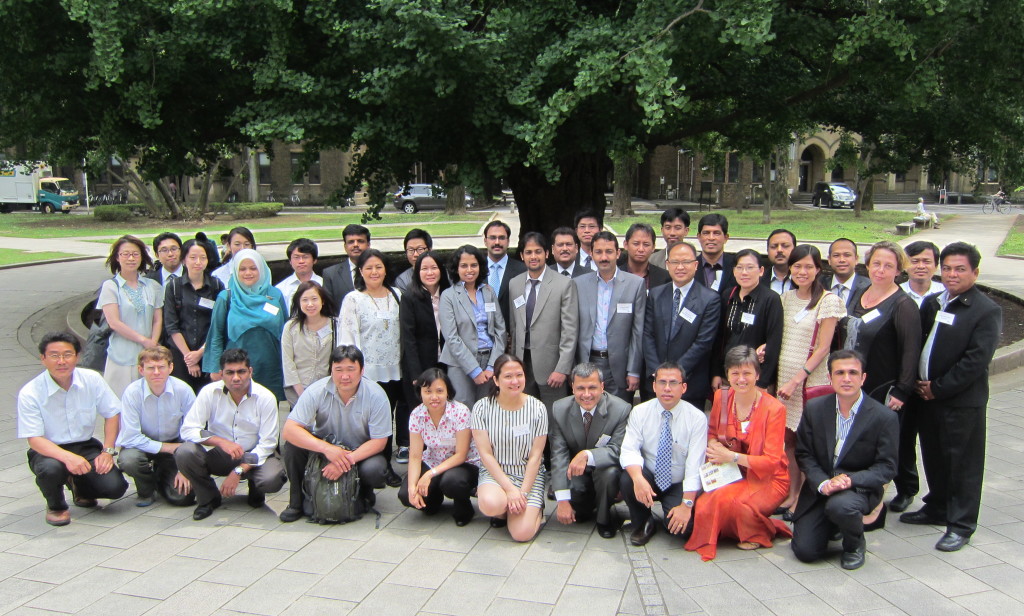 18 June 2013, Tokyo, Japan — The Asia Water Cycle Initiative (AWCI) organised a three-day training course from 18–20 June 2013 at the University of Tokyo to introduce improved techniques for climate change assessment and provide hands-on experience on the Data Integration and Analysis System (DIAS), a web-based system providing access to global and regional remote sensing data. Moreover, the course includes several lectures to introduce general circulation model (GCM) selection, model output (precipitation) bias correction, downscaling of the corrected output to a basin scale and generation of drought indices and drought assessment.
Twenty-two trainees from APN member countries participated in the training course, which was funded through three APN projects, ARCP2012-16NMY-Ochiai, ARCP2011-05CMY-Bae and CBA2012-03NMY-Rasul. The first day of the training course was designed to introduce the DIAS online system. Dr. Petra Koudelova introduced the DIAS system especially focusing on selecting parameters and analysis tools of the web-based system to access data, and selecting the best model to analyse data for a particular region. Dr. Satoshi Kida from Japan Aerospace Exploration Agency (JAXA) gave a short presentation on "Introduction of Global Satellite Mapping of Precipitation" to enrich participants' knowledge.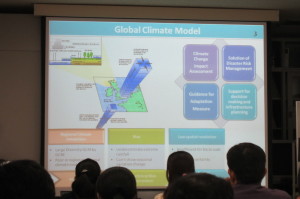 Ms. Taniya Koswatta, Coordinator at the APN Secretariat, participated in the first day of the training course and gave an overview of APN's recent activities. The presentation mainly focused on opportunities for young scientists to involve in APN programmes and activities. She stressed that water security (inland and ocean) in the face of extreme events, including management, quantity and quality, is one of the topics of interest to the Science Agenda under APN's 2013 Annual Calls for Proposals, and encouraged the trainees to submit their proposals this year. Furthermore, she informed that a special call for proposals on adaptation, disaster risk reduction and loss and damage will be launched in early September 2013, which is another good opportunity to engage in APN activities. Finally, she mentioned that a total financial support of US$746,500 through five ARCP and four CAPaBLE projects has contributed to the success of AWCI and APN wishes to strengthen the APN-AWCI partnership in the future.
By: Taniya Koswatta, coordinator, APN Secretariat