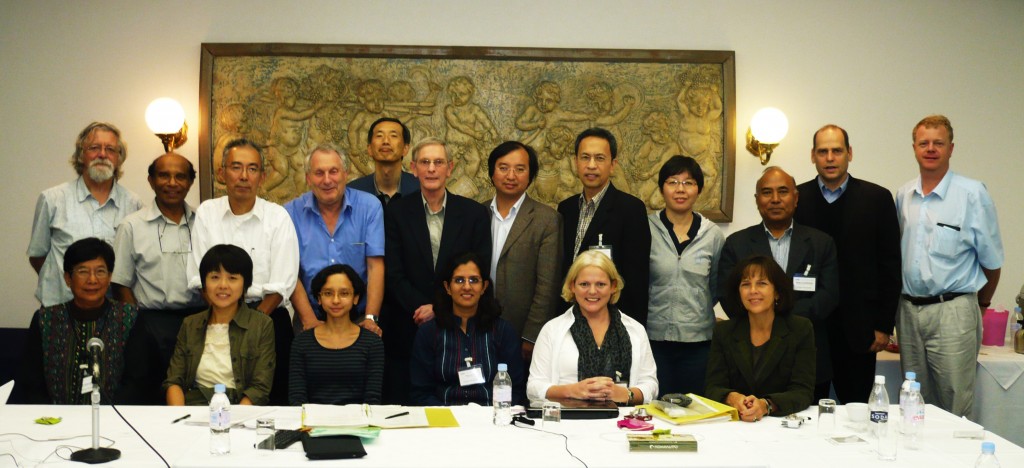 In the Asia-Pacific region, sustainable development must take into account the significant effects of climate variability and climate change as well as various socio-economic factors. With this in mind, the APN plans to release a publication detailing and discussing past and present climate research around Asia and the Pacific in relation to principal socio-economic factors in the region.
On 17th-20th October 2011, the APN hosted an authors' workshop at the Hotel Monterey in Kobe, Japan for its upcoming publication, "Climate in Asia and the Pacific: Society, Security, and Sustainability". This book will be a supplement to the APN report entitled "Climate in Asia and the Pacific: A Synthesis of APN Activities" recently launched in September 2011.
The new publication will focus on the following five aspects of climate in Asia and the Pacific:
Climate variability and change,
Climate and urbanization,
Climate and security,
Climate and society, and
Climate and Sustainability.
The publication has over 30 contributing authors, 16 of which attended the Workshop in Kobe. The attendees included: Dr. Michael Manton, Workshop Chair, Monash University; Dr. Linda Stevenson, Co-Editor, Executive Science Officer, APN Secretariat, Dr. James Salinger, Honorary Research Fellow, University of Tasmania; Dr. Lance Heath, Climate Change Institute, Australia National University; Dr. Ailikun, Director of the International Programme Office, Monsoon Asia Integrated Regional Studies (MAIRS); Professor Kanayathu Koshy, Centre for Global Sustainability Studies, Universiti Sains Malaysia; Dr. Rodel Lasco, Country Coordinator, World Agroforestry Centre (ICRAF); and Prof. Wenjie Dong, Executive Associate Dean, State Key Laboratory of Earth Surface  Processes and Resource Ecology, Beijing Normal University; amongst others.
The writing workshop focused mainly on compiling writings by contributing authors with the goal of combining them in a cohesive manner and refining each second order draft. The workshop was a huge success due to the hard work of each contributing author, the Lead Authors, and Coordinating Lead Authors present at the workshop.
"Climate in Asia and the Pacific: Society, Security, and Sustainability" will be published by Springer under the "Advances in Global Change Research" series in late 2012.