In response to the limited capacity to conduct risk and vulnerability assessments in most coastal Asian cities, an International Workshop on Climate Change Vulnerability Assessment and Urban Development Planning for Asian Coastal Cities , convened on 20-22 August 2010, in Nakorn Pathom, Thailand. This workshop was funded by APN through the Scientific Capacity Development for Climate and Impact Vulnerability Assessments (SCBCIA) Special Call for Proposal, with Project Reference CIA2009-01 Snidvongs, under the Scientific Capacity Building/Enhancement for Sustainable Development in Developing Countries (CAPaBLE) Programme. It was built on recent studies of Asian Cities sponsored by the Asian Development Bank (ADB), World Bank, Japan International Cooperation Agency (JICA) and on the 'Cities at Risk' Workshop that was held last year and funded in part by APN.
Overview: Responding to the Challenge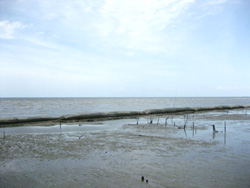 Asian coastal mega-cities has been identified by the Intergovernmental Panel on Climate Change (IPCC) as global 'hot spots' of disaster vulnerability arising from the combined effects of sea level rise, climate change, and continued urban growth in areas subject to coastal and riverine flooding and storm surges. A recent report from the Organisation for Economic Cooperation and Development (OECD) noted that approximately half of the total global urban coastal population threatened by coastal flooding and storm surges is located in just ten (10) cities, nine (9) of which are located in Asia.Due to increasing physical risks and exposure of infrastructure and population, there is a high tendency for 'city-scale disasters' to occur, with substantial loss of life and infrastructure, and of damage as well to the national and regional economies.
It is paramount that risk reduction becomes part and parcel of urban planning (United Nations Strategy for Disaster Reduction, 2009). Unfortunately, this is not the case at present. To address this, the workshop aimed at enhancing capacity in Asian coastal cities to conduct climate change risk and vulnerability assessment as part of urban development planning, with particular reference to coastal and riverine flooding. The week-long workshop involved teams from five (5) selected Asian coastal cities: Bangkok (Thailand), Ho Chi Minh (Viet Nam), Jakarta (Indonesia), Manila (Philippines) and Mumbai (India). Each team was composed of researchers and officials/practitioners from urban planning, development, hydro-meteorology and disaster management agencies.
The workshop was organised by the Southeast Asia global change SysTem for Analysis, Research, and Training (START) Regional Center in collaboration with East-West Center; START International Secretariat; Ibaraki University, Japan; United Nations University, Institute for Environment and Human Security, Germany; Manila Observatory, Philippines; University of South Carolina, U.S.A., and University of Western Ontario, Canada. This was hosted by the Southeast Asia START Regional Center (SEA START RC). On behalf of the APN, Ms. Perlyn Pulhin, gave a short presentation on the last day of the Workshop highlighting the opportunities in APN that the participants could benefit from.
Workshop Structure
| | |
| --- | --- |
| | |
The workshop consisted of expert presentations, group and city-specific reporting and discussions, field exposure and hands-on exercises on: 1) risk analysis of coastal flooding from climate change and sea level rise, including risk mapping; 2) analysis of socio-economic vulnerability and vulnerability mapping; and 3) integration of risk and vulnerability analyses into the urban development planning process. A brief project overview and the objectives and framework were explained to the participants prior to main workshop sessions. Specific objectives included, to: a) help develop capacity on the part of urban planners, managers, and researchers in climate change vulnerability assessment and application to urban development planning and governance; b) promote locally-led vulnerability research in Asian coastal cities linked to user needs; and c) help develop partnerships between researchers, planners, and policy-makers, and develop communities of knowledge for vulnerability assessment in each participating city such that information on climate change risks, impacts and vulnerability could be well incorporated into the planning process.
Each participating urban teams were asked to prepare city reports in advance on the current status of urban development plans, the degree to which they take into consideration risks and vulnerabilities associated with climate change, the existing information base (historical data, maps of past extreme events, risk maps), urban governance structure (including agency responsibility for climate change and disaster management), and existing analytic capacity related to climate change in local universities and government agencies.
Applying the Lessons Learned from the first 'Cities at Risk' Workshop
Following the recommendations outlined in the first 'Cities at Risk' Workshop, the current workshop emphasised a new approach which involves starting from the present urban climate, including variability and then to see how changes in climate will pose stress in the city. This is different from the traditional approach of assessing future climate change risks at the urban scale wherein global climate models are downscaled to help provide regional and smaller scale climate change projections – a 'top down' approach to vulnerability assessment. For planning purposes, resolution at the urban scale produced in such approach is not yet satisfactory. Non-scientists find it difficult to understand the process and outcomes are not easy to incorporate into a policy framework.
The new approach that was tackled in the workshop includes looking for critical outcomes and thresholds and working backwards to see if climate change results in crossing thresholds. Through examination of vulnerabilities, thresholds and sensitivities, the need for detailed downscaled data is obviated and actions can still be taken based on a risk management and precautionary-principle approach. Risk analysis of coastal flooding from climate change and sea level rise, including risk mapping, was given as an example to better understand the new approach. Invited experts gave specific presentations related to these topics.
A hands-on exercise on a ssessing socio-economic vulnerability including vulnerability mapping and visualisation helped focus on vulnerability of population (life, welfare, livelihood subgroups) as well as the vulnerability of physical and economic infrastructure. It is anticipated that the populations most at risk will disproportionately consist of lower income families. The analysis, therefore, may also contribute directly to other development goals, including poverty reduction. Expert presentations on risk communication and visualisation as well as integration of risk vulnerability into urban planning and development, and governance well complemented the hands-on exercise.
Knowledge Gain: Participatory Approach
Constructive dialogues among scientists, urban planners and officials, policy-makers, representatives of disaster management and development agencies, and practitioners, have been effective in reviewing and confirming scientific findings and projections regarding climate-related risks for Asia's coastal mega-cities. The presentations and the sharing of experiences and approaches among city teams raised awareness of the growing risks posed by the increased urban development in Asian coastal cities, combined with sea level rise, climate change and other drivers. Below is a list of some of the topics discussed in the five-day workshop wherein the participants actively engaged in the discussion:
Perception of climate change related risks, planning and adaptation and perceived data gaps among stakeholders including gender perspective on climate change risk and vulnerability
Existing knowledge of climate change impacts and urban development with focus on selected direct and indirect impacts of climate change in urban areas
Climate change and urban governance focussing on climate resilient governance indicators as well as institutional capacity and policy as response to climate change
Social, political and economic characteristics of the cities that make them more vulnerable to climate change impacts
Geo-physical or ecological characteristics that heighten cities' vulnerability and risks to climate change related impacts such as heavy rains, floods, typhoons, subsidence or sea level rise
Suggestions for future collaborative research to provide decision-makers support for policy planning and programme formulation and implementation
Overview of disaster risk reduction terminology and demonstration examples of risk assessment with focus on characteristics of vulnerability
Visioning and participatory process as a tool for developing stakeholder partnerships and strategies to deal with multiple stresses
Research Status, Gaps, Challenges and Recommendations
With reference to the outcomes of the first 'Cities at Risk' Workshop and the studies sponsored by the World Bank, ADB, and JICA, the city teams reviewed and discussed the related studies and existing projects in the region and in each of the countries, concerned with urban development planning and climate change vulnerability assessments. The workshop identified barriers to effective urban development planning including knowledge or research gaps, human and financial resources, and institutional capacity.
The workshop participants looked at the best ways to assess/map climate risks taking into account the possible effects of current and future climate changes. Each of the city teams were asked to share how social/economic vulnerability to climate related risks have been assessed and mapped, for whom this is targeted, who are doing this mapping exercises and the details of the assessment. Interesting discussions also focussed on information/knowledge management identifying effective approaches on communicating climate risks and vulnerability. The discussion also touched on existing urban Geographic Information System (GIS) information base that may be used for climate risk and vulnerability assessment.
On governance, the city teams identified the roles of the agencies and institutions in risk and vulnerability assessments as well as the skill level and capacities needed to perform such roles. Discussions also ensued tackling urban master plan, how effective the building codes, land use regulations, sanitation codes and other factors are being enforced, how helpful are the existing early warning systems, and the problems encountered in implementing evacuation or emergency response plans for various type of weather and climate related disaster.
Based on the reports/presentations from the city teams derived from secondary sources and status from the country, notes during the group discussion, comments from experts and representatives from each city teams in response to the reports/presentations and based on the current experiences or researches in their respective organisations and cities, below are some of the knowledge status, gaps, challenges and recommendations that were identified. As the below listings are author's personal compilation, the list therefore is not appropriate to use in generalising the situation in all coastal Asian mega-cities. The organiser of the workshop and the project leader and collaborators will provide a final project report in due course.
Exposure per unit, sectors, activities, individuals, households, social groups, communities, livelihoods are not factored in existing assessments
Studies related to social and economic vulnerability and climate related risk vary in frameworks and the methods are initiated by different agencies who do not usually share information among them
Science-based yet practical mechanisms to develop efficient measures to respond to climate change related risks are lacking
Mainstreaming climate change issues into socio-economic, sectoral and local development strategies and plans remains big challenge
There is a need to develop action plans that are well-coordinated for all ministries, sectors and regions
Awareness on climate related risks among policy-makers at different levels is still low and appropriate communication tools for advising and instructing policy-makers are necessary
Technical knowledge among government agencies and non-government organisations needs to be further enhanced
Climate change data that addresses current needs are inadequate and more analytic studies on climate change impacts are needed
Current climate and hydrodynamic are already extreme and are expected to intensify so there will be more severe storms, storm surges and tidal flooding (Asian Development Bank, 2008; International Centre for Environmental Management, 2009)
There is knowledge gap among public regarding risk associated with climate change, particularly the difference between climate risk and vulnerability
Although communications and outreach activities through media are now usual component of seminars and public consultations, layman's terminologies which are more appropriate for the general public are not being used
Climate risk and vulnerability issues and discussions are going on in the scientific community, but a few, if any are well communicated to the wider public. Therefore, there is still a huge gap in disseminating climate risk information.
There is a knowledge gap among city level officials on climate change adaptation compared to officials at the national level
More proactive measures rather than reactive measures are crucial in tackling the problem of climate change
Public funding and commitment to respond to climate related risks and vulnerability have been or are mostly project-based and donor-driven. Therefore, sustainability and progress of past and current initiatives are major concerns.
At local and district levels, the terms of local government executives (usually three years) highly constrain the effectiveness of implementing risk reduction measures
There is lack of expertise in constructing proper instruments to monitor the social impact of climate change and there is limited understanding on the dynamic and complex processes of social vulnerability to climate change
Governance and social justice issues, institutional, jurisdictional and social conflicts have tendency to worsen the climate-related issues (based on preliminary review of frameworks for climate risk and approach in socio-economic vulnerability assessment)
 Recommendations:
Sustain efforts in strengthening the capacities of organisations and institutions and the policies on climate change
Use mass media like television, radio, and newspaper to the fullest in disseminating information on climate risk and vulnerability
Work on a special campaign on climate risk for the people who are at most risk such as the poor and marginalised
Support more interdisciplinary research which will determine the interactions between and among human and natural systems and more assessment studies on climate with the associated geophysical and ecological risk to food, water and energy security as well as health to serve as inputs into decision support systems for national planning and local governance
Prioritise risk assessments for areas wherein pre-existing vulnerabilities due to such conditions as socio-cultural conflicts may exacerbate environmental changes due to climate change
Incorporate practical climate change macro and micro indicators, particularly social vulnerability index to assist governments in development planning that take into account impacts of climate change
Assess or map the effects of current and future climate changes and various climate risks taking into consideration the people's urban development perspective on climate change risk (floods, water and food supply, land loss, air quality, heat stress, disease outbreaks, etc.) and vulnerability including landscape urbanism, landuse plan and informality and settlement
Establish/strengthen appropriate and strategic mechanisms to monitor or check the progress in implementing National Target Plan/Programme on Climate Change
Way Forward
On the last day of the workshop, the city teams presented their suggested capacity building and research follow-up activities. Noteworthy is the report from Mumbai City which specifically mentioned an ongoing APN-supported activity under the Annual Regional Call for Research Proposals (ARCP) being led by Prof. Anand Patwardhan. The rapporteur of the group highlighted that the APN-funded research project is attempting to enhance adaptation to climate change by integrating climate risk into long-term development plans and disaster management. The project recognises disaster risk reduction and disaster management as an important context for integrating or mainstreaming adaptation into decision-making for the cities at risk.
Under this APN project is a comparative analysis of the immediate to medium-term post disaster recovery scenario in the aftermath of extreme weather events of flooding faced by the three vulnerable Asian cities – Mumbai, Dhaka and Bangkok. The impacts on the magnitude and direction of the development trajectory of the cities will be examined. Proposed activities, detailed outcomes and their relevance were emphasised in the presentation including: 1) better understanding of the process of responding to climate-related hazards, including aspects such as relief and recovery planning and implementing adaptation interventions; 2) improving the understanding of vulnerability and the actual design and implementation of adaptation interventions by integrating climate risks considerations into decision-making at the project, local and national levels; 3) ensuring that rapid growth of infrastructure enhances climate resilience and adaptive capacity and is done in a manner sensitive to the possibilities of mal-adaptation. Findings are expected to help inform the broader 'Cities at Risk' theme developed by START and the International Council for Science (ICSU) International science project on Integrated Research in Disaster Risk.
The city teams were asked to provide the workshop organiser by end of the month a one-page abstract on the 'Assessment of Climate Change Related Risk', 'Information/Knowledge Management', and 'Governance', incorporating the lessons they learned from the five-day workshop. The abstracts will be further summarised to help define future research areas. These will be reflected on the workshop proceedings and the final project report.
On another note, a Coastal Cities at Risk (CCaR) project will be proposed for funding to the International Development Research Centre of Canada and the Canadian Research Tri-Councils (Natural Sciences and Engineering, Social Sciences, Health Research). The overall objective of the project is to develop the knowledge base and enhance the capacity of mega-cities to successfully adapt to and when necessary cope with risks posed by the effects of climate change, including sea level rise, in the context of urban growth and development.
With the overall success of the workshop, the APN would like to congratulate the organisers, partners and the participants. A project article will be featured in the next edition of the APN Newsletter and both the workshop proceedings and final project report will be uploaded on the APN website as soon as they are completed.