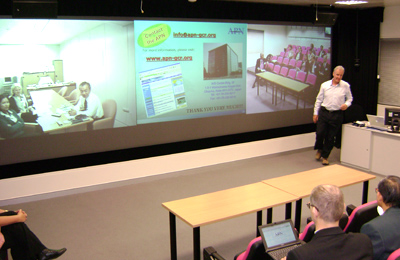 Through a videoconference, the APN participated and delivered a presentation at the Asia-Pacific Economic Cooperation (APEC) Climate Change Symposium that was held in Canberra, Australia on 28-30 October 2009. The Symposium aimed to identify the following: 1) opportunities for the APEC Virtual Centre (APEC VC) network to promote collaboration between business, government and educational and research institutions in the Asia-Pacific region on climate change issues; 2) impediments and solutions to effective collaboration around key issues; and 3) achievable outcomes and timeframes including road map ahead. Participating economies in the Symposium included Australia, China, Indonesia, Japan, Philippines, Republic of Korea, and Viet Nam which are all APN member countries.
On Day 2 of the Symposium, Mr. Tetsuro Fujitsuka, APN Secretariat Director gave the presentation which summarises the profile of APN, its activities in the region and opportunities for synergies and partnership. Dr. Linda Anne Stevenson, Scientific Officer and Ms. Perlyn Pulhin, Programme Officer for Communications and Development also joined the videoconference and provided answers in some questions that were asked by the symposium participants. The participants expressed keen interest on participating in APN activities such as submitting a proposal for APN funding.
The Symposium was sponsored by the Australian Government's overseas aid programme (AusAID) and hosted by the Australian National University (ANU) Climate Change Institute, APEC VC for Environmental Technology Exchange (an approved Industrial Science and Technology Working Group Project operating under the Auspices of APEC), ANU Korea Institute, ANU China Institute, and ANU Exchange. This was organised as lead-up activity to the United Nations Framework Convention on Climate Change (UNFCCC) 15th Conference of the Parties/5th Meeting of the Parties (COP15/MOP5) in Copenhagen, Denmark, in December 2009. Keynote addresses and study tour to local business and ANU research facilities comprised Day 1 of the Symposium while Day 2 was spent on breakout sessions exploring workshop objectives.
Among the discussion highlights and outcomes of the Symposium included: a road map for APEC economies to progress the challenges of knowledge transfer, high-level plan to turn research into outcomes, identification and potential solutions to impediments to effective collaboration, opportunities for AusAID to provide continued support in the Asia-Pacific region, road map ahead for follow-up workshops/conferences, and report of proceedings.