9–20 November 2012, Bangkok, Thailand
Akio Takemoto
The APN and the University Network for Climate and Ecosystems Change Adaptation Research (UN-CECAR) co-organized a training programme on Climate Change Downscaling Approaches and Applications (CCDAA) from 9–20 November 2012 at Asian Institute of Technology (AIT) in Bangkok, Thailand, with support from the Asian Development Bank (ADB) and Chulalongkorn University.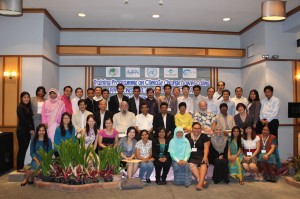 The training programme on CCDAA was developed under the UN-CECAR framework with the support of the Ministry of the Environment (MOE), Japan and the Institute for Global Environmental Strategies (IGES). UN-CECAR is a collaborative initiative of more than 20 leading universities across Asia. It is committed to developing postgraduate educational and research programmes on climate and ecosystems change, adaptation and sustainability science. The United Nations University Institute for Sustainability and Peace (UNU-ISP) acts as the Secretariat for UN-CECAR.
The APN partnered with UN-CECAR under the APN Adaptation Framework developed at the "Scoping Workshop to Enhance Climate Adaptation Actions of APN Developing Countries" that was held in August 2012,Kobe, Japan. Under the Adaptation Framework, regional research and capacity building projects are being implemented to improve applicability by users, based on needs, gaps and lessons learned regarding climate adaptation in the Asia-Pacific region. Activities under the Adaptation Framework will focus on the following themes:
Development of high-resolution observational, model and downscaled data sets that can contribute to filling data gaps;
Sharing of needs-oriented data;
Calibration and validation of regional climate models; and analysis of projections and assessment of uncertainties;
Development and utilization of impact, vulnerability, risk and economic assessments;
Improvement of communication skills of scientists and practitioners with stakeholders, including local government, community, private sector and civil society, for encouraging policy makers to formulate and implement adaptation plans based on the latest scientific knowledge; and
Utilization of available information including climate data in applications for adaptation.
More than 50 scientists and practitioners participated in the training programme, with a majority coming from APN Member Countries. Practitioners who attended belong to ministries and governmental agencies responsible for such sectors as the environment, natural resources, meteorology, agriculture and forestry, land development and public work.
The training programme had two components: Course 1—training for downscaling methods (9–14 November) and Course 2—parallel sessions on the impacts of floods and impacts on rice production (16–20 November). Participants received practical training in the use of geographic information systems (GIS) in adaptation planning and modelling extreme climatic events. APN co-organized Course 2 from the viewpoint of capacity development on communication skills between scientists and practitioners.
Course 1 comprised of lectures on dynamical downscaling, statistical downscaling and risk assessment by professors and experts from Indian Institute of Technology (IIT), University of Nebraska Lincoln, Meteorological Research Institute of Japan, the University of Tokyo, UNU-ISP and AIT.
Course 2 started with a presentation by Dr. Srikantha Herath, UNU-ISP on the framework of the training programme (mainly for the trainees who did not join Course 1). This was followed by a presentation by Dr. Akio Takemoto, APN Secretariat on APN's overall framework, including Adaptation Framework. The parallel sessions (A: impact of floods, and B: impacts on rice production) followed. In each session, trainees learned methods on geographic information system (GIS), hydrological response models and crop simulation models using computers and hands-on manuals with assistance of trainers from IIT, UNU, Nippon Koei and AIT. Trainees also learned how model outputs can be used for policy planning in their countries and participated in lectures on good and bad practices related to flood management.
On the last day (20 November), a common training session was held to organize the communication of climate information, led by Dr. Sarah Optiz-Stapleton, Institute for Social and Environmental Transition (ISET), USA. The session was followed by a panel discussion on the theme of communication between scientists and policy makers, with participation by trainers and resource persons including Dr. Jariya BOONJAWAT, APN Scientific Planning Group for Thailand and Dr. Takemoto.
In the end, participants received a certificate for their successful completion of the programme, which was very successful as a practically-oriented capacity-building event and it was beneficial for both scientists and practitioners who participated.
Download full report: AOA2012-05NSY-Herath-Final Report