T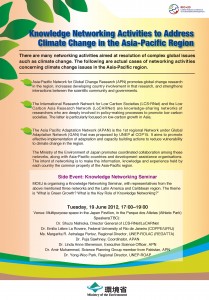 he APN will participate in a Rio+20 side event on knowledge networking organized by the Ministry of the Environment of Japan (MOEJ), which will address the main theme of "What is Green Growth? What is the Key Role of Knowledge Networking?"
Dr. Amir Muhammed, APN Scientific Planning Group member for Pakistan and Dr. Linda Anne Stevenson, Executive Science Officer at the APN Secretariat, will present on how the APN activities are contributing to promotion of global change research through knowledge networking within the Asia-Pacific region.  Both APN representatives will be available in Rio de Janeiro throughout the Rio+20 period.
The MOEJ session will be held on Tuesday, 19 June 2012, 17:00–19:00 local time in the multipurpose space in the Japan Pavilion in the Parque dos Atletas. (full announcement)
As an input to Rio+20, the APN will very shortly publish a policy brief on Climate Adaptation Partnerships for Sustainable Development. This policy brief is an outcome of a special session organized by the APN at the Climate "Adaptation Futures" Conference held from 29–31 May 2012 at The University of Arizona, USA.
For more information about APN's involvement in the Rio+20 process, please contact Dr. Linda Anne Stevenson at lastevenson@apn-gcr.org