18 July 2012, Bangkok, Thailand — With active participation of Steering Committee (SC) Members, alternates, donor members, and tremendous dedication from the SC Chair, Mr. Sundara Sem, the APN successfully held a productive Special Steering Committee (SSC) Meeting dedicated to planning actions that are committed to the strategic investment of the APN Opportunity Fund (AOF) over a three-year period.
The meeting took place as a follow-up on APN's recent call for suggestions on the allocation of the AOF, both in terms of strategic activities to be funded and the general process and mechanism for appropriating the fund. The call was launched in response to a decision at APN's 17th Inter-Governmental Meeting for the allocation of the AOF.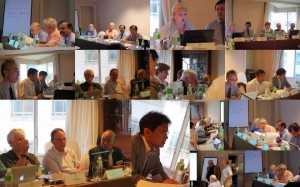 The SC reaffirmed that the AOF was an important opportunity for the APN to invest in framing its future strategic directions beyond the existing funding mechanisms. Therefore it was suggested that the AOF be used to support new strategic efforts that would enable the APN to grow into a stronger player that promotes global change research in the region. With the above understanding, the SC agreed that many submissions, though highly in line with the themes set out in the APN 3rd Strategic Plan, addressed specific scientific and capacity building concerns, and were not recommended for AOF funding but to be re-routed to APN's regular programmes of ARCP and CAPaBLE.
Following active discussions, a set of criteria for screening the suggestions submitted were proposed and participants reviewed all submissions using these criteria. Using these criteria, a number of suggested activities were identified to be appropriate for funding under the AOF, pending further development by proponents and relevant actors, taking into account the suggestions and advice provided during the SSC Meeting.
Possible activities recommended for further consideration and development are: 1) the involvement of the regional development of Future Earth in the Asia-Pacific region, 2) the development of a professional training package on climate and ecosystems change, adaptation and sustainability science; 3) an open conference for the benefit of APN strategic planning; and 4) a research programme for the assessment of climate change impacts on biodiversity.
Emanated from the discussions was also the opportunity of conducting a scoping exercise with the aim of establishing a long-term fellowship programme under the APN framework to support young scientists. If established, the fellowship programme is expected to benefit more young scientists in the region while raising APN's visibility at the same time.
The SC further considered the appropriate level of contingency fund for the secretariat, and possible activities to assess the gaps in APN Strategic Plan implementation, among other important issues.
The Secretariat would like to express its sincere gratitude to the SC Chair and SSC participants for their valuable contribution and guidance that are crucial for the implementation of follow-up actions to facilitate the planning of strategic investment of the AOF.