21 July 2012, Bangkok, Thailand — As part of its effort to address the strategic goal of strengthening appropriate interactions among scientists and policy makers, and to provide scientific input to decision-making and scientific knowledge to the public, the APN joined forces with START International in successfully holding a Science-Policy Dialogue focusing on Southeast Asia. Hosted by the Southeast Asia START Regional Center, the three-day Dialogue was composed of thematic discussion and conversation which created a platform for promoting informed decision-making on actions to reduce vulnerability to global environmental change and promote adaptation strategies.
Ninety participants, including policy makers from APN member countries in Southeast Asia, leading scientists and professionals in the region in the fields of climate adaptation, disaster risk management and environmental management, as well as representatives from partner organizations shared knowledge on recent advances in global change science ranging from disaster risk management through vulnerability and resilience to climate adaptation and mitigation, and introduced successful application of those advances within the policy arena.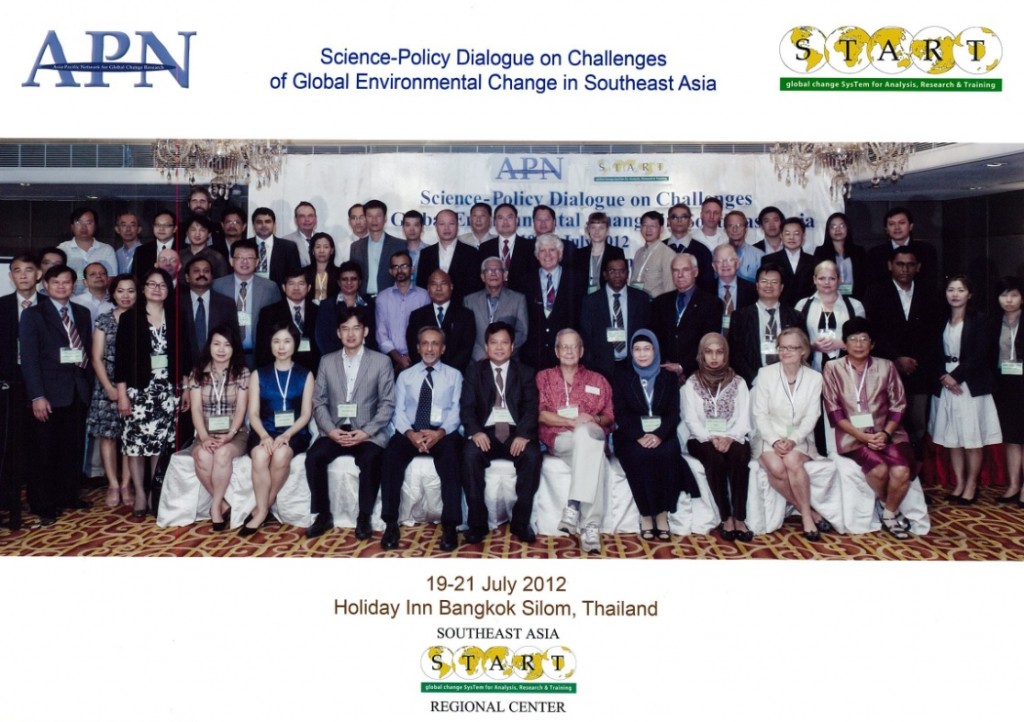 Day 1
The Dialogue was opened on 19 July 2012, with welcome remarks by Dr. Akio Takemoto, APN Secretariat Director, and Dr. Hassan Virji, Executive Director of START. Both emphasized the need to foster closer science-policy conversation towards reducing vulnerability and increasing resilience in a development context.
This was followed by a talk by Prof. Roland Fuchs of the East-West Center in Hawaii, who highlighted the necessity and objectives of the Dialogue, as emerging challenges and prevailing obstacles for science- policy interface increasingly add to the inherent weakness that had created the divide. He stressed the importance of training as an approach to narrowing this gap and improving the interface.
Dr. Nares Damrongchai, senior director at the National Science Technology and Innovation Policy Office, Thailand, presented on the policy context of environmental challenges in Southeast Asia, and underlined the role of cities as agents for change, as they have stronger influence about the decisions policy makers take on environment-related policies.
Prof. Graeme Pearman of Monash University in his presentation shed light on the need for greater risk assessments and the probabilities of change, since decision-makers face realities such as not having all the information they need to shape policies. He further drew attention to a holistic approach towards disaster risk management in the context of competing sectoral interest and multiple community goals.
Dr. Bach Tan Sinh from Ministry of Science and Technology, Viet Nam introduced the findings of the IPCC Report on Managing the Risks of Extreme Events and Disasters to Advance Climate Change Adaptation (SREX), especially its implications for Southeast Asia, stressing the need for tailored risk management strategies to meet local needs.
Prof. Wei-Sen Li of Taiwan's NDRC made the case for how the private sector could be involved in disaster preparedness to increase resilience at the local level by introducing the works undertaken by Asia Pacific Economic Cooperation (APEC) and Emergency Preparedness Working Group (EPWG).
In the facilitated discussion session that followed, participants contributed actively to topics such as how to differentiate and provide targeted scientific information for long-term solutions versus that for short-term actions; how to deal with uncertainties in policy-making and planning; possible solutions for addressing communication gaps caused by governmental official changes; the importance of cross ministerial engagement in addressing global change challenges; best practices of utilizing social media for advocacy and awareness raising; focus on community needs by both scientific and policy communities, among others.
Dr. Anond Snidvongs of SEA-START presented on urban vulnerability and risk management in Thailand through case studies of floods that swept through the country in 2011. By looking at the human factors that contributed to the disasters he drew attention to the importance of effective communication of risk management policies down to the local level.
Dr. Wen-Sen Li in his second talk, "How Disaster Science Information is Communicated to Public and Policy Audiences in Taiwan", explored the need for an integrated information system in the face of extreme climate events, where the private sector can play an important role. An example given was how his organization worked with a convenient store chain in Taiwan to disseminate information on disaster warning and preparedness.
This was followed by a second discussion session of the day, with focus on urban policy challenges for Indonesia, Malaysia, Cambodia and the Philip­pines. APN national Focal Points from these countries shared major challenges facing urban planners as urbanization progresses rapidly in these fast-devel­oping economies. The need for integrating mitigation and adaptation was stressed, and the importance of developing strategies to deal with uncertainty was reiterated. Risk sharing through a market mecha­nism was seen as an option, while more research and development were deem necessary to better understand the risks and vulnerabilities. Participants also called for continued capacity building efforts to maintain and increase institutional strength to deal with emergencies.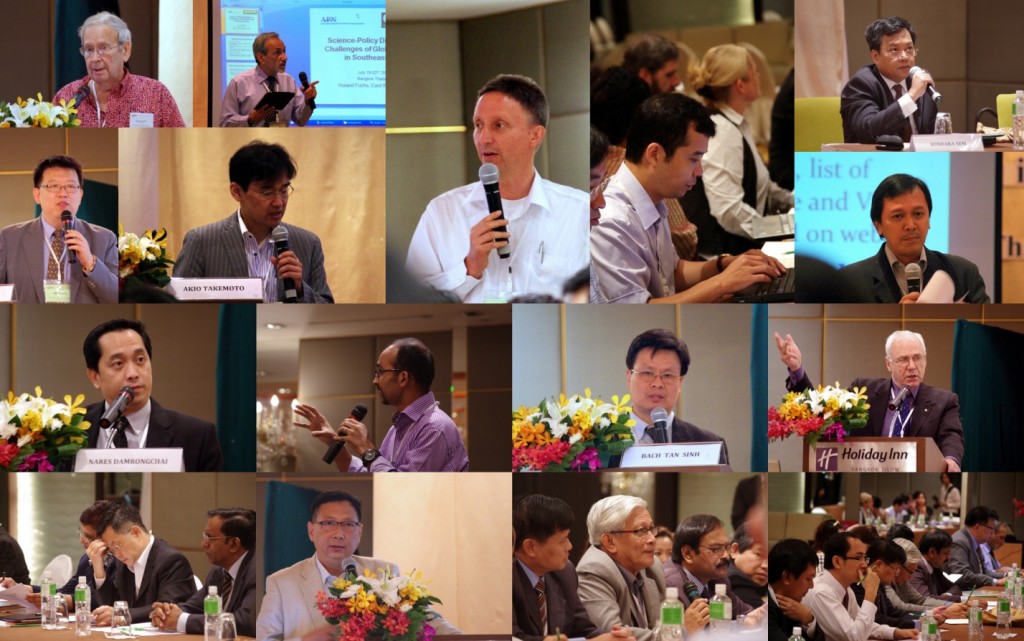 Day 2
Dr. Hassan Virji opened the discussions noting that adaptation practice to deal with global environmental change must be viewed as a dynamic social process, and more players, especially from the private sector and engineers, should be brought into the conversation.
Dr. Louis Lebel of Chiang Mai University Governance of presented on "Governance of Adaptation and Building Social-Ecological Resilience in the Mekong Region". He indicated that adaptation is as much a political issue as a technical issue, and explained why the region needs polycentric forms of governance and effective coordination structures to bridge knowledge gaps.
Dr. Luong Quong Huy of Ministry of Natural Resources and Environment, Viet Nam in his presentation titled "Adaptation Challenges to Sustain Ecosystem Services," pointed out that while a myriad of policy options exist to address environmental concerns, development and poverty reduction are taken as a priority. Therefore, appropriate links should be developed between adaptation and development.
Mr. Suppakorn Chinvanno of SEA START Regional Center looked at policy planning from the commu­nity perspective, whereby he argued that a paradigm shift must be made in terms of helping local commu­nities improve climate resilience. He drew attention to the need for capacity building at the grassroots level, noting that solutions must be community-spe­cific and hence a "social" dialogue is required that goes beyond the science and policy sectors.
Ms. Liana Bratasida, member of the Expert Team to the Ministry of Environment, Indonesia, noted in her talk that climate change adaptation has become an important pillar in the country's national planning agenda, with increasing coordination among differ­ent levels of government. She said that as Indonesia is finalizing its National Adaptation Programmes of Action (NAPA), there is a general need for technical guidance for NAPA implementation.
The facilitated discussion that followed focused on adaptation and its links with ecosystem services and management. Participants emphasize the need to strategically engage the private sector to address adaptation in a multi-stakeholder approach. Regard­ing ecosystem services, the important role of local knowledge was noted, which can be combined with scientific knowledge for better-informed policies. Other aspects where scientists and policy makers can work closer in, such as managing trade-offs on adaptation and ecosystems services, changing pro­duction and consumption patterns and shaping the behaviour and attitudes of the general public, were raised and discussed.
The ensuing presentations centred on capacity building for local communities, researchers and policy makers. Prof. Juan Pulhin of the University of the Philippines, Los Baños noted that local owner­ship, awareness and engagement are important for building robust policy options, and as a result, local and national champions are needed to serve as cata­lysts to achieve this goal.
Prof. Joy J. Pereira, Institute for Environment and Development at the Universiti Kebangsaan Malaysia presented on capacity strengthening for policy research on mainstreaming adaptation to climate change in agriculture and water sectors in the region, noting the need to establish linkage between differ­ent development agendas and for a stronger mecha­nism to translate science into policy. She introduced a "starting point approach" which shape policies by making capacity-building decisions through looking at adaptation capacities of local authorities at the current time.
The second facilitated discussion for the day probed into related adaptation challenges with focus on water resources and agriculture sectors in Viet Nam, Philippines, Lao PDR and Thailand. Participants expressed the need to draw lessons from past climate extreme events, including the floods in Thailand in 2011. The importance of creating balance among the need for food security was also stressed, as policy makers must decide on trade-offs between using resources for agriculture, energy and industry. Partic­ipants further noted that engaging local authorities in adaptation planning is important for many coun­tries because of decentralization.
Day 3
The day started with a summary of the discussions so far by the rapporteur, followed by discussions on the progress made and way forward to address chal­lenges of global environment change. Views were expressed regarding the scientific and institutional aspects of climate change adaption and disaster risk management, ranging from technical issues such as developing action-oriented information regarding data gathering, to others including identifying best adaptation actions taking into account governance structures. A key message emerged from the discus­sion clearly showed the need to actively maintain sci­ence-policy linkage, taking local input into consider­ation.
The final discussion session was dedicated to the future role of APN in supporting countries in the region to address challenges of global environmen­tal change, which generated a range of constructive and highly valuable suggestions and recommenda­tions, including expanding existing partnerships and establishing new ones; engaging more experts and experience from other fields of research and devel­opment, and from countries outside the Asia-Pacific region; and continually building trust among the multi-stakeholder community, etc.
Interweaved into the event agenda were three gaming sessions designed by colleagues at Red Cross-Red Crescent Climate Centre with the aim of accelerating learning, fostering dialogue, and pro­moting decision-making regarding climate risk man­agement.
More information about the workshop, includ­ing presentations and daily reports, are available at http://www.start.or.th/apn/science-policy-dialogue-on-challenges-of-global-environmental-change-in-southeast-asia.
Background information about the participatory games can be found at http://www.bu.edu/pardee/ research/task-force-meeting-and-gaming-session-games-for-a-new-climate/.
Based on the report prepared by SEA START RC