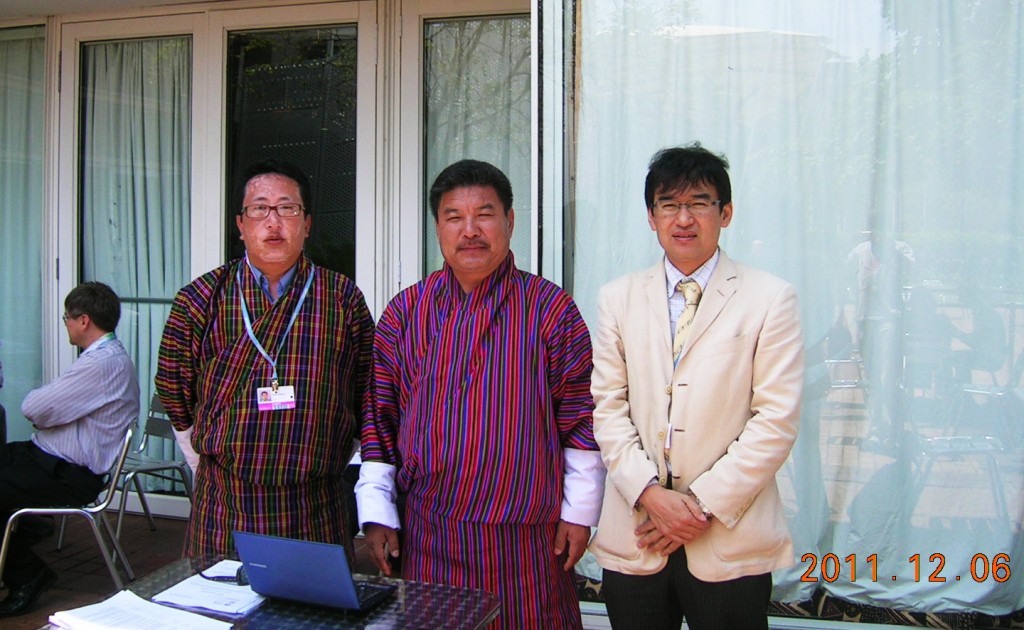 6 December 2011, Durban – Dr. Akio Takemoto, APN Secretariat Director met with Dr. Ugyen Tshewang, Secretary of National Environment Commission (NEC), Royal Government of Bhutan, during the 17th UNFCCC climate negotiations currently taking place in Durban, South Africa.
The informal meeting between APN and one of its 22 member countries, Bhutan, is timely in the lead-up to the APN's Third South Asia Sub-Regional Committee Meeting, which is being organized by the APN in collaboration with Bhutanese members based at the NEC. The Meeting will be held in Paro, Bhutan from 16-17 January 2012.
Dr. Tshewang noted that South Asia, which includes Bhutan, is especially vulnerable in the water resources sector, including seasonal water shortages, flooding and other water problems that are now exacerbated by the impacts of climate change. According to Dr. Tshewang, Bhutan is undertaking a country-wide survey on water resources and will consider appropriate measures to protect water resources based on the outcomes of the survey.
Dr. Takemoto stated that APN, as a regional network, is in a unique position to take prompt action to foster international and regional collaborative research and capacity development on the impacts of climate change on water resources, and hopes that the upcoming 3rd South Asia Sub-Regional Committee Meeting will pave the way to strengthened collaboration in South Asia.
Representatives from Bangladesh, Bhutan, India, Nepal, Pakistan and Sri Lanka will participate in the upcoming APN South Asia Meeting to discuss regional research priorities and identify common research and capacity needs.
The national Focal Point for Bhutan is Mr. G. Karma Chhopel, Head of the Water Resources Commission, Department of the NEC.
For more information on scientific and capacity development activities taking place in South Asia, please contact Dr. Linda Anne Stevenson, lastevenson@apn-gcr.org, at the APN Secretariat.