To kick off the preparation for the upcoming APN/Hyogo International Symposium on Low Carbon Society for Sustainability – Challenge 25 Beyond Borders?: Promoting a Low Carbon Society to be held in January 2010, a Scoping Meeting was organised on 30 October 2009 at the APN Secretariat in Kobe, Japan.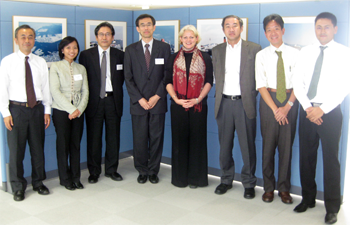 The Scoping Meeting commenced with a brief opening address from the APN Secretariat Director, Mr. Tetsuro Fujitsuka. He warmly welcomed the invited experts to the meeting. Mr. Fujitsuka highlighted that the forthcoming International Symposium will raise awareness in Hyogo community about low carbon society and APN's activities.
Following the opening address, Dr. Linda Anne Stevenson, APN Scientific Officer provided short background information about the past APN symposia in Hyogo Prefecture, particularly noting the three very successful International Seminars on Biodiversity that were co-organised with the Hyogo Prefectural Government and other key partner organisations. She explained the main objectives of the scoping meeting which are in line with the goals of both APN and Hyogo Prefectural Government towards a low carbon society. Dr. Stevenson kindly asked the participants to focus on the following: key areas/topics, potential resource persons/speakers, and scope/target audience.
Ms. Kristine Garcia, APN Coordinator presented on additional information about the past international symposia which APN organised in Hyogo Prefecture. This presentation provided details on the topics, speakers, and audience. Following her talk, the invited experts asked questions mainly on the process of selecting speakers, targeting and inviting audience, and choosing topics. The APN Secretariat emphasised that the APN organises international symposia in light of APN scientific goals and Hyogo Prefecture's suggestions and utilises its network of international experts to address challenging environmental issues.
 In order to facilitate discussing the framework of the International Symposium on Low Carbon Societies for Sustainability, the invited experts were asked to give presentations in regard to low carbon society.
Dr. Yuichi Moriguchi, Director of the Research Center for Material Cycles and Waste Management, National Institute for Environmental Studies (NIES), presented on the Overview of NIES's Research Projects on Low carbon Society – 1 st Phase for Japan and 2 nd Phase for Asia. He introduced the scenario-based comprehensive research activities on low carbon societies. Dr. Moriguchi shared interesting findings from their research and discussed high profile research capacity of his institute. He also mentioned his institute's involvement in APN-funded activities. In his presentation, Japan and Republic of Korea stood out among the APN member countries in the high level international research network on low carbon society, which includes various countries from Europe.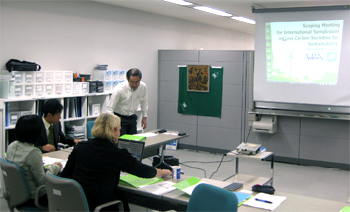 A presentation on the Viewpoints of Economics on Low Carbon Society was given by Prof. Hidenori Niizawa, Graduate School of Economics, University of Hyogo. He shared his research on domestic emissions trading experiences from selected countries and discussed basic economic issues of low carbon society in themes of target, policy and damage perspectives. He noted "society will develop in constraints by the target and policy".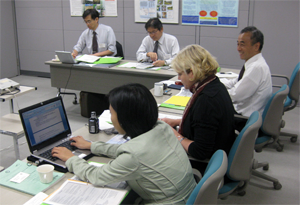 Mr. Yasuo Takahashi, Director of Climate Change Policy Division, Ministry of the Environment, Japan (MoEJ), presented on Current Initiatives and Policies of the Ministry of the Environment on Realising a Low Carbon Society. He mentioned outlines of policies and plans on climate change in the Government of Japan. Also, he briefed on global carbon negotiations and Japan's position on climate change regime. Mr. Takahashi shortly discussed the action plan for achieving a low carbon society which was first introduced in 2008. He ended with a presentation on Kobe initiative and Co-benefits approaches which also generated interest among the participants.
After the presentations, a brainstorming session was held to identify the key issues and priority areas for topics in the coming international symposium. All participants exchanged ideas and discussed perspectives on low carbon initiatives based on experts' views and APN experience. A wide range of thoughtful perspectives were raised including energy intensity in transport, carbon impact of diverse geographical location within Hyogo, society's energy footprint differences between rural and urban areas, urban planning/rehabilitation for less carbon intensity, household renewable energy application in other Asian countries like China and India, environmental and carbon tax impacts on households, compact city concept and Challenge 25 proposal in Japan.
A relevant draft agenda was developed as an outcome. This agenda, together with more information on the International Symposium, will be circulated by the APN Secretariat to the electronic mailing list in the coming weeks.