A synthesis of APN adaptation activities in the Asia-Pacific region will be presented at the 2010 Climate Adaptation Futures Conference in Queensland, Australia on 29 June-1 July 2010. Dr. Linda Anne Stevenson, on behalf of the APN, will present a poster that highlights seven national and regional projects in China, Indonesia, Philippines, Pakistan, Thailand and Viet Nam that focus on scientific capacity development in impact and vulnerability assessments at the user, policy and community levels.
When the Call for Proposals under the Scientific Capacity Building for Climate Impact and Vulnerability Assessments (SCBCIA) was launched in April 2009, the APN received 82 proposals demonstrating the strong need in the region to address those issues. With additional contribution from the Ministry of the Environment, Japan, the APN was able to support seven projects under the SCBCIA pillar of the APN Capacity Development Programme, CAPaBLE. These projects are also supported by a number of partner institutions that are also featured in the poster.
To cite a few highlights, one of the projects being conducted in the Philippines recently completed a hands-on training workshop on the use of the computer model system SimCLIM in assessing the impacts of and vulnerabilities to climate change. This training workshop developed and enhanced the capacity of government officials and scientists and steered the development of an action plan to conduct impacts and vulnerability assessments using the SimCLIM system as well as participatory assessment tools in selected case study areas.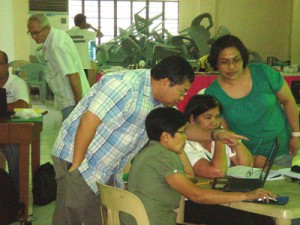 Hands-on training on the use of SimCLIM for government officials and scientists
Another project conducted training activities in the classroom for computer/Matlab and Geographic Information System (GIS) software practices as well as in the field station at the northern coast of Jakarta for tide gauge measurement in response to Indonesia's urgent need of scientific capacity enhancement, particularly in sea-level measurements.
In Viet Nam, climate change has become a serious problem – the country being one of the five most vulnerable countries in the world to climate change and its impacts. To help local authorities understand the risks of climate change and develop initiatives for adaptation to climate change, one project is collecting data, reviewing engineering measures, and evaluating existing approaches to assess vulnerability in Viet Nam (a case study of Haihau coast). The project is expected to produce scientific papers, research proposals, scientific database and model scenario, scientific procedures for vulnerability risk assessments, and higher education teaching materials on climate change-related topics. An article on Coastal Protection in the Context of Climate Change will be published later in 2010 in Viet Nam Geotechnical Journal.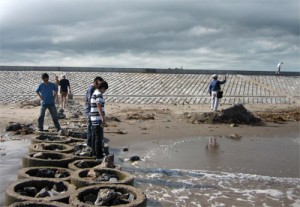 New concrete dike as coastal management and adaptation practice
in the Red River Coast, Viet Nam
Another of the SCBCIA projects is preparing researchers through training and gathering information from case studies to support Viet Nam's National Target Programme in response to climate change. It is reviewing current climate concerns and generating knowledge and information on climate change risk, vulnerability and adaptation strategies at specific study sites in the Mekong River Delta and the central region of Viet Nam. The knowledge generated will be shared among scientists, policy planners and local communities.
In Pakistan, an SCBCIA project is undertaking capacity building activities to improve the ability of human health practitioners to interpret the information available on climate change and to understand climate-related risks and vulnerabilities to human health. This will, in turn, enable these experts to conduct much-needed vulnerability and impact assessments in the area of human health and plan appropriate adaptation strategies accordingly.
Through participatory, community-based development in climate change vulnerability and impact assessments, another project aims to enhance the scientific capacity of local government, scientists, and indigenous people towards an effective and sustainable response to the impacts of climate change. This project will use the best of 'top-down' scientific, policy-relevant approaches with 'bottom-up' indigenous knowledge research in order to reconcile indigenous knowledge with mainstream science.
Focussing on the Asian coastal cities, another project aims to strengthen the capacity on the part of researchers and representatives from urban planning and development agencies, as well as operational climate and disaster planning agencies, to cope with future climate impacts and urban vulnerabilities to climate change. The project will help create urban partnerships in selected coastal cities in Asia, communities of knowledge in which researchers link their work to users' needs, and in which urban planners are better able to incorporate climate change risks, impacts, and vulnerability into the planning process.
The ongoing and future activities under the seven projects are summarised in a synthesis bulletin that will be distributed at the Conference. This bulletin features selected ongoing and completed APN projects on climate impacts and adaptation under the Annual Regional Call for Research Proposals (ARCP) and CAPaBLE Programmes.
Dr. Stevenson and Mr. Erdenesaikhan Nyamjav of the APN Secretariat will provide more information at the Conference.
APN Project Leader Linda Peñalba will showcase the results of her capacity development activities at the Conference, presenting on 'Building the Climate Change Response Capability of Local Government Units in the Philippines' (poster presentation).
For more information about the Conference, log on to: http://www.nccarf.edu.au/conference2010/. You may also download the APN poster and synthesis.