13 November 2012, Bogor, Indonesia — At a regional workshop organized by ACP FORENET (African-Caribbean-Pacific Forest Research Network), APN representative Dr. Erna Sri Adiningsih, Scientific Planning Group (SPG) member for Indonesia, shared with participants the recent activities of APN and how it facilitates regional collaboration in global change research.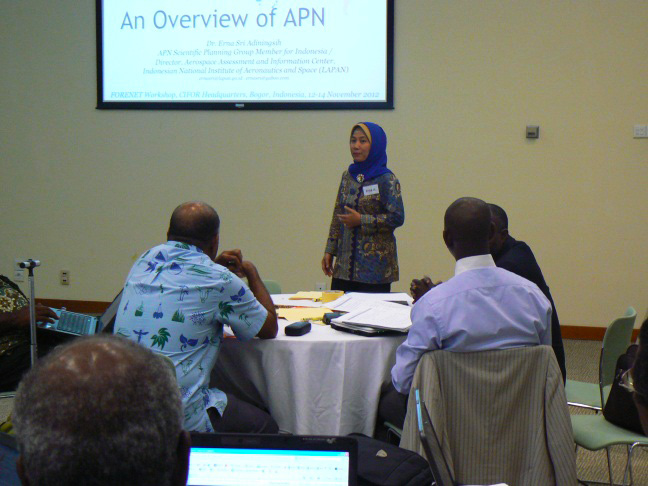 The workshop was held at the headquarters of CIFOR (Center for International Forestry Research) at Bogor, Indonesia from 12 to 14 November 2012. Dr. Adiningsih introduced the overall framework and programmes of the APN and, through best practice examples, explained how the enabling mechanisms of the APN work to strengthen and foster research collaboration as well as capacity building in the Asia-Pacific region. The workshop was attended by national Focal Points of ACP FORENET and representatives of universities of the African-Caribbean-Pacific region.
"The APN subregional cooperation model is a successful tool for enhanced collaboration among countries that face similar global change challenges," said Dr. Adiningsih, "It provides a platform for regular exchange of knowledge and views by members across countries that have comparable geographical and socioeconomic environment." She emphasized the importance of science-policy linkage in addressing global change issues as one of APN's science-policy agenda is to strengthen science and policy interactions. She further pointed out that as a result of the increased communication through the subregional mechanism, a number of fruitful collaborations involving scientists and policymakers have successfully completed or presently under active development.
One example was the recent Southeast Asia Science-Policy Dialogue on Challenges of Global Environmental Change in Southeast Asia which took place in Bangkok, Thailand from 19-21 July 2012, drawing together over 90 participants from the science and policymaking communities to exchange views and knowledge that would contribute to improving the science-policy interface.
Another example of successful capacity building in climate adaptation for practitioners in Indonesia was APN CAPaBLE project led by Dr. Rizaldi Boer of Bogor Agricultural University. The project involved decision makers of the Ministry of Agriculture and local farmers in northern West Java. The project successfully achieved the outcomes to raise awareness of policymakers as well as local farmers in implementing climate adaptation actions in the field.
At the end of her presentation, Dr. Adiningsih pointed out some key success factors in managing an international research networking organisation based on APN's experiences—among them are the focus on core activities, effective organs, robust mechanisms and procedures, a professional secretariat team, and the active involvement of Member Countries.
Dr. Adiningsih's presentation at the workshop also helped raise the awareness about APN among the audience, while opening up potential partnership opportunities with participating international organizations working in the domain of global change research.
The ACP Forestry Research Network (FORENET) was established in 2007, coordinated by CIFOR. It facilitates links between forest research organizations of selected African-Caribbean-Pacific (ACP) countries by supporting selected local research organizations and enabling them to collaborate effectively on common forest research domains and programmes. More information: http://www.cifor.org/forenet/_ref/home/index.htm