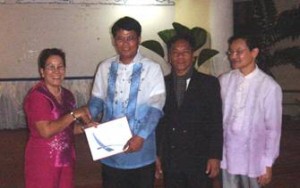 Out of 55 nominees from 27 colleges and universities in the Philippines, Dr. Rogelio D. Cosio ranked first among the 'Ten Outstanding Filipino Researchers of 2009'. This success is partly attributed to his involvement in the APN Project CBA2008-09NSY: Enhancing the Climate Change Adaptation Capacity of Local Government Units and Scientists in the Philippines, led by Dr. Linda M. Peñalba.
Dr. Cosio is the scientist partner from the Local Government Unit (LGU) of Guagua, Pampanga, Philippines and currently a Professor at the Pampanga Agricultural College (PAC), Magalang, Pampanga. He led the preparation of the vulnerability assessment report under the supervision of the University of the Philippines, Los Baños (UPLB) research team and with support from Guagua LGU. This vulnerability assessment report was presented to the local government officials of Guagua, Pampanga and the project was the first climate change research undertaken by the Pampanga Agricultural College. Final report of the project is downloadable from project's page.
On 5 December 2009, the President of the Philippine Association of Institutions for Research (PAIR), Dr. Genaro V. Japos officially announced that Dr. Cosio was chosen by the board of judges as one of the 'Ten Outstanding Filipino Researchers of 2009'. The board of judges was headed by Commission on Higher Education (CHED) Region 10 Director, Dr. Zenaida G. Gersana, with five other members. The award-giving body based the selection on the following set of criteria: expertise (25%), peer-reviewed international and national publications, as peer reviewer and member of the editorial board (30%); leadership and awards (20%); and advocacy in international and local research presentations (25%).
The awarding ceremony took place on 12 December 2009 during the 4th National Research Forum held at Aklan State University in Banga, Aklan, Philippines. In the Forum, Dr. Cosio presented a paper entitled, Climate Change Vulnerability and Adaptive Capacity of the Guagua Community in Pampanga, which won the '2nd Best Publishable Paper'. The same research won the 'Best Paper' during the agency in-house review of completed and ongoing research projects of PAC in June 2009.
Dr. Cosio obtained his PhD in Agricultural Science major in Agricultural Economics at Iwate University, Japan in 2002. He is a graduate of Bachelor of Science in Agricultural Economics at PAC in 1991, summa cum laude. He is currently the Director for External and International Affairs of PAC aside from being a faculty researcher working on climate change.